It's an eternal question for builders, architects, and remodelers: What products and design features should you use in your kitchens and baths? It's no mystery why that question matters; after all, these are arguably the two most important rooms in the house.
At the moment, the industry is still in the midst of a contemporary/modern love affair. (For buyers and consumers who don't want the full modern treatment, transitional is also popular, and there's also maximalism—a complete counterargument to minimalism.) In terms of products and appliances, smart home products with some kind of connectivity, single-handle commercial-style kitchen faucets, and refrigerated columns are among the many items that are hot.
We know this because not only do we repeatedly see them in projects across the nation, but also because they appear in the results of member surveys by various organizations, such as the National Kitchen & Bath Association (NKBA), the American Institute of Architects (AIA), and Houzz.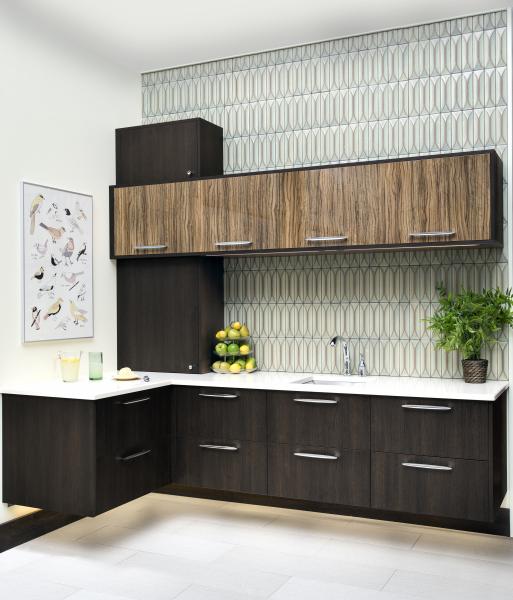 Aspire is a line of frameless cabinets that draws inspiration from European design. Available for kitchen or bath, the full-overlay collection includes an extensive array of door styles and materials, including wood, textured melamine, and metal. Standard construction includes 3/4-inch-thick melamine and concealed Euro hinges.
In the 2018 edition of its Design Trends Report, NKBA found that homeowners want clean, minimalist design with a touch of luxury. Surveying 822 designers, remodelers, and architects, the association found that in the kitchen, white and gray colors continue to dominate, quartz has offi cially taken over the countertop, and hardwood flooring rules. And, in the bath, AIA's quarterly Home Design Trends Survey, released in April, found that homeowners are opting for large walk-in showers (doorless, please), radiant-heated fl oors, and universal design features.
Both groups say that while smart home and tech features remain less in-demand than some other home options, they're still popular, especially in the kitchen. "Demand has remained solid for smart home features in the kitchen, which isn't a surprise, as more new systems and products are being introduced at a dizzying pace," AIA chief economist Kermit Baker said in a release. "At the same time, ensuring accessibility throughout these areas and promoting convenience remain priorities for homeowners."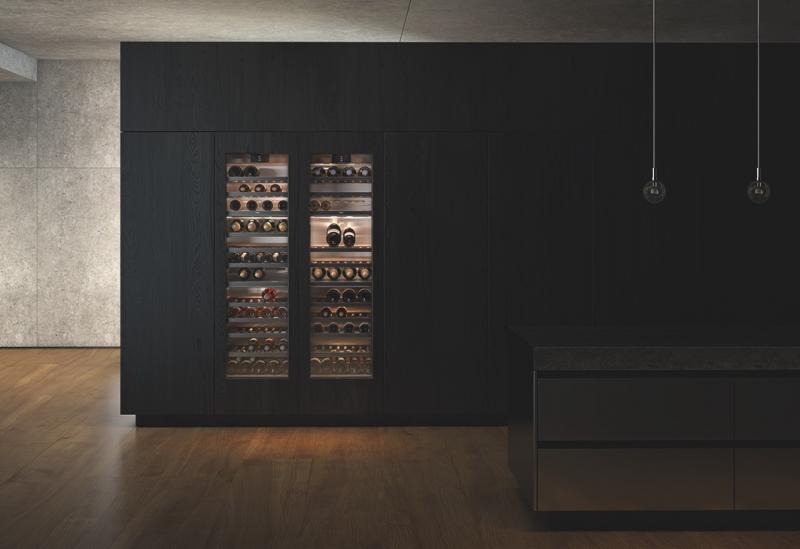 Vario 400 fully integrated, built-in refrigerators, freezers, and wine cabinets feature handleless doors, a push-to-open assist system, and proximity sensors that activate the lights on the door's ice and water dispenser. Additional features include glass shelving, solid aluminum door racks, and fully extending bottle trays.
But, no matter what style homeowners choose, one thing remains constant: Kitchens lead all home renovations. According to the 2018 Houzz & Home Survey: Renovation Trends, 31 percent of homeowners renovated a kitchen in 2017, followed by guest or secondary baths (27 percent) and master baths (24 percent) as the year's most popular renovation projects. In addition, master baths narrowly overtook living/family rooms in popularity in 2017.
The AIA's numbers seem to support these fi ndings. Its Q4 2017 Home Design Trends Survey showed that 61 percent (compared with 54 percent in Q4 2016) of member respondents saw an increase in additions and alterations and 57 percent (compared with 51 percent the previous year) saw an increase in kitchen and bath remodeling.
Our cover story this month offers a wide range of products to fit all budgets, style preferences, and project types—from cabinet fronts for IKEA boxes to luxury appliances for small homes or multifamily projects.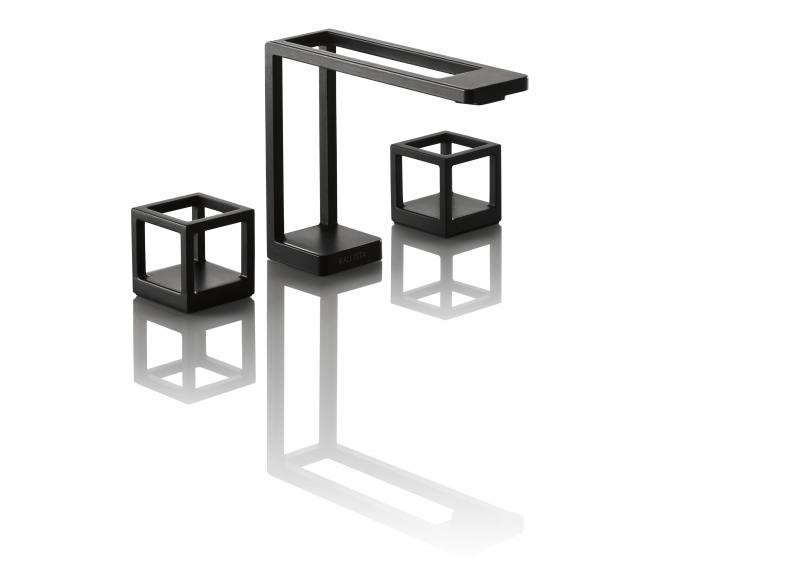 Inspired by the fundamentals of the De Stijl movement, the Grid faucet features a spout made using 3-D printing technology, while the handles are cast, handbuffed, and powder-coated. The Grid features solid brass construction and includes a soft-touch drain.
Q&A with Elle H-Millard, CKD, Industry Relations Manager, NKBA
Q: What kitchen and bath product are you really into right now?
A: In the bath, I am loving the "metal eye candy" perched so elegantly next to a sculptural pedestal sink, which many may describe as a tall freestanding faucet.
Q: What should designers/architects avoid in their kitchen and bath designs?
A: Upper kitchen cabinets can disappear. There are so many other creative ways to gain additional storage. Upper cabinets are just getting in the way of cool design.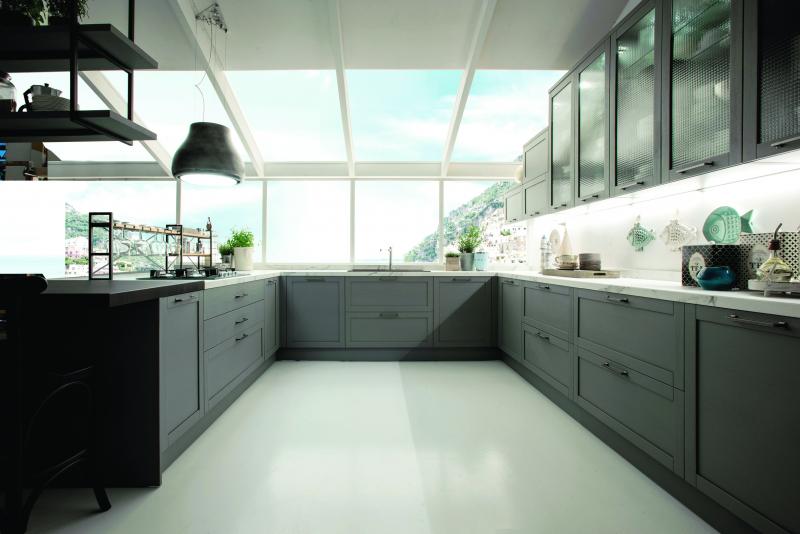 Arya is one of the offerings from the new-to-the-U.S. brand from Turkey. Available in a variety of colors, the doors and drawers feature a flat-panel design, and the wall units are available with glass and wire. Open shelves are optional.
Q&A with Beth Dotolo and Carolina Gentry, Co-Founders, Pulp Design Studios 
Q: What kitchen and bath material or system are you really into right now?
A: We always consider function and style in our designs, so a super long galley sink with all the modular bells and whistles is a perfect system to give clients both usability and beauty.
Q: What's the one thing or design feature every cool bath should have?
A: A coffee bar! Why leave your bathroom retreat in the morning when you can have everything at your fingertips?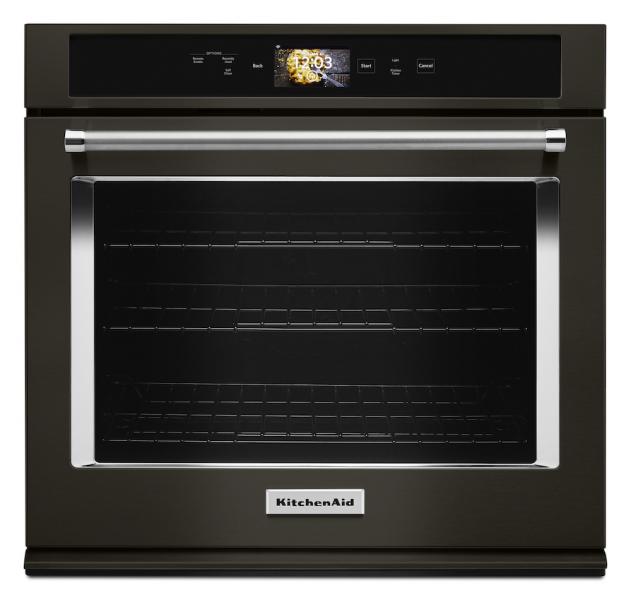 This 30-inch Smart Oven+ is the first single wall oven that comes with interchangeable attachments to enable grilling, stone cooking, and steaming, the brand says. In addition to mobile connectivity, the oven offers a true convection oven, color glass-touch display, and rollout extension rack for attachments.
Q&A with Bob Borson, FAIA, LEED AP, Malone Maxwell Borson Architects
Q: What kitchen and bath material or system are you really into right now?
A: Natural wood, and concrete tiles with geometric shapes and patterns.
Q: What's the one thing or design feature every cool bath should have?
A: A skylight.
Q: What should designers and architects avoid in their kitchens and baths?
A: A preponderance of white.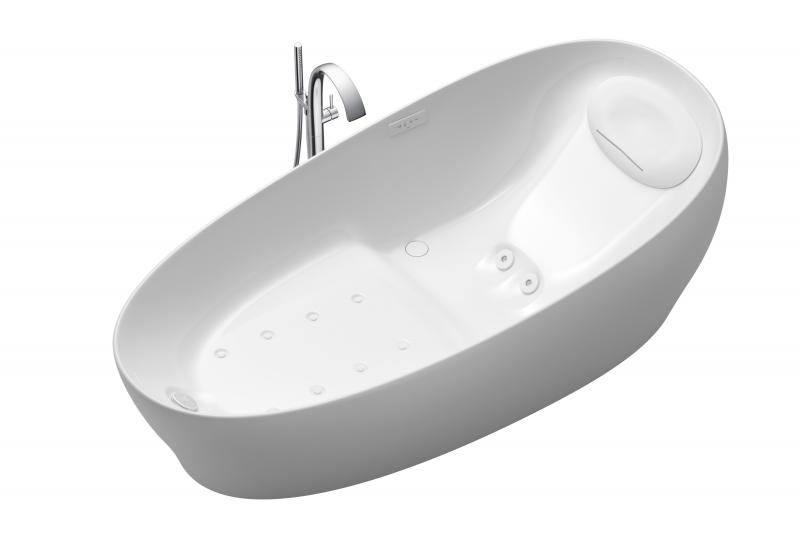 Part of the brand's flagship Neorest collection, the Flotation Tub is the world's first zero-gravity bathtub in which bathers experience total weightlessness, the manufacturer claims. Zero Dimension Technology puts the bather in a meditative state. Additional features include air jets strategically placed along the body, an adjustable pillow, and LEDs along the tub's base.