THE BIGGEST TREND IN WINDOWS AND DOORS IS BIG WINDOWS AND DOORS
Window makers have reason to be happy. Market research firm Global Market Insights says the North American window market is projected to grow at a rate of about 5 percent between 2017 and 2024.
All indications are that the predominant window material during this period will be vinyl. "Vinyl windows lead the market now by a factor of three—now at more than 60 percent of all new windows installed in single-family homes," Home Innovation Research Labs (HIRL) found in a recent survey.
The manufacturer's Tuscany Series windows are made of a unique blend of vinyl, the company says. The made-to-order windows come in 11 operating styles. UV-resistant frames are available in white or tan for interiors, with eight additional colors available for exteriors.
While vinyl is king, composite windows—usually fiberglass—are gaining significant traction in new homes, wood is still popular in the north, and aluminum windows are holding steady, primarily in the Gulf Coast region, HIRL adds.
[Related: 7 MODERN SHOWER DOORS FOR CONTEMPORARY BATHS]
The popularity of window material, of course, depends on the price point of the home. Vinyl is substantially more popular in starter and move-up homes than in luxury homes, while wood is by far the most popular in luxury homes, according to HIRL. And composite windows, the group says, are threatening to surpass wood in the near future.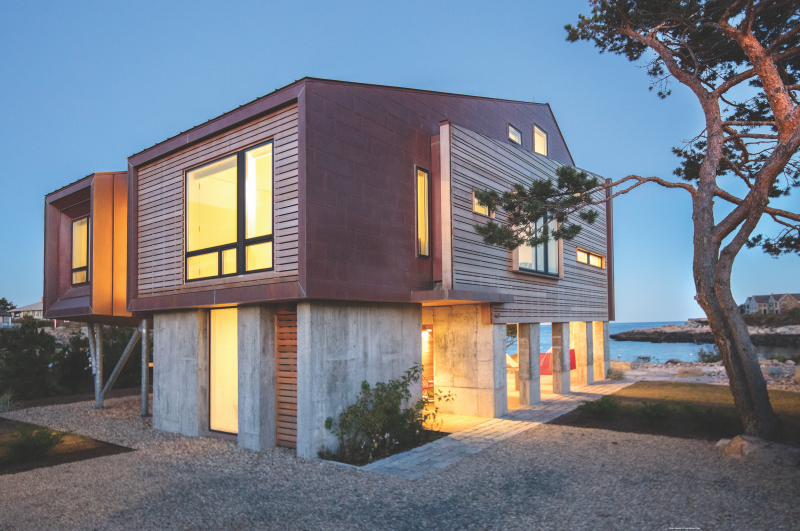 Part of Kolbe's VistaLuxe Collection, the large modern windows for this seaside retreat (also shown on our cover) feature 2-inch frames, aluminum-clad exteriors, and wood interiors. Two profiles are available—flush or accent—in traditional or exotic wood species, 50-plus exterior colors, and dual- or triple-pane glass. Click here for bonus Blippar content.
Energy efficiency always will be a huge part of window trends, but others have emerged. Window manufacturers say construction professionals and their clients continue to ask for larger and larger openings. Brands also are seeing a growing interest in contemporary design. As a result, companies such as Weather Shield, Marvin, Kolbe Windows & Doors, and others have introduced products with narrow frames and more exposed glass. Moreover, dark exterior colors have captured the imagination of buyers who want the urban farmhouse look.
[Related: WHAT IS SO GREAT ABOUT LIFT AND SLIDE DOORS, ANYWAY?]
You'll see similar trends in the door category. Contemporary style is growing and large, folding and sliding patio doors are more popular than ever.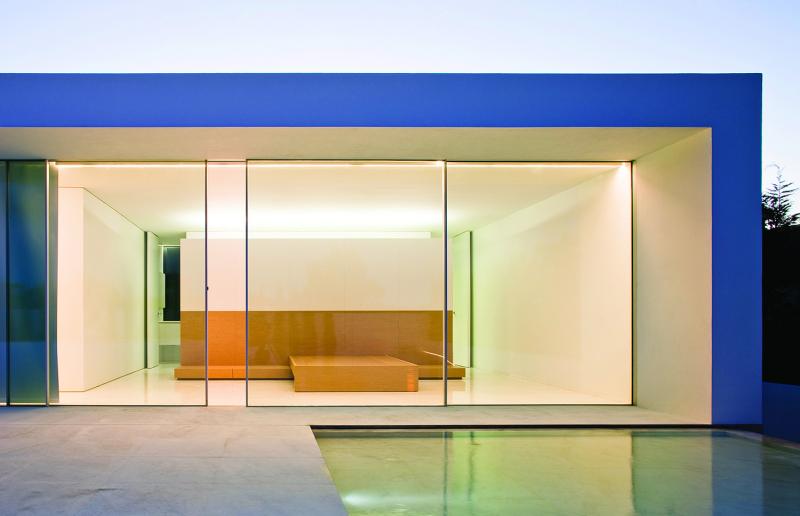 4. VITROCSA
At 3/4 inch, the Invisible Wall system has the world's slimmest sight lines, the Swiss manufacturer claims. The large modern windows' sleek profile is available in sliding, fixed, pivoting, and vertical sliding styles with colored, powder coated, or anodized aluminum trim. The company recently passed all hurricane impact tests in Florida's Dade County. Click here for bonus Blippar content.
This month's window and door guide covers these trends plus a few emerging ideas that could be the next big thing—from frameless sliders and pivoting systems to electronic locks controlled with geotagging. The playing field for energy-efficient windows is now level, but our cover story shows that manufacturers have stepped up their design game with stylish, innovative products, which is good news for you, your buyers, and your clients.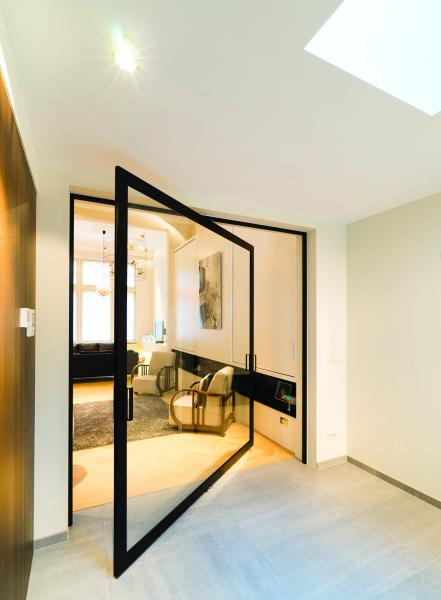 5. PORTAPIVOT
The Portapivot 6530 XL interior room divider or large doors feature the company's Stealth Pivot hinge system, which can be mounted on any solid, finished surface. The anodized aluminum frame is available in three colors and can be fitted with any 6 mm- or 8 mm-thick tempered safety glass. The pivot door hardware and frame are sold in a self-assembly kit with installation instructions. Read more about the Portapivot door here. Click here for bonus Blippar content.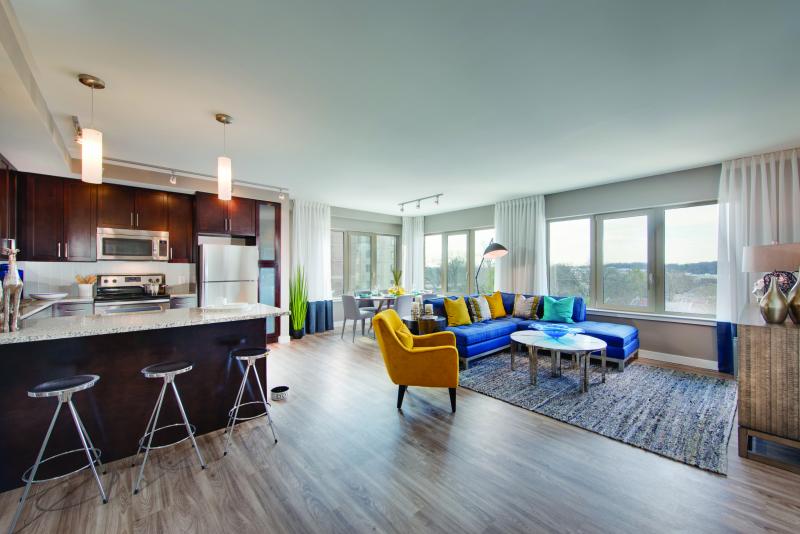 Tilt Turn windows offer multiple functionalities with one handle: When the handle is turned upward, the door hinges at the bottom, opening in at the top, while turning the handle to the side opens the window like a standard inswing casement. The windows include recycled content and are available in numerous wood and metal looks.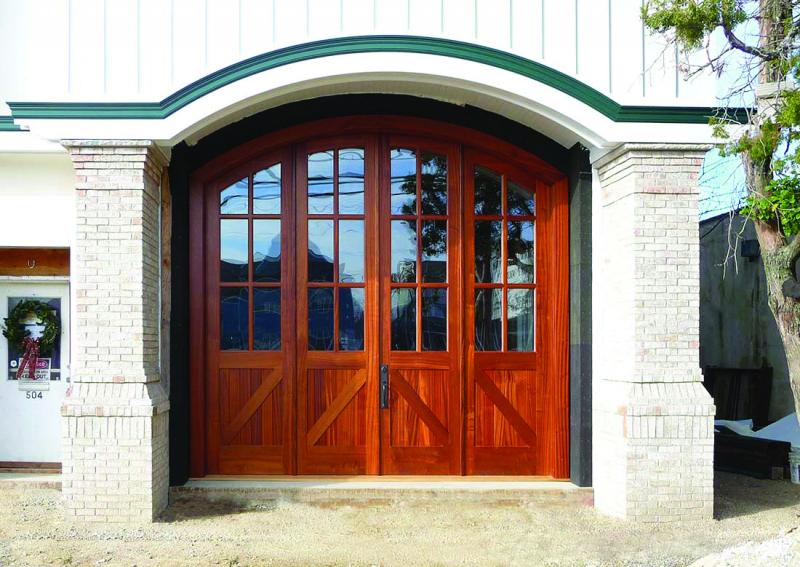 A different take on standard garage doors, the manufacturer offers three design lines in a number of wood species and hardware options, as well as custom opportunities. These large doors can be paired with manual or automated opening hardware and may swing in or out.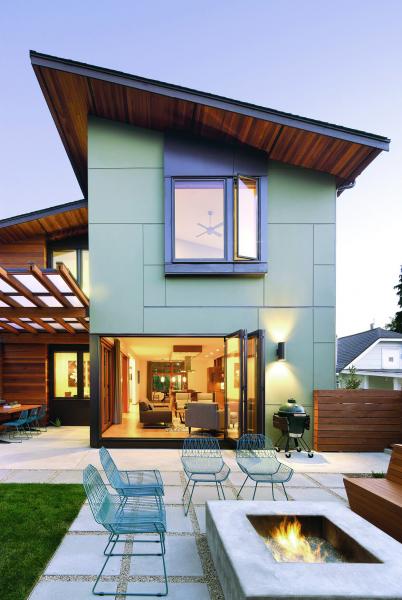 8. LACANTINA
Designed to open up interiors to the outdoors, the brand's folding door systems are available with panels measuring 39 inches wide and 120 inches tall. The top-hung panels are thermally broken for energy performance and are available with dual- or triple-glazed glass. Click here for bonus Blippar content.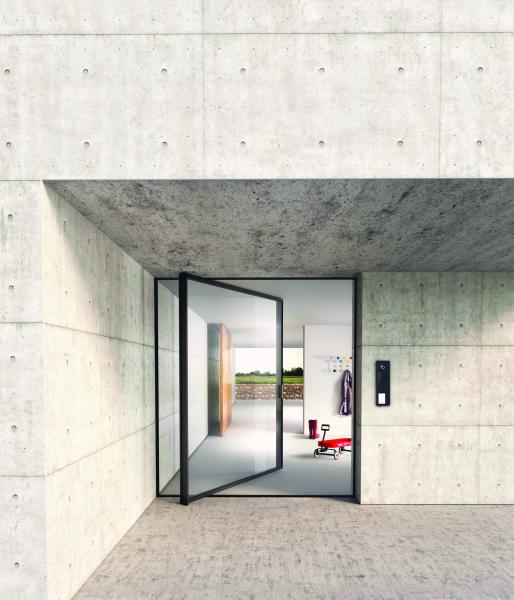 9. SKY-FRAME
The Swiss manufacturer of frameless sliding window systems now offers a pivoting thin window door system that swings around on an asymmetrical axis. Outfitted with an electromechanical multipoint lock, the door comes in anodized or custom colors with doubleor triple-glazed glass.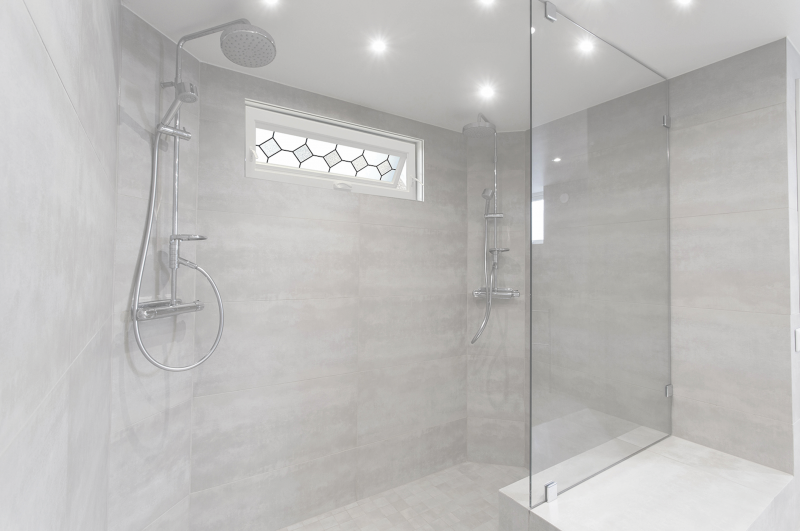 10. HY-LITE
The manufacturer has added an operable option to its decorative Home Designer Collection of windows. The 52-by-16-inch movable window is available in the Mission and Prairie styles, while a 29-by-29-inch size is also available in the Baroque style. Each option has the choice of three vinyl frame finishes.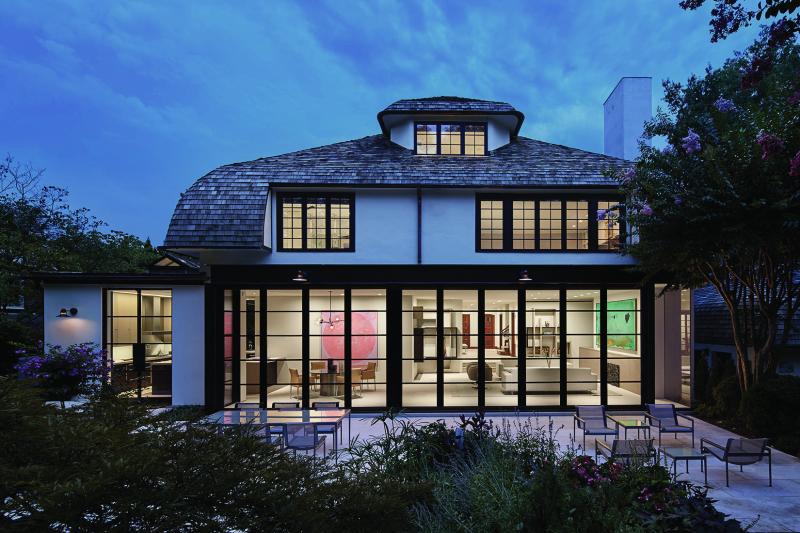 11. HOPE'S WINDOWS
The Hopkins Series of steel slide and fold doors features Thermal Evolution technology, which uses solid steel framing to capitalize on the material's natural thermal resistance. Offering minimal profiles, the door panels stack together when opened to create a large opening.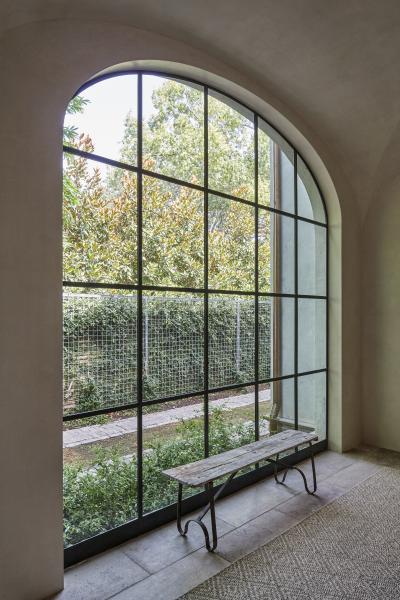 12. ATELIER DOMINGUE
Steel-framed windows and doors from the architectural metalcrafts firm are hand-made to order. The custom process means that products can be specified in nearly any shape or size, from single and double casements to bifold and sliding models. Five standard finish colors are available, but the company offers color matching.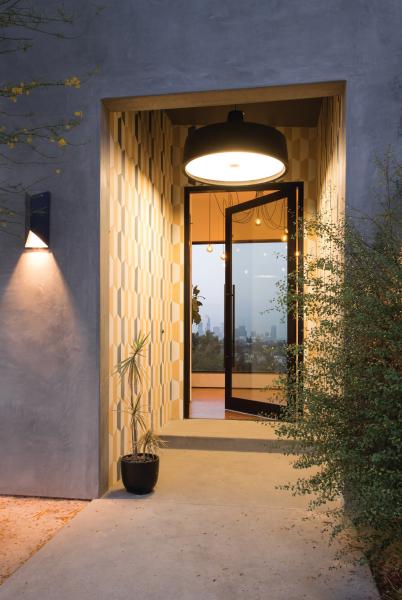 The manufacturer has added a hinged door to its Series 7000 line. Designed to be energy efficient, it offers a 0.32 U-value for dual-pane glass and a 0.26 U-value for triple-pane glazing. Additional features include an insulated aluminum frame, multipoint lock, and low-profile threshold. Read more about Wester Window Systems Series 7000 here. Click here for bonus Blippar content.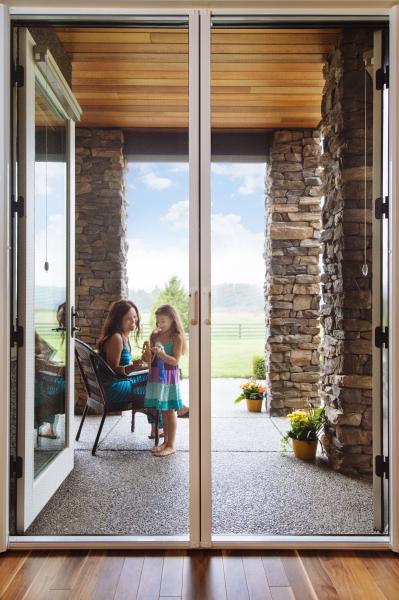 14. PHANTOM SCREENS
The company's door screens are retractable, allowing them to disappear when not in use. Screens fit most standard and oversize doors and are available with either a secure latch or a magnet latch. Three mesh options can be chosen from for privacy or protection from sun or insects.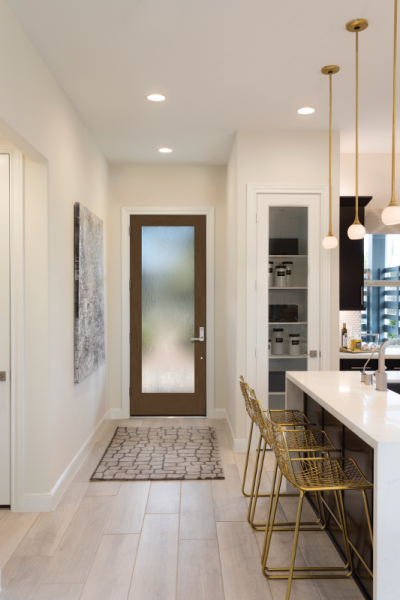 15. THERMA-TRU
Meeting the demand for clean, simple designs, the Classic-Craft American Shaker-style door offers customization options such as traditional square sticking. Offered with or without glass, doors are available with flat-profile divider bars and in two heights.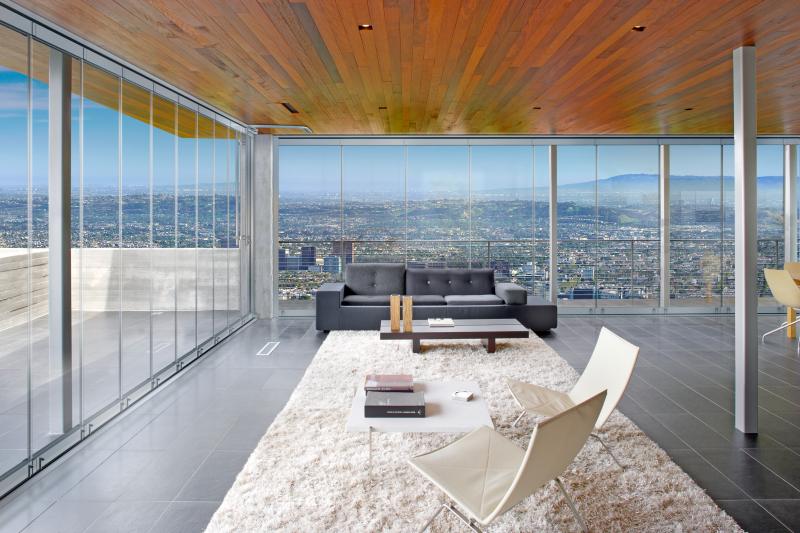 16. NANAWALL
The HSW75 single-track sliding door system creates an unlimited span of top-hung panels that can be operated with one hand and appear as thin windows. Featuring a 3 15/16-inch continuous top and bottom rail, the panels use rollers made of steel ball bearings with glass fiber-reinforced polyamide wheels. A standard panel comes in sizes up to 4 feet 1 inch wide and 10 feet 6 inches tall.
This story originally appeared in the March/April 2018 issue of PRODUCTS magazine. See the print edition here. Click here for more information about the bonus augmented reality Blippar content in the print issue.
 
[Related: CUSTOM WINDOWS KEY ELEMENT IN HISTORICAL NEW YORK CONDO RENOVATION]