When designer Kate Clarke began work on The New American Home 2018, a demonstration project constructed in time for the International Builders' Show in Orlando, Fla., she paid just as much attention to the outdoor kitchen as the indoor one. In fact, the home's summer kitchen boasts many of the features an interior space would: a suite of luxury DCS appliances, washed-wood–look NatureKast cabinets trimmed in stainless steel, waterfall-edge DuPont quartz countertops, a Phantom Screens motorized screening system, and an Emser tile backsplash in a chevron pattern.
"It's set up to be a true kitchen," says Clarke , president of Orlando-based Homes Reimagined. "The summer kitchen is a critical thing, particularly here in Florida."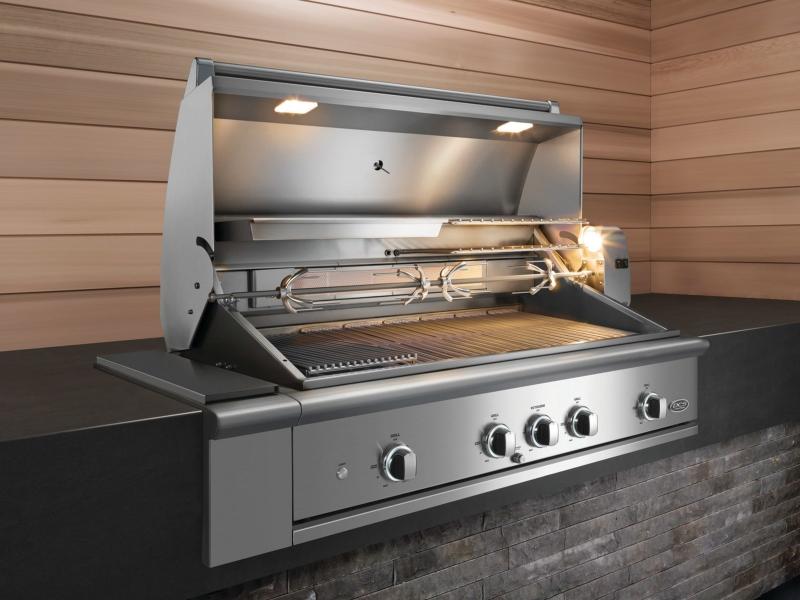 The Series 9 grill features a secondary cooking surface with multilevel movable shelves for slow-cooking, roasting, simmering, and warming. A charcoal/smoker insert allows for indirect or direct smoking and the ability to cook using lump coal, briquettes, or wood. The grill includes interior hood lighting and two-color lights on the control knobs.
True to its name, The New American Home reflects a key trend in today's housing market: Not only do homebuyers want outdoor living spaces, they want outdoor living spaces that offer the same amenities, and often a similar look, as their regular indoor kitchen. "We're really seeing homeowners want to replicate their kitchen… having the same features that they have in their indoor kitchen on the outdoor kitchen," says Justin Monroy, market development manager, outdoor, for DCS Appliances.
In many cases, that translates into a full appliance package. For The New American Home, for example, Clarke created two complete cooking stations using two flat grills and two side burners, and also included a chiller wine station that keeps beer and wine on ice, a traditional outdoor beer/wine cooler, and a refrigerator. The appliances' built-in look gives it "a true kitchen feel," the designer says.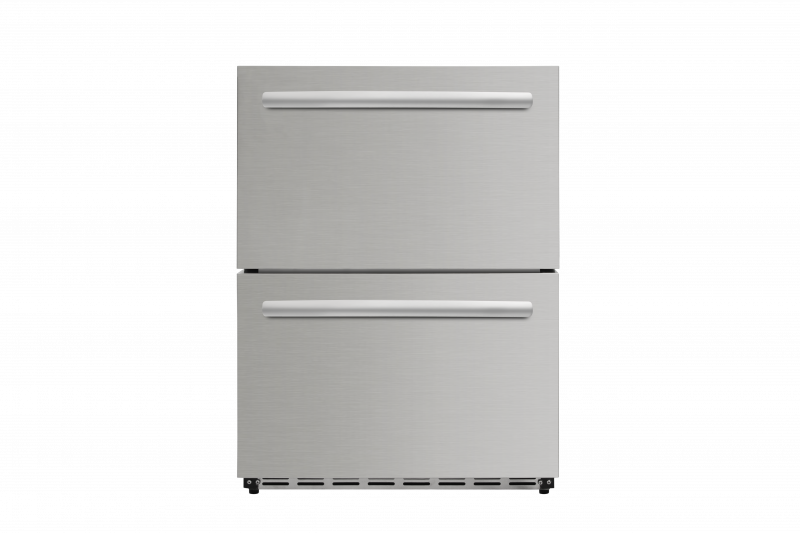 The company is adding an outdoor kitchen suite to its line of mass-premium pro-style appliances, including 24-inch refrigerator drawers (shown), a built-in grill, an insert grill cabinet, a sink cabinet, and a pizza oven. The refrigerator drawers offer 5.3 cubic feet of storage space, full-extension slides, interior LED lights, and digital controls.
Similar to inside the home, outdoor cooking is stepping up its game. Homeowners can make bacon and eggs on a griddle, select different types of heating options for greater control, bake fresh pizza in a wood-fired oven, or create succulent barbecue in a smoker. DCS' new Series 9 grill features pans for slow-cooking, roasting, and warming.
Refrigeration also offers more variety than ever, with numerous options for beverage chillers and kegs. U-Line's lineup includes a convertible freezer for easy switching from beverage storage to popsicle-making, and two ice makers that produce crescents or clear ice cubes. The choice of ice style is another way of helping homeowners replicate the indoor experience, says Jess Linski, marketing specialist at U-Line.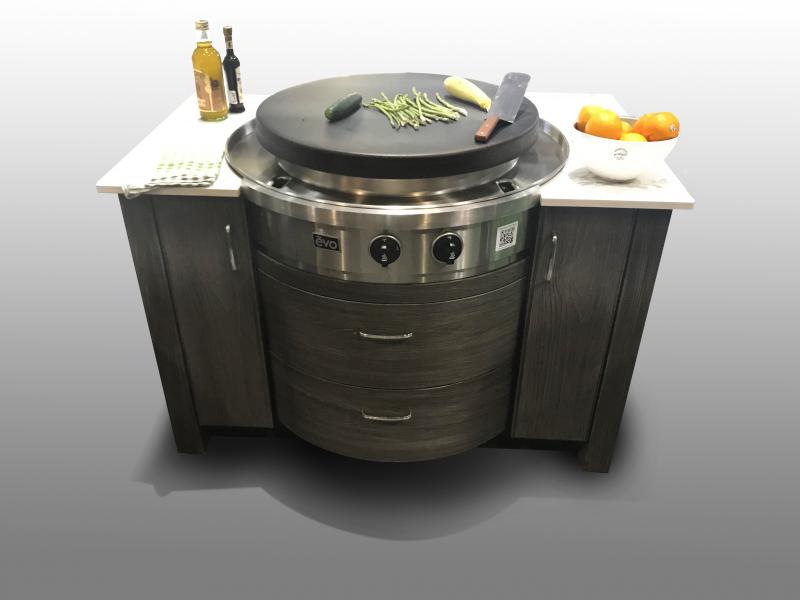 This combination cabinet is specifically designed for the Evo round outdoor cooktop, with a radius-match bowed drawer front to allow for maximum storage space underneath. It features Shaker-style doors. The cabinet is made from a weatherproof resin molded to look and feel like real wood.
Cabinet manufacturer NatureKast is responding to this trend with storage offerings customized to specialty products. Two recent introductions specifically fit, and accommodate accessories for, the round Evo flat-top grill and The Galley kitchen sink system.
"It used to just be a grill, access doors, and maybe a fridge," Monroy says. "Now it's trending to be almost commercial-kitchen-inspired or indoor-kitchen–inspired, where you'll have a seating section, a grill section, a cocktail serving section on your island. They're truly building an outdoor room in some cases."
STORAGE SOLUTIONS
Mimicking what's inside requires paying attention to the cabinets as well, and the latest outdoor offerings can do just that while also with-standing the elements. "We're offering the look of a custom indoor kitchen for the outdoors," says Chris Exelby, NatureKast's vice president of sales and marketing. "Anything you can think of that's needed to design an indoor kitchen, we have the ability to put it outside with our product."
Trends are trickling out, too. Mitchell Slater, president of Danver and Brown Jordan Outdoor Kitchens, says the company is seeing more requests for grays and whites, as well as coppers and gray metallic. "You're seeing the indoors [transition to] the outdoors, which is why you're seeing complementary colors to the indoors,"  he says. The company's powder-coating technology can be used to create realistic wood and stone looks.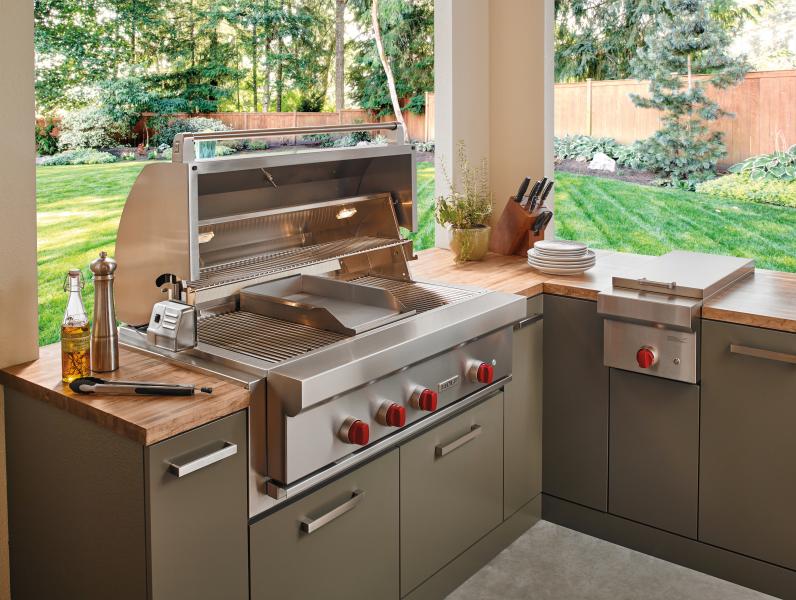 The company's 42-inch outdoor grill features three individually contained burners with independent heat control, a two-position rotisserie system, and two types of heat for nuanced control. Other details include halogen lighting to illuminate the grilling surface and LED-lit control knobs.
Beyond just aesthetics, Monroy encourages designers to consider the role of storage, as many outdoor islands don't have enough of it, particularly to accommodate appliance accessories. Clarke also advises pros to reconsider the typical tiny sink, opting instead for a bigger sink that can be used to rinse off large trays. Combined with better storage and more counter space, such features can allow a host to stay near the party rather than shuffling back inside.
Like many areas of design, creating the ideal outdoor kitchen for your customers comes back to understanding their individual needs. Whether homeowners plan to hold large gatherings once a month or just want to eat Sunday brunch alfresco, the products and technologies exist to allow them to do so with little to no sacrifice in functionality or style.
This story originally appeared in the May/June issue of PRODUCTS magazine. See the print version here.