For every understated vanity, there's another that demands the spotlight on the bathroom stage.
Some of them are wildly unconventional, adapting all kinds of unusual supporting structures for the sink. Others are more restrained, but no less imaginative.
Designers are of mixed minds about these kinds of vanities. Some feel the most inventive ones are just too 'out there'.  New York designer Michael Wood cops to being a long-ago fan of MTV's Cribs series – in which makers created outlandish home décor, like building a water bed onto a Ferrari.  His opinion: "Just because you can put two things together, doesn't mean you should."
READ: 11 MODERN BATH FAUCETS FOR YOUR NEXT RENOVATION
But while some vanities might tread the edge of good taste, some unusual vanity and washbasin combos really work, and there are designers happy to explore the possibilities.
"We retrofit furniture into vanities all the time," says Alison Pickart, who has her design base in Larkspur, CA. She recalls a Chicago powder room project. "We used a jade green Asian-influence console table as our 'vanity' and added a marble vessel sink to the top." 
Los Angeles-based designer and HGTV star Emily Henderson retrofitted an old dresser in her guest bathroom with a vessel sink.
"I love the way it looks and the vintage vibe it brings into the room, but it does require time, some custom woodworking, and it can be expensive depending on the piece of furniture you use."
Whether you experiment with your own ideas, or buy the product of someone else's creative vision, you can't argue with the results of a bathroom with a stylish, functional–and sometimes fun–fixture.
Here are some to consider: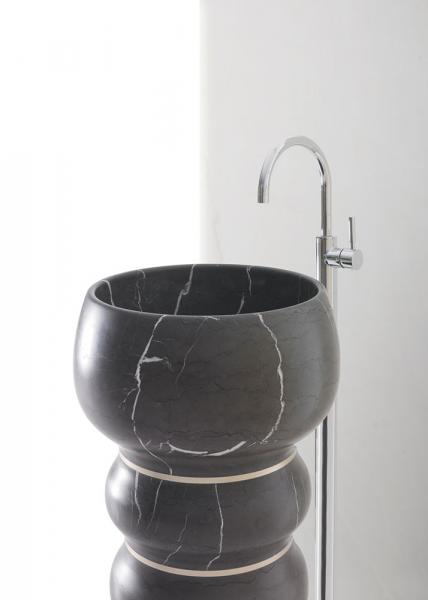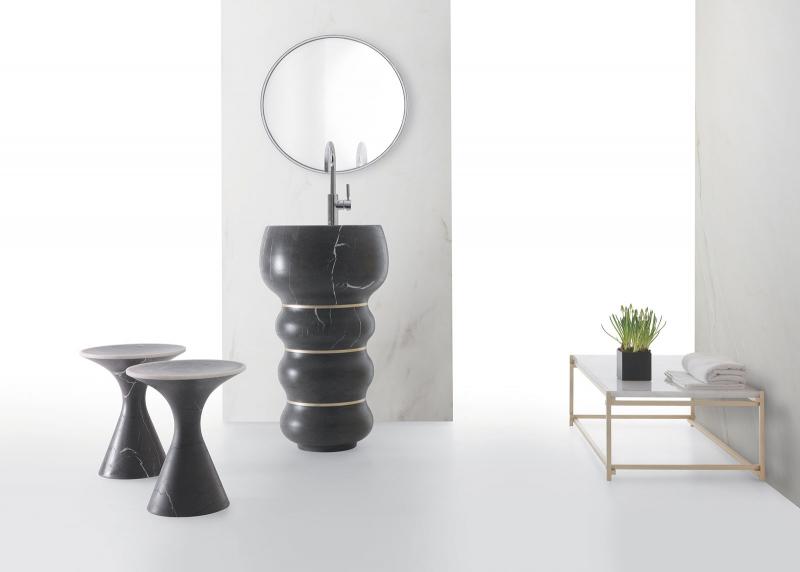 1. Kreoo Bubbles Washbasin  
Soap bubbles floating in the air inspired Marco Piva's Bubbles vanity/sink combo made of Blanco Calacatta and Nero portoro marble with metal trim.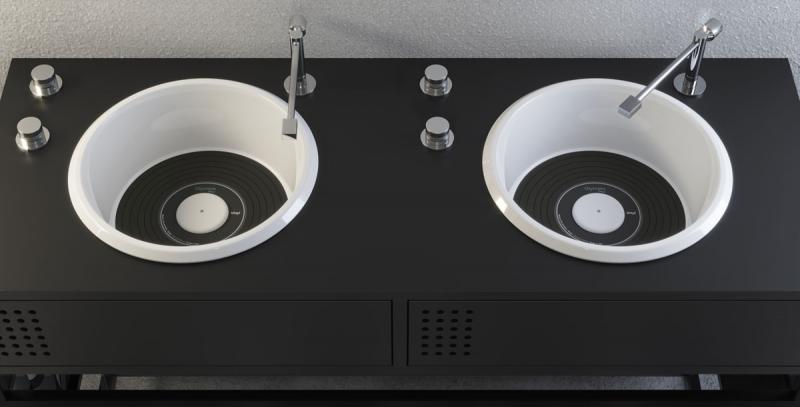 2. Olympia Ceramica Vinyl Turntable Vanity 
As record players re-emerge on the 'cool' scene, you may want to consider Gianluca Paludi's Vinyl turntable washbasin, with tone-arm faucets, wireless speaker in the wenge, honey or black matte base, and perhaps a hip red metal frame.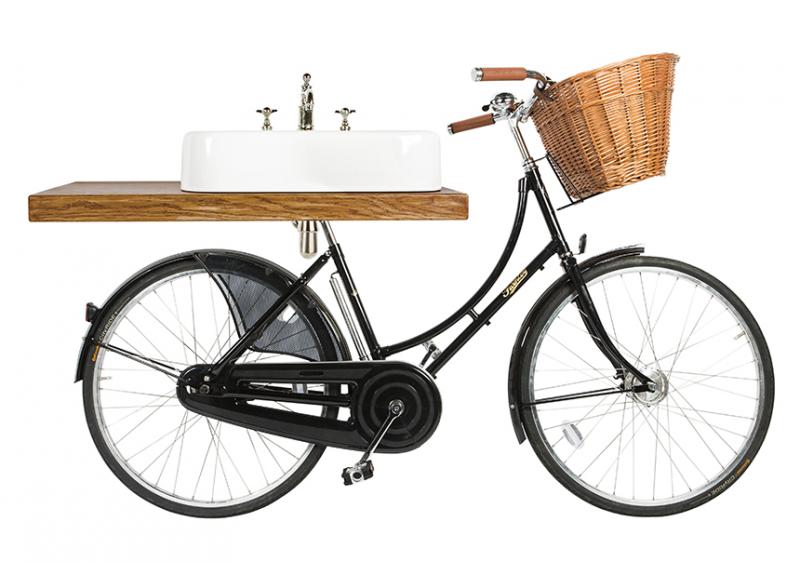 3. Crosswater London Arcade Bicycle Basin
A classic Pashley two-wheeler and walnut shelf hold a clay basin, for a playful fixture that pays nostalgic tribute to England's bicycle-friendly countryside.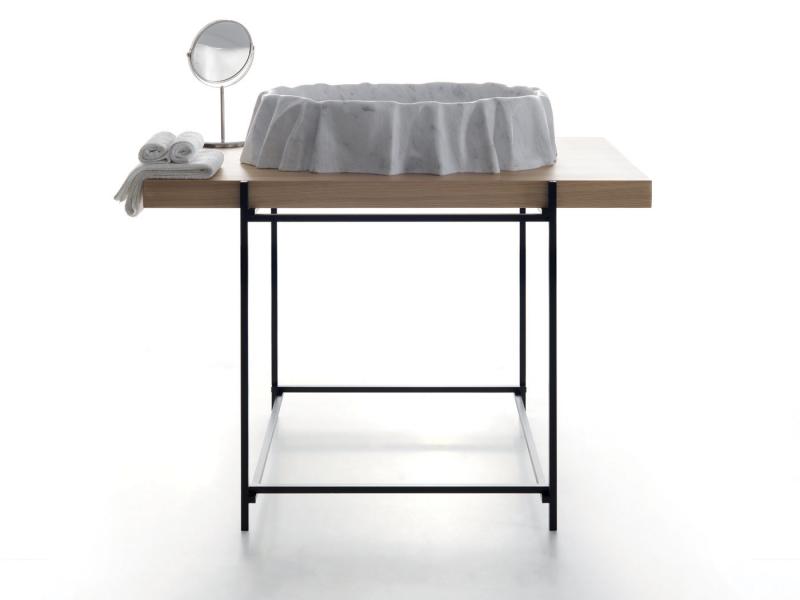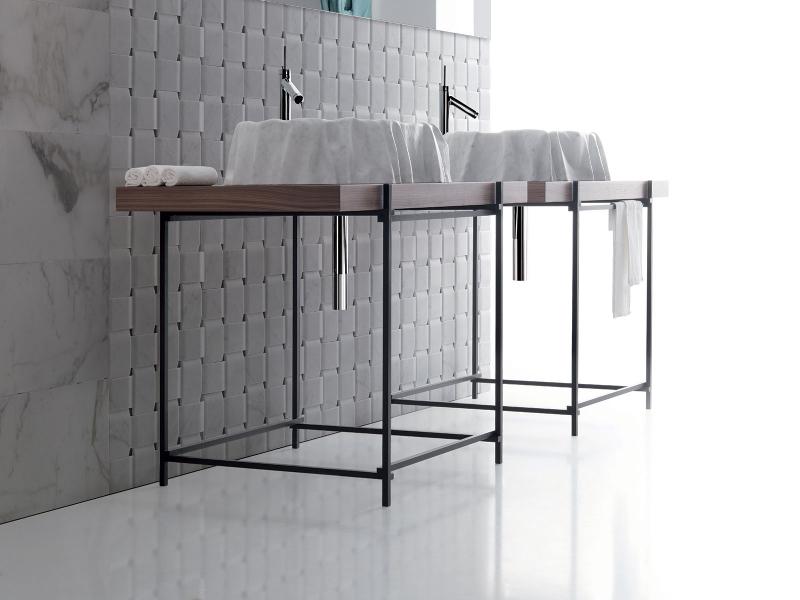 4. Kreoo Nabhi collection of easel and tray vanities 
Enzo Berti's newest designs for luxury Italian maker Kreoo place natural stone vessels on easel or tray style vanities made of larch, zebrano, or walnut (Hashi is shown).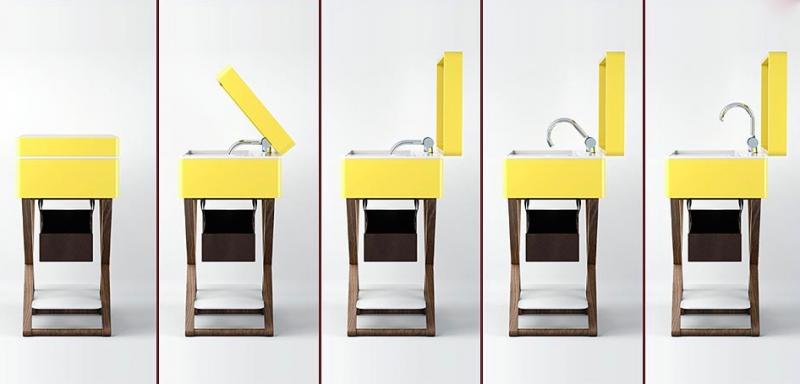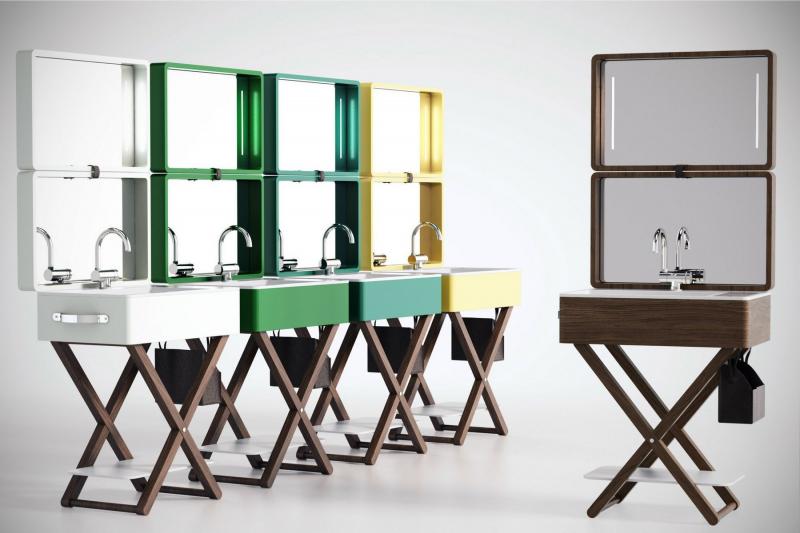 5. Aquatica Bath MyBag Suitcase Basin
Evoking old-fashioned luggage or artist's cases, the MyBag basin suitcase closes completely. The color palette of Ice, Turquoise, Green, or Yellow, with wenge or honeyed ash legs, is both retro and contemporary.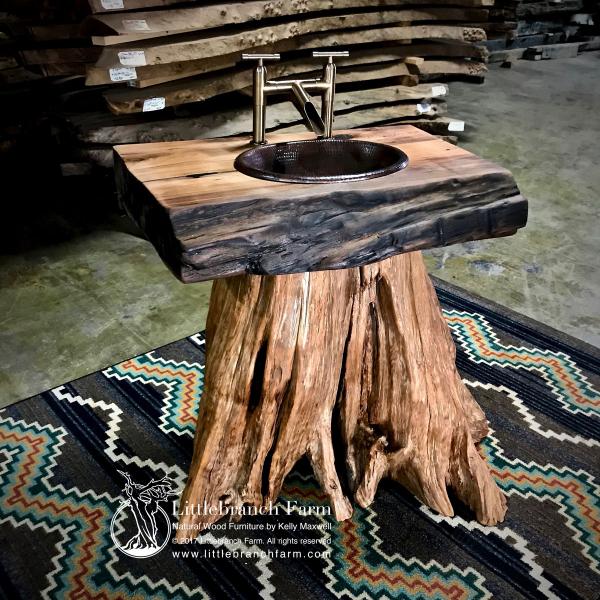 6. Littlebranch Farm Rustic Wood Vanity
Nashville-based furniture maker Kelly Maxwell harvests woods like juniper, maple and cedar from the Pacific Northwest forest floor and transforms them into vanities with hammered copper sinks. The one-of-a-kind pieces celebrate the sculptural rustic qualities of the origin material. "This one has a salvaged root base, with an old growth redwood live edge countertop," he says.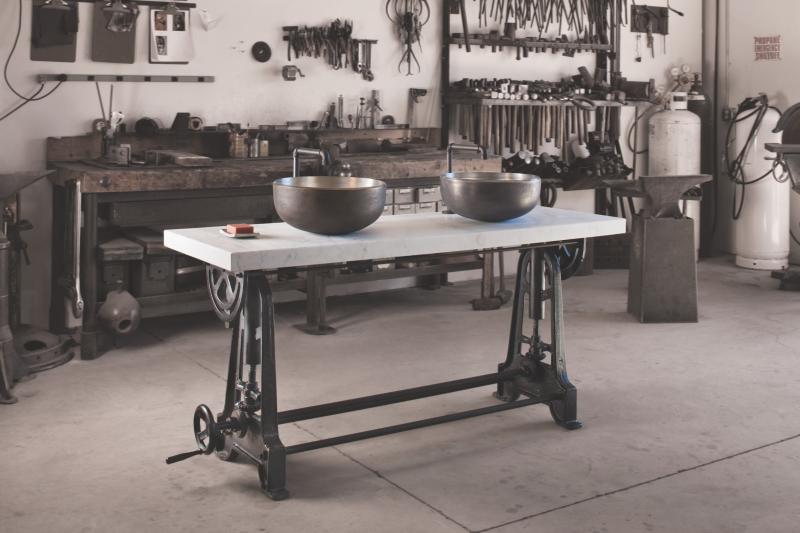 7. Stone Forest Industrial Console Vanity
A literal iteration of the industrial modern trend, this Stone Forest vanity was inspired by 1920s-era factory drafting tables. The side crank allows for height adjustments. A Luna Bianca marble top is included; fixture is shown here with white bronze Ore vessel sinks.
See more kitchen + bath news from PRODUCTS magazine: