Power tool manufacturer Bosch has introduced a new 2.6-gallon cordless jobsite vacuum cleaner that offers sustained suction for up to 24 minutes using the brand's 18-volt battery.
The company says the product's canister design features a "Bosch-exclusive" rotational airflow technology, "which helps ensure consistent vacuum performance. It weighs only 10.2 Lbs. (tool with attachments only, not including battery).
"A vacuum may not seem like an important part of the jobsite, but professionals know it is," says Jim Stevens, product manager for Bosch Power Tools. "It's important to keep the work area free of dust and debris. That's not just for aesthetics; it also applies to helping to ensure a safe jobsite."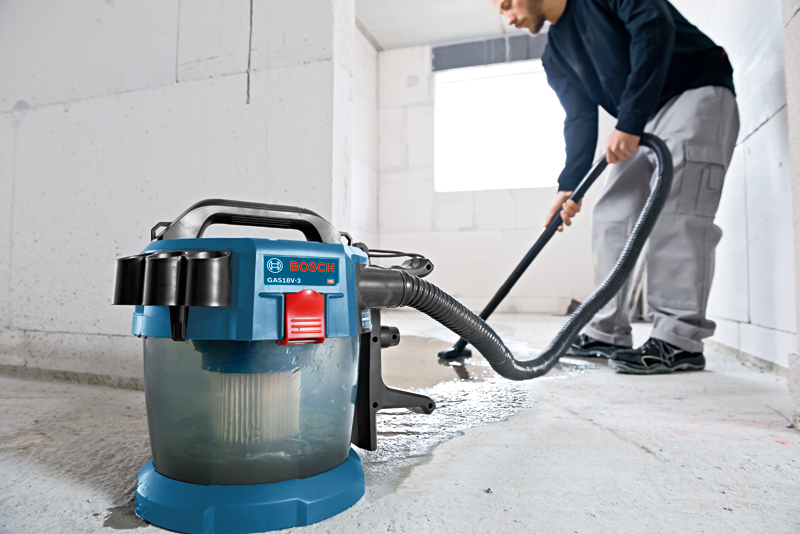 Offering a washable HEPA filter that captures 99.97 percent of particles at 0.3 microns and larger, the Bosch GAS18V-3N vacuum delivers up to 51 cubic-feet-per-minute airflow and provides wet suction of up to a gallon and a half of water for disposal.
Adapters for connecting the vacuum cleaner to various Bosch power tools and their dust hoods are available separately.
The vacuum works with the brand's 18-volt battery platform, delivering up to four minutes of runtime per battery amp hour, the company says. It comes with a 5.25-foot hose, three extension tubes, a crevice nozzle, and a floor nozzle. The battery and charger are sold separately.
Read more tool news from PRODUCTS: