"There are things you know about, and things you don't, the known and the unknown, and in between are the doors," quipped Ray Manzarek of the band The Doors in 1967. More of a stab at love-in esoterica than a tangible description of reality, the quote for decades may just as aptly have summed up the attitude to fenestration in U.S. home building. There is inside, there is outside, and in between are the doors (and the windows, too).
These days, the divisions aren't so clear, and intentionally so. With a massive surge in the popularity of outdoor living spaces, patio door dimensions have maxed out to meet the demand for a seamless transition between tricked-out backyards and sprawling, open interiors. The resulting door-cum-modular-wall system is often a floor-to-ceiling behemoth designed for the ultimate disappearing act and the creation of an airy meeting zone between indoors and out.
Available in oak, cherry, or maple interiors, Aeris sliding patio doors feature galvanized steel reinforced panels for rigidity and stable operation. Multi-chamber profiles boast Neopor insulation and 5 3/8-inch frame depth for greater thermal efficiency and increased sound abatement. The top-hung, heavy-duty companionscreen frame reduces binding, the company says.
"Bigger doors with more glass are very on-trend today," says Joy Steiner, product specialist at Pella. "Patio doors have truly become movable walls of glass for homeowners, which not only shifts priorities in the product design, but also requires innovation in installation and service from contractors."
According to Nick Pesl, a product and market coordinator at Kolbe Windows & Doors, the penchant to go large when it comes to patio doors is especially trending among custom and luxury homeowners, who are opting for wider entryways for new construction, remodel, replacement, and even historical projects.
"Discerning customers are searching for a specific design aesthetic and have a knack for attention to detail," Pesl says. "They're generally looking for expansive openings that help blend the interior with the exterior, so unit sizes and individual panel sizes continue to get pushed to the limit. Unobtrusive sills, stacking or pocketing systems, and options for automation continue to be focal points for these products, as well."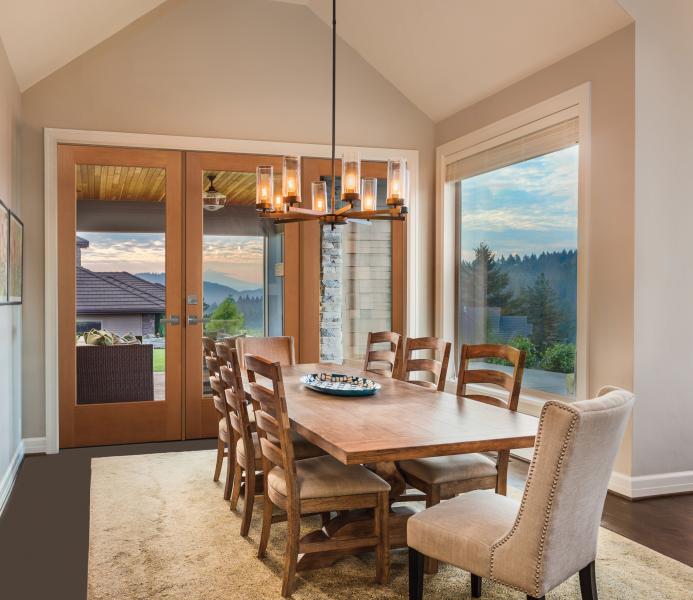 VistaGrande doors are designed to brighten living spaces, with a clear glass window pane that extends virtually the entire length of the door. Customizable textured glass options for different privacy levels, and Internal grids or simulated divided lites are available to add a craftsman design aesthetic. Doors come in standard 6-foot 8-inch and 8-foot sizes.
Even on the smaller, tighter lots of multistory urban infill and remodeling projects, large-format patio doors are in vogue. Pella, for one, has developed a new knockdown frame to accommodate a 20-foot-wide by 10-foot-tall four-panel glass wall in an effort to ease field assembly for contractors.
Whether homeowners opt for multi-slide, lift/slide, folding, or doors that open the entire corner of a room, Pesl and other category experts say big size capabilities, quality of craftsmanship, hardware selection, and warranty all factor into the selection and purchasing process for patio doors.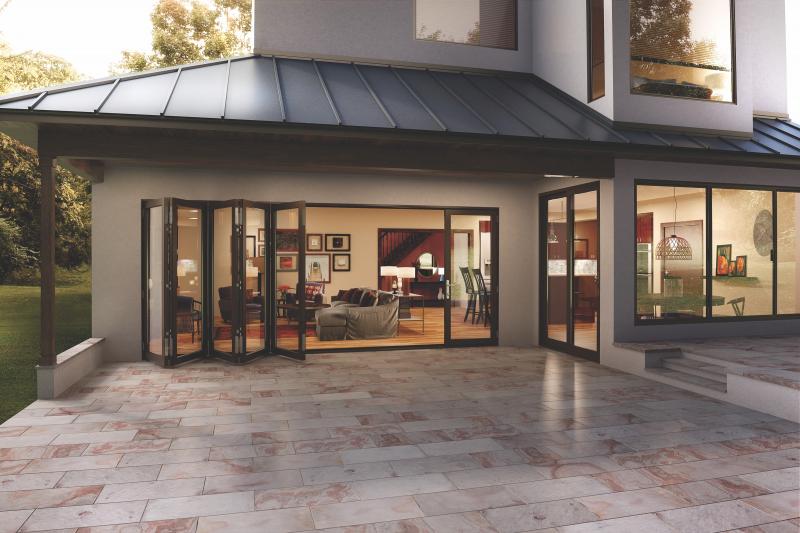 The brand's Moving Glass Wall Systems are available in pocket, stacking, and bifold operating styles in standard and custom sizes. Stock finishes include white, black anodized aluminum, and clear vertical-grain Douglas fir and pine wood-clad frames with hardware available in matching finishes. Tandem stainless steel ball bearing rollers carry door panels smoothly and effortlessly, the maker says.
"Style preferences, durability, regional factors, security, and privacy are all also important when it comes to selecting the right patio door product," says Mark Ayers , vice president of marketing for Therma-Tru. To help homeowners and building professionals identify and select doors, Therma-Tru is among several manufacturers to offer digital visualization tools via the web or mobile app.
Therma-Tru's redesigned DoorWays mobile app , for instance, uses a photo of the home to guide the user through an exploration of customizable features for door styles, glass designs, handle sets, stain and paint options, and more.
Whether contractors ally themselves with sleek visualization tools or not, in-depth communication with clients about patio door features, functionality, installation process, and overall design has been shown to correlate to customer satisfaction and loyalty. According to J.D. Power's 2017 Windows and Patio Doors Satisfaction Study, satisfaction significantly increases when a homeowner speaks with a salesperson at length rather than briefly or not at all, yet 61 percent of the 1,904 door and window purchasers surveyed said no one had seriously engaged with them to communicate the qualities of their selection.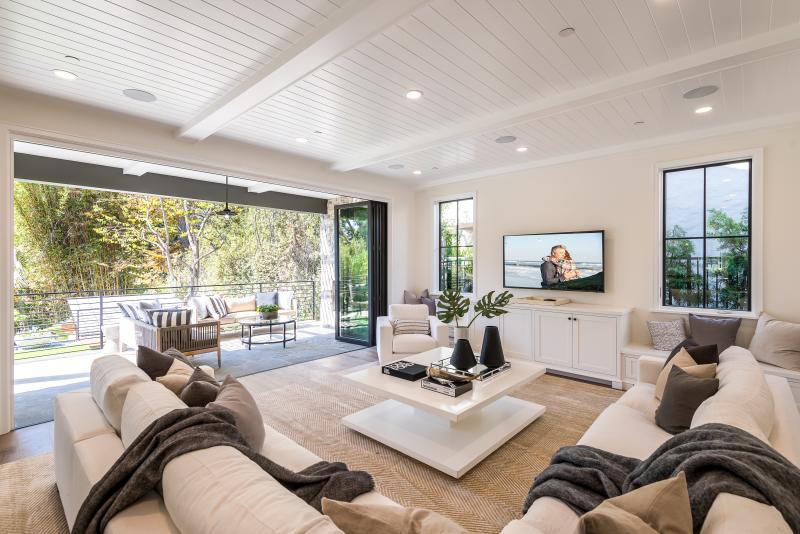 The Aluminum Thermally Controlled Folding Door system provides optimal energy efficiency, improved structural integrity, and maximum design flexibility, the maker says. Top-hung folding systems avoid bottom rollers that can collect dirt and result in shorter product life. The company's Multi Slide system door panels stack flush when fully opened for a clean aesthetic and feature consistent-width stiles and rails for balance and symmetry. 
Beyond size, homeowners are also zeroing in on hardware with clean, modern profiles, and darker metallic finishes. "Right now, we're seeing a lot of customers ordering anodized finishes for a sleek, contemporary look, and black finishes are also trending," says Lee Maughan, general manager and vice president at LaCantina Doors. "Customers are looking for hardware quality, performance, and style, and reputation and product knowledge figure largely into their selection and purchasing process."
Contractors looking for backup on patio door hardware specification can connect with the Builders Hardware Manufacturers Association (BHMA), which recently launched the BHMA Certified Secure Home label to help building pros and consumers easily identify products that have been tested and certified for security, durability, and finish. Currently available for locksets and dead bolts, BHMA plans to extend the Certified Secure Home label to hinges, thresholds, screen-door holders, and gaskets as well.
According to BHMA research, 40 percent of Americans don't know what factors to look for when purchasing a lockset or dead bolt. In tandem with the two-thirds of customers who told J.D. Power they're not getting a serious download on window and patio door specs, a broad knowledge gap offers residential construction pros the opportunity to add value and upsell into a growing product niche. For contractors willing to develop some product expertise and play educator, profits in higher-margin patio door categories could quickly break on through to the other side.
This story originally appeared in the May/June 2018 issue of PRODUCTS magazine. See the print version here.