Crossville has introduced a new porcelain tile collection called Astral Plane, which uses multidimensional graphics applied during the manufacturing process to achieve a natural stone look.
"Astral Plane's multidimensional graphics create a deeply layered look that makes the neutral color palette burst with visual texture," says Lindsey Waldrep, the manufacturer's vice president of marketing. "The nuanced appearance echoes the look of stone within natural landscapes. This makes it an ideal foundational element for designers who're focused on integrating the relationship between humankind and nature into interior design."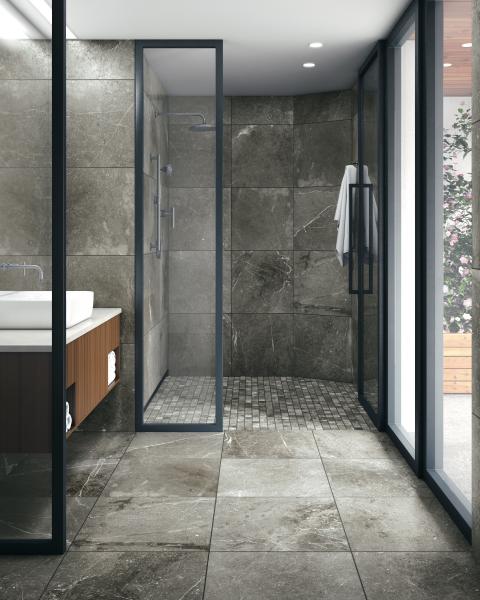 Astral Plane in Magellan
The domestically-produced porcelain tiles come in four different stone-look hues, such as the creamy Altair, grayish Magellan, brown Pavo, and the charcoal blue Draco. The collection is available in three rectified field tile sizes, including 24 inch squares, and 12-by-24 and 6-by-24-inch rectangles, which can be mixed and matched. A random mosaic is also available, as well as a 2-inch square mosaic.
Astral Plane tiles are recommended for a variety of interior installations, as well as vertical applications in outdoor settings. As with Crossville's other collections, Astral Plane is produced with at least four percent pre-consumer recycled content and is Green Squared certified.