Plumbing manufacturer Delta Faucet has introduced a new shower column that the company says was developed with small, urban spaces in mind.
Inspired by the modern styles found throughout European homes, the Emerge Shower Column offers bold, modern angles and raincan showerhead without additional plumbing modifications.
"At Delta Faucet, we strive to develop products that marry style with functionality," says Leah Schubert, Delta product manager. "The Emerge Shower Column offers sleek, European-inspired design with a luxurious shower head and easy-to-use hand shower."
The shower column, the company explains, transforms shower spaces without plumbing through the ceiling and works with any Delta showerhead for a fully customizable experience. It's designed for single or shared operation with a showerhead and hand shower.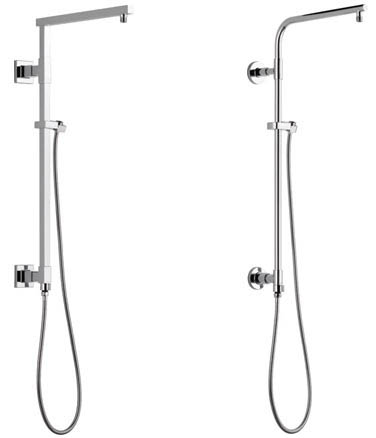 Available in angular modern and round contemporary styles, it can replace existing shower arms, eliminating the need for additional valve modification behind the wall, Delta explains.
 
Elements include a retrofit exposed pipe offering the benefit of a slide bar and overhead shower; a 15-inch overhead shower arm; and a 60- to 82-inch stretchable metal hose. "For added convenience, the column features an adjustable hand shower mount, allowing the hand shower to move up and down with ease," the company adds.
  
Emerge is offered in an 18-inch length to upgrade any existing shower space and a 26-inch length to upgrade any existing tub/shower space. It's available in chrome and Brilliance Stainless finishes.
Read more faucet news below: