The Delta Brand's most recent Homeowner Index found that respondents are willing to pay 24 percent more for kitchen remodels than they were in the spring of this year.
The bi-annual survey found that homeowners would be willing to pay an average of $17,172 to remodel their kitchen, up from $13,859 last spring. Following cost considerations, the potential of added resale value was a big factor driving renovation decisions, with 32 percent of respondents citing it as the most important factor to consider. This was more true of homeowners who have owned their homes for less than five years (36 percent) than those who have owned for longer (30 percent).
Along with the increase in average spend came a rise in consideration for smart home technology. Sixty-eight percent of respondents agreed that it is important to consider smart and connected products when making decisions about home design.
READ: HOUZZ SURVEY: AGING IN PLACE DRIVES BATH RENOS
The survey also found that 36 percent of homeowners believe smart home products will be the most prevalent new design element in the next 10 years, beating out sustainable materials (24 percent) and customized products (19 percent).
"The Delta brand continues to explore the evolving landscape of kitchen and bath solutions, and consumers are at the heart of every innovation," says Susan Fisher, vice president of marketing, Delta Faucet Co. "According to the survey, homeowners strive to implement modern design that combines style, functionality and technology – which aligns well with current brand innovations such as Delta Voice Activated Faucet Technology."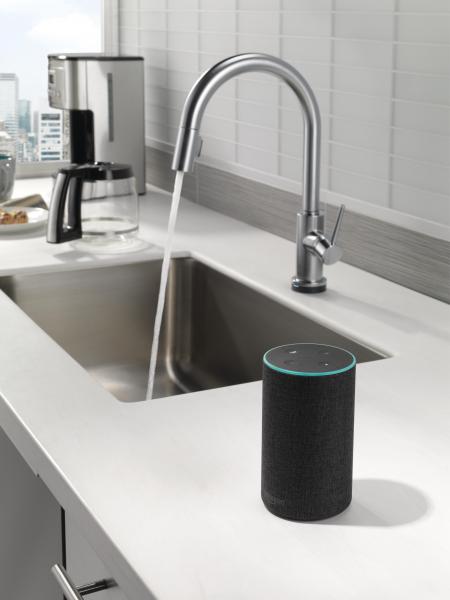 Delta's voice-activated faucet
Delta identified several product and material preferences, such as an affinity for the textures of tile, marble, and granite (71 percent) over wood (57 percent), glass (34 percent), and soft materials (31 percent). It also found that Millennials were the most likely to choose matte black finishes. The trend was also more popular among parents, at 24 percent, than non-parents, at 15 percent.
Read more from PRODUCTS magazine: