When homeowners in Pigeon Forge and Gatlinburg, Tenn., began to rebuild following the loss of 2,000 structures burned in the 2016 Great Smoky Mountain Wildfires, they turned to a familiar favorite for their trim: Eastern white pine.
"Our members can barely get enough product out there to satisfy the market demand," says Jeff Easterling, president of the Northeastern Lumber Manufacturers Association (NELMA). "Because of availability, workability, and familiarity, Eastern white pine has been the wood trim of choice in the East since the 1600s, and it dominates the 1-inch-board market just like Ponderosa pine does in the West."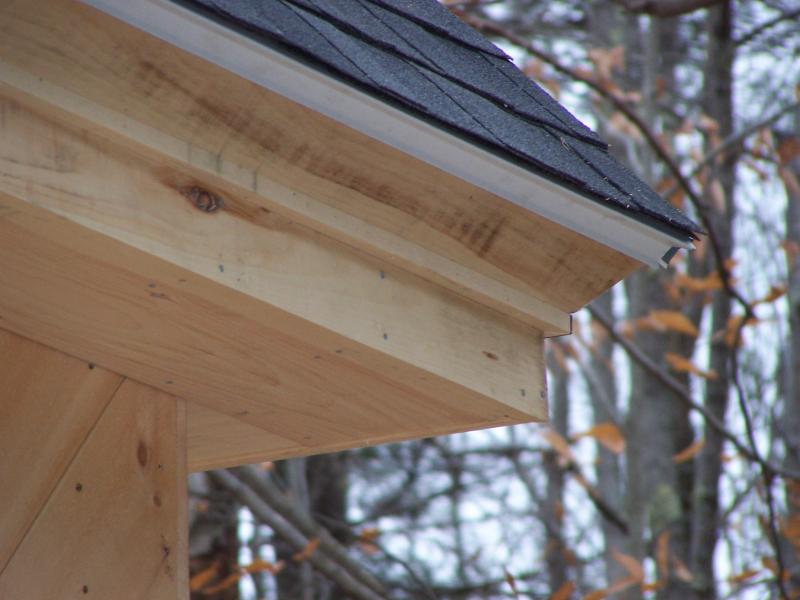 Sustainably harvested Eastern white pine has a uniform texture and shapes easily for trim applications that require a consistent profile. It is lightweight even at moderate moisture densities for easy handling, and it is available in five grades, including premium, finish, and standard. 
Across the country, trim products most often follow regional siding preferences, so geographic markets that are PVC-heavy gradually make way to composite wood markets, which make way to fiber cement, which make way to polyurethane, which make way to natural wood. Despite the us-versus-them mentality of manufacturers, material preference is by and large driven by locale, homeowner proclivity, and contractor preference.
"To retrain laborers or take on newer products that might require different tools is still very difficult," explains Easterling. "Everyone in the building trades is looking for a comfort level with their materials, and increasingly are looking for the convenience of a product where you install it and you're done. Long-term product familiarity gives them the confidence to do whatever they need to do to complete a project."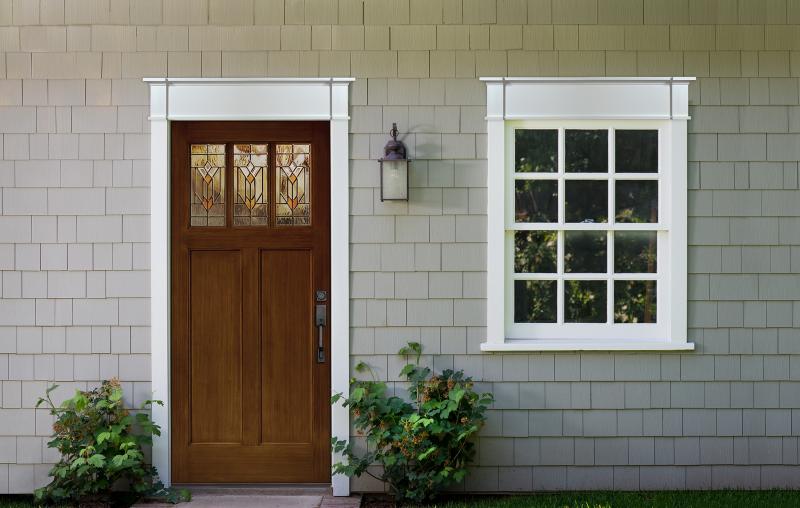 Craftsman Cove and Craftsman Stepped polyurethane trim crossheads are offered in a 216-inch length that can be cut to size. Optional end caps overlap the breast board to conceal installation screws and eliminate the need for patching. 
Amy Lindholm is the brand manager for siding and trim at LP, which manufactures composite and engineered wood trim products designed to be contractor and homeowner friendly. "Our product comes pre-primed and is very lightweight, so one person can carry two or three 16-foot trim boards at a time," Lindholm says. "It's really important to gain labor savings, even if it's just a little less handling of the product on the jobsite. Even the most minute savings add up over time."
According to Lindholm, the popularity surge of HGTV and DIY Network shows coupled with a sluggish new construction market has homeowners increasingly looking at exteriors as a way to personalize properties with curb-appeal upgrades. And whether it's the natural look of barnwood or a pop of bold color, clean lines and a uniform appearance carry the day. Think longer trim boards with fewer seams, regardless of material. "Homeowners are seeking natural and authentic and don't want a manufactured look," Lindholm says. "They want to defi ne their personality or get back to nature, but without the high maintenance."
Restoration Millwork cellular PVC trim is heat-formable for curves and arches and available in a choice of a Smooth or TrueTexture wood-grain finish. The UV-resistant trim cuts and mills with woodworking tools and fastens with nails or screws. 
At Ply Gem, cleanliness is next to godliness. The PVC trim maker adds protective film layers to ease installation woes and provide an immaculate look from day one. "We have our BuildReady line positioned to be everything that a contractor needs without having to go to a fabricator for custom pieces," says Ply Gem acting general manager Dan Hawk. "Then we have a peelable film protecting the product from dirt during transit from factory to jobsite, including storage at the dealer, and then Cortex screws to eliminate nailing and painting over of the holes."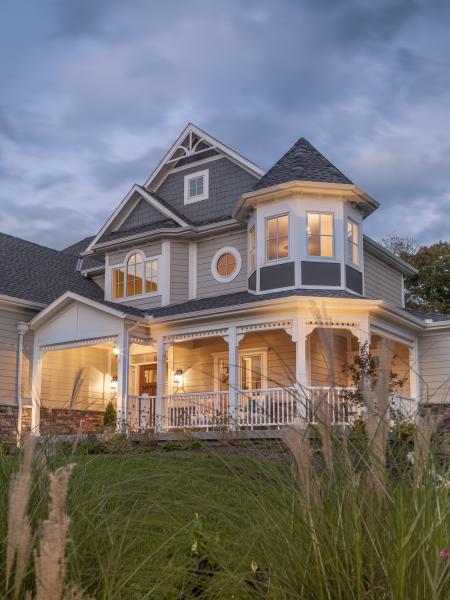 BuildReady cellular PVC trim and moldings have protective sealed edges and wood-grain or smooth finishes. Pieces can be cut, drilled, and routed like wood but offer improved resistance to rot, warp, and insects. 
Of course, homeowners want more than just a pretty set of sticks on the house. Indeed, "without high maintenance" is synonymous with "high performance" in the trim department, and translates to resistance to insects, UV exposure, moisture intrusion and related mold and fungal decay, cracking and splitting from freeze/thaw cycles, warping and fading, wind shear, and even impact (we're looking at you, hailstones).
While PVC, polyurethane, fiber cement, composite wood, and natural wood all boast a variety of performance and endurance benefits in addition to their workability and aesthetics, contractors should be as specific as possible when counseling homeowner clients. "Sometimes just saying a product is durable is not as impactful as really listing out all of the things that a product resists," says Lindholm.
With little new housing inventory hitting most major U.S. metros, the resale market remains hot and has homeowners keying in on transferability of warranties, so be sure to detail the fine print and finer points of coverage offered from trim manufacturers.
This story originally appeared in the Jan/Feb 2018 issue of PRODUCTS magazine. See the print version here.