A fireplace or fuel-burning stove can be a fashionable, functional, and inviting focal point in most any room in a home. Still, not every type is efficient at heating the house. Today there are new options that give buyers the atmosphere they want, without the inefficiency.
Hearth products come in many forms, including gas fireplaces and inserts, wood stoves and inserts, pellet-burning stoves and inserts, ethanol-burning units, and electric fireplaces.
The ideal option depends on where in the house it will be installed, the type of fuel available, the venting the unit will need, and the jurisdiction where you're building or renovating.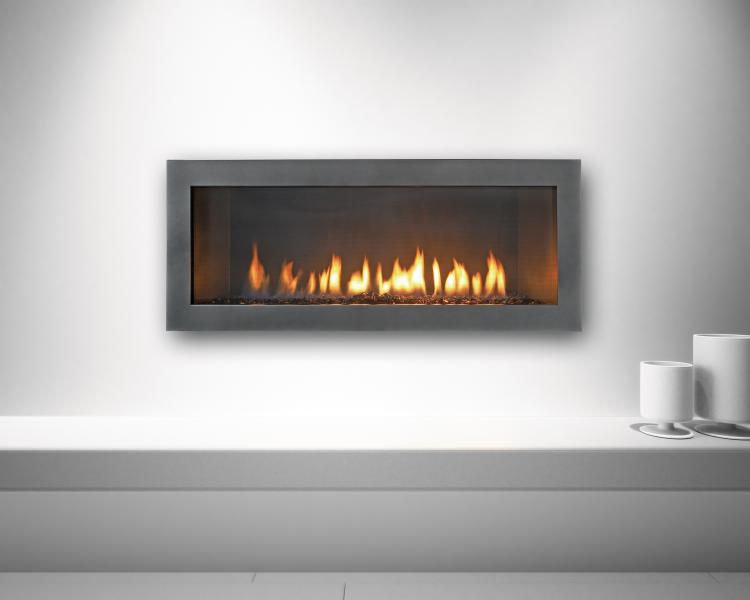 The 42-inch Cosmo is a horizontal gas fireplace with a linear ribbon flame. Ranging from 25,000 to 26,000 BTUs, it offers multiple front and interior finish choices and a reflective black glass liner. 
Venting options depend on fuel type. Wood-burning fireplaces, stoves, and pellet units require venting, while gas fireplaces may be vented or ventless. Plug-in electric fireplaces, which produce heat with a simulated flame yet stay cool to the touch, do not use vents.
Direct-vent is the most popular type of gas fireplace, eliminating up to 100 percent of combustion exhaust and fumes from a home while retaining 70 percent of the heat. In some installations, direct-vent fireplaces incorporate a fan-powered accessory that allows for zigzagging of the venting through a home, enabling installation of the fireplace in virtually any room.
A ventless fireplace, on the other hand, does not require a flue or chimney and keeps exhaust fumes within the house. "Ventless fireplaces may be decorative only, or produce some heat and real flames that act like a wood fire but without the smoke or mess," says Arthur Lasky, principal architect at HearthCabinet Ventless Fireplaces.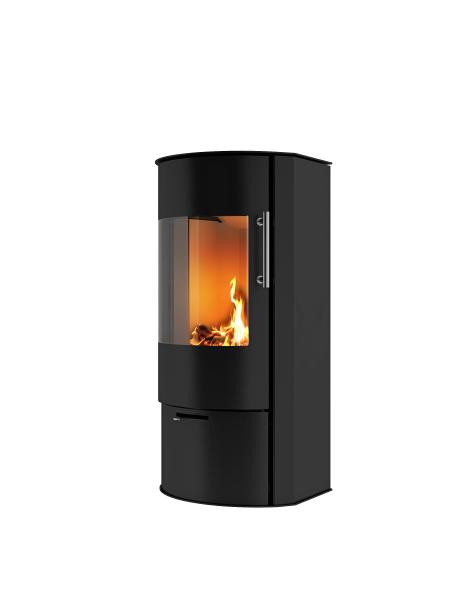 The Rina wood-burning stove has an efficiency rating of 79 percent, a rounded front, and oblique sides. Taking up very little space, it features a top rear outlet for the flue duct and an air system that takes combustion air from outside. 
When considering wood- or pellet-burning inserts in a prefab fireplace, it is important to make sure the chimney is rated for the temperature at which the insert burns. Wood-burning fi replaces produce the most pollution annually, followed by wood stoves and then, much less so, pellet stoves. Gas-burning hearth appliances, which can work on natural gas, propane, or bioethanol, produce the least amount of pollution.
Wood pellets are a cost-effective source of fuel for fireplace inserts or stoves requiring venting. A renewable energy source, the pellets are often made from compressed sawdust. Keep in mind that pellet stoves still need electricity to start the fire, run the blowers, and feed the pellets.
"Pellets are clean-burning and give the ambience of burning wood without the cutting, stacking, and splitting of cord wood, making them a convenient option for homeowners," says Karen Smeltz, brand marketing director for Harman. "Ideally, pellet appliances are installed on an outside wall and vent straight out the back with use of a direct-vent wall pass-through."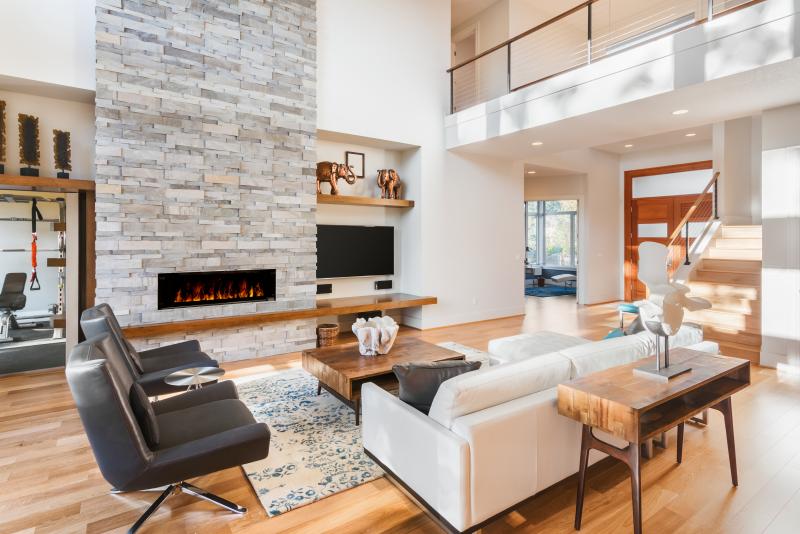 FusionFire uses steam to produce a lifelike flame image, the company says. It consumes a small amount of water and requires a standard 120-volt circuit. An internal computer controls flame height, lighting intensity, and a user display. A 5,000-BTU heater is optional. 
These days, builders and remodelers may choose bioethanol, a non-traditional hearth option that burns denatured alcohol made from organic sources. The byproduct of the combustion process is carbon dioxide and water vapor. Advocates of the technology point out that appliances that burn bioethanol generate the same amount of CO2 as the creation of the plants the fuel came from, making them an environmentally friendly option.
Specifying a fireplace is not as simple as picking a style, a fuel, and a venting option. Builders also need to consider venting from an installation standpoint, says John Crouch, director of public affairs for the Hearth, Patio & Barbecue Association. "In very complex custom homes, it is not unheard of for a designer to underestimate or misunderstand the venting requirements on the product they spec. That is one of the reasons folks like direct-vent gas products."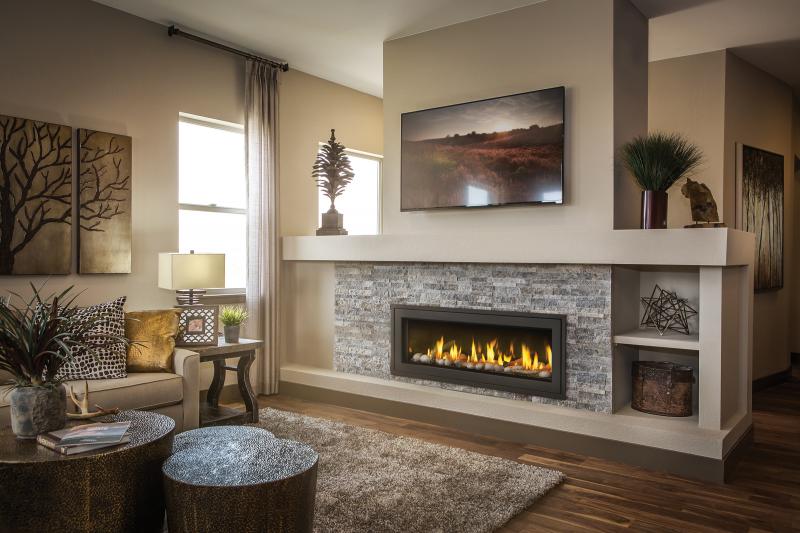 The Vector 50 direct-vent gas fireplace features heatradiating ceramic glass, a porcelain reflective radiant panel, and electronic ignition. Able to generate up to 40,000 BTUs of heat, it works with the Bluetoothenabled e-Fire app that allows control of power, brightness, flame height, and blower speed. 
Navigating Requirements
Before selecting a fireplace, consider the local codes. Some counties and municipalities, particularly in the West and Southwest, have no-burn days that prohibit the use of all fireplaces, wood stoves, and outdoor burning devices. Even in areas where there are no locally mandated regulations, construction professionals must do some research before making a choice.
In May 2015, the EPA put regulations in place for wood stoves requiring they produce no more than 4.5 grams per hour of pollution. By May 2020, that level will be reduced to 2.0 grams per hour of particulate pollution. In some municipalities, wood inserts and wood stoves not certified by the EPA are now illegal to buy and operate.
While the EPA does not regulate the manufacture or use of wood-burning fireplaces in the U.S., it has a voluntary program for fireplace manufacturers to help reduce particle pollution. The program covers new masonry and prefabricated (low mass) fireplaces as well as retrofits for existing fireplaces. Fireplace retrofits can reduce pollution up to 70 percent if installed properly compared to unqualified fireplaces.
When shopping for a hearth product for your homes, it's a good idea to check with the local codes to confirm what is permitted.
This story originally appeared in the Sep/Oct issue of PRODUCTS magazine. See the print version here.