The 2018 Houzz & Home study of home renovation trends found that kitchen and bath projects are dominating the remodeling market in both frequency and spending.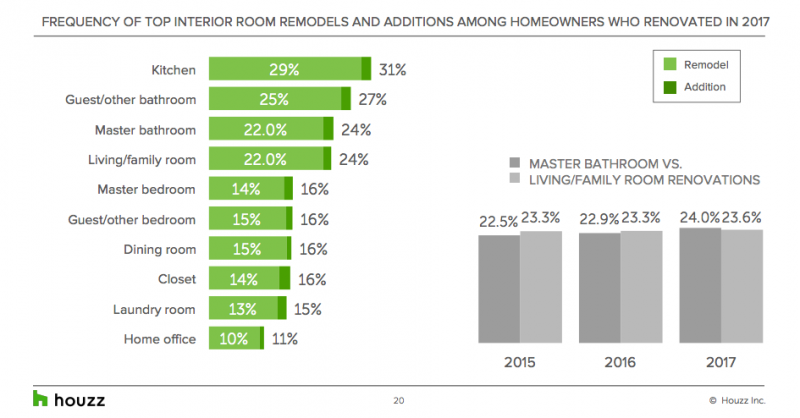 Photo courtesy of Houzz
According to the annual survey, 31 percent of homeowners renovated a kitchen in 2017.  Kitchens were followed by guest or secondary baths (27 percent) and master baths (24 percent) as the year's most popular renovation projects. In addition, master baths narrowly overtook living/family rooms in popularity in 2017. Houzz found that 58 percent of overall respondents reported renovating a part of their home in 2017.
Kitchen spending also ramped up in 2017 with a 10 percent increase in the median spending: $11,000 in 2017 from $10,000 in 2016. Most of this growth came from major remodels of large kitchens (more than 200 square feet), where median spending grew from $30,000 in 2016 to $33,000 in 2017. Meanwhile, bathroom spending in 2017 held steady from the year before at a median of $7,000. Median renovation spending overall also remained flat, at $15,000.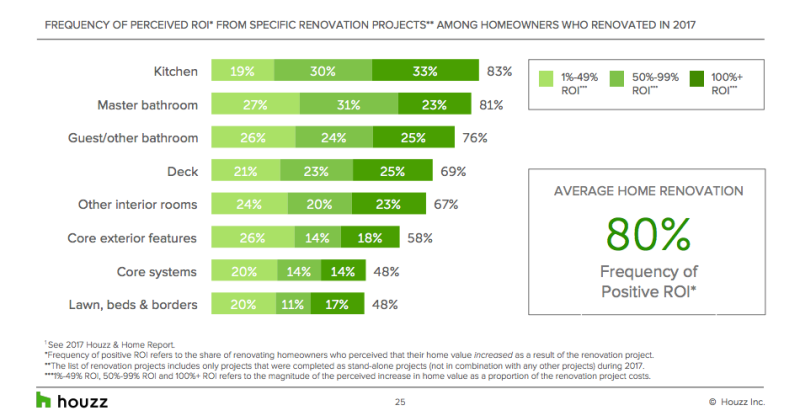 Photo courtesy of Houzz
The survey found that kitchen and master bathrooms have the highest perceived return on investment for homeowners. About four out of five homeowner reported that kitchen and master bath upgrades added value to their homes, while 33 percent and 23 percent, respectively, reported a 100 percent return on investment. About 70 percent of homeowners were concerned about increasing their home's resale value with renovations, behind room design and functionality considerations (89 and 84 percent, respectively).
"All of the evidence from our research points to 2018 likely being another robust year for the home improvement industry," says Nino Sitchinava, Ph.D., principal economist at Houzz. "Recent buyers and long-term homeowners alike are keen on investing in major projects. Kitchens and bathrooms continue to fuel spend, while exterior features and systems, such as home security and automation, are on the rise... we expect the momentum to continue in 2018."
Home security installations climbed 50 percent over the last two years, from 10 percent in 2015 to 15 percent in 2017. The share of homeowners installing automated home systems, such as thermostats, electronics, and lights, grew 18 percent since 2015, to 23 percent. Home exterior and backyard upgrades also saw increases.
Photo courtesy of Houzz
Finally, the survey found that 88 percent of all homeowners who renovated in 2017 hired a professional, up from 85 percent in 2015. The need for specialists, such as electricians, plumbers, and carpenters, also increased to 51 percent (from 44 percent in 2015).
See more findings from the 2018 Houzz & Home Survey here.
See more industry trends and data from PRODUCTS magazine here: