In Cape Coral, Fla., homeowners buying new houses or remodeling their existing ones are ordering white toilets with clean, simple styles, says builder Bob Knight, president of Paul Homes.
"The colorscape is starting to lighten up again," Knight says. "Light color signifies cleanliness. That's the route they're going with bathrooms."
And that's not the only kind of clean they want from the bathroom staple. Toilet manufacturers are bending over backward to deliver "clean." American Standard, for instance, has confi gured some of its toilets so 70 percent of the water during each flush swirls around in the bowl to clean it—about 40 percent more than is typical. And its ActiClean model allows the user to activate a self-cleaning function by pressing a button to release a germkilling detergent into the bowl for one to 10 minutes.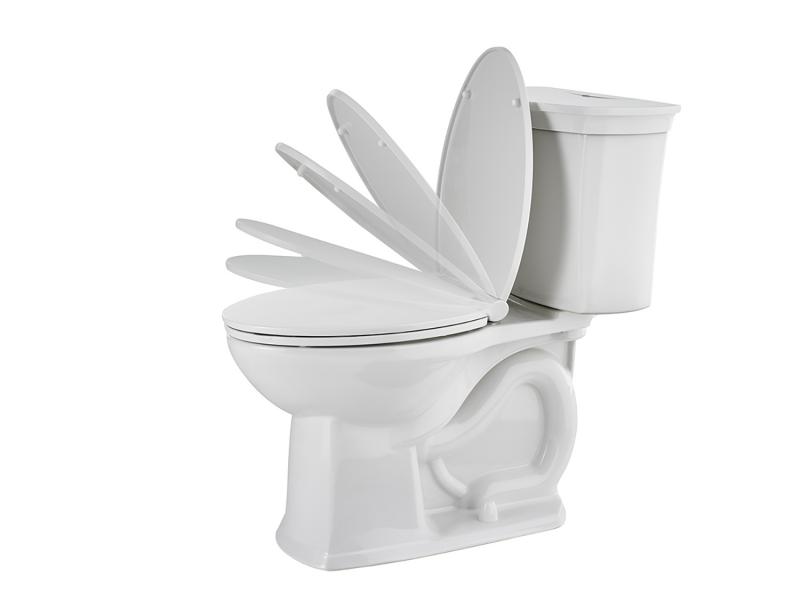 The ActiClean self-cleaning toilet "delivers the cleanest flush ever engineered," the manufacturer claims. The toilet is equipped with VorMax flushing technology, allowing the user to press a button and wait between one and 10 minutes for the toilet to clean itself.
"It [kills] germs, but you don't have to clean it," says Jean-Jacques L'Henaff, vice president of design for American Standard. "We identified a long time ago that this is the biggest pain point for all users."
"It's fair to say every company out there is trying to make a better, cleaner toilet," says Kathy Ziprik, a spokesperson for Mansfield Plumbing, whose single-flush Summit toilets feature the company's bacteria-resistant PuraClean glaze.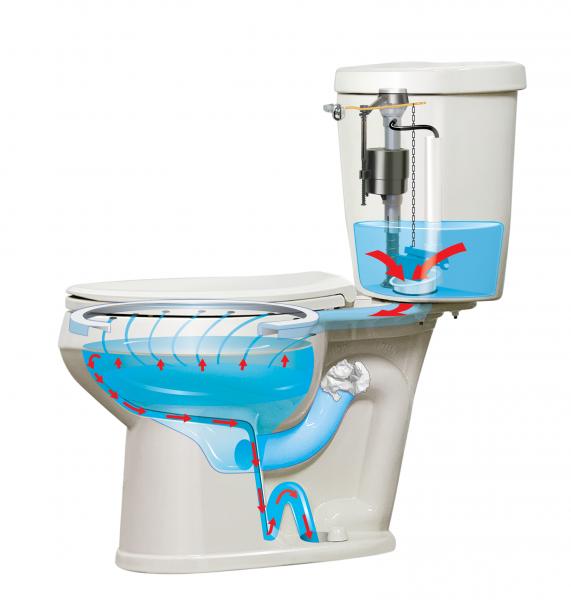 To prevent overflowing, the Protector No-Overflow toilet features a concealed secondary drain. When clogged, the toilet redirects excess water into the secondary drain. In addition, the manufacturer's PuraClean glaze on the toilet makes the bowl bacteria resistant and easier to clean.
Gerber's Avalanche CT toilets cater to the homeowner's desire for easy cleaning with a smooth, concealed trapway between the bowl and the base. The bowl of Toto's Neorest 750H toilet features a slippery ceramic glaze that prevents waste from  clinging to it during use and an integrated UV light that breaks down bacteria in the bowl to keep it clean. The toilet features the company's Washlet seat, which senses when a user is approaching and quickly squirts a fine mist of electrolyzed water into the bowl to further prevent residue from sticking. Then, after every 1-gallon flush, the seat sprays the bowl again.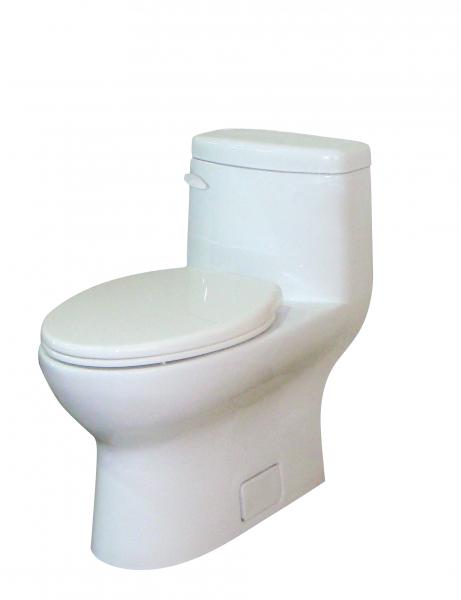 The 1.28-gpf Avalanche CT one and two-piece models conceal the toilet's trapway under a smooth skirt for easier cleaning. Both toilets feature elongated bowls and an ADA-compliant height.
"The impact," says Bill Strang, Toto's president of operations and ecommerce, "is your need for frequency of cleaning and harshness of chemicals are both reduced, having a … very positive impact on the environment."
But Knight says some high-tech, self-cleaning models are too pricey for even his high-end clients. And he says the older homeowners he works with are more interested in "comfort-height" options and elongated seats than in higher-priced add-ons such as bidets and seat warmers.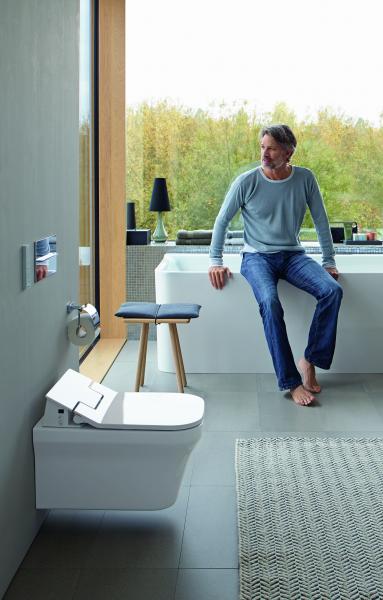 A remote-controlled, power-activated "shower-toilet seat" can top a number of the manufacturer's toilets. The SensoWash Starck C seat features a rear, front, and oscillating wash, and allows the user to adjust the position of the nozzle and jet strength. The seat also includes a self-cleaning wand, two individually programmable user profiles, and a night light.
Still, he says, they understand the environmental concern that has prompted perhaps the greatest innovations in toilets: the need to conserve water. To that end, multiple manufacturers have created toilets that use less water per flush than the mandated 1.6 gallons and even the 1.28 gallons allowed for the EPA's WaterSense certification. The program endorses low-flow toilets from 27 companies, including seven that manufacture models requiring as little as 0.8 gallon per flush. Most have dual-flush models as well.
But conservation without performance doesn't sell toilets, as evidenced by the sour reaction to first-generation low-flow toilets introduced after 1994, when a new federal energy law limited new toilets to 1.6 gallons. Designed to save water, those pioneers were engineered with too little power to clean the bowl with a single flush. In modern models, Strang says, "even those as low as 1 gallon, you can put in both solid and liquid and paper and flush it one time, and everything goes down."
WaterSense certification supports this, as well, by certifying not just the amount of water, but the toilet's ability to flush a certain amount of solid waste on the first try.
Manufacturers have found a number of ways to increase suction while reducing the amount of water per flush.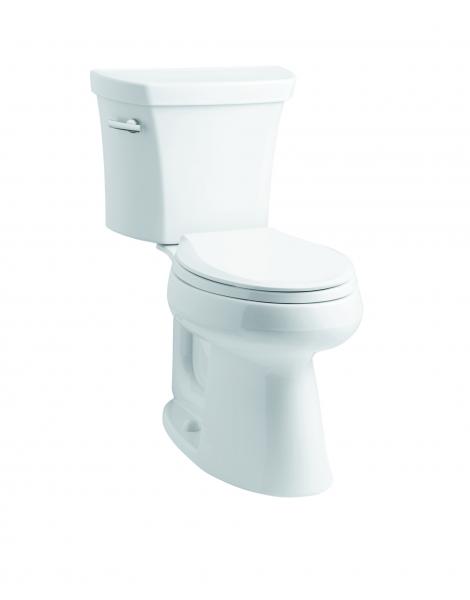 Highline, the manufacturer's most waterconserving single-flush toilet, uses the force of gravity and a precision-engineered tank, bowl, and trap to create a strong siphon during flushing. This 1.0-gpf, two-piece unit reduces water use by more than 35 percent compared to 1.6-gallon toilets.
Kohler's 1.0-gpf Highline toilet, for example, combines the force of gravity with the shape of the bowl and a trapway to create a strong siphon during flushing. In Niagara's Stealth UHET dualflush toilet, water fills the tank after a flush, and air is forced to the top of the chamber, through a transfer tube, and into the trapway, which becomes pressurized. That creates a larger surge of water. In Mansfield Plumbing's Denali model, water sits higher than normal in the tank so the flush valve reaches its highest velocity earlier in the flushing cycle. Dual side jets intensify the waste-removal process.
With the U.S. Green Building Council's introduction of LEED v4, Strang predicts manufacturers will be focusing on more than water conservation for future toilet models. For example, builders hoping for green certifications might have to reveal for each product how much carbon is required for procurement, manufacturing, distribution, and use in the home.
"All of these concepts are playing a role in the product design and how we're bringing that product to market," Strang says.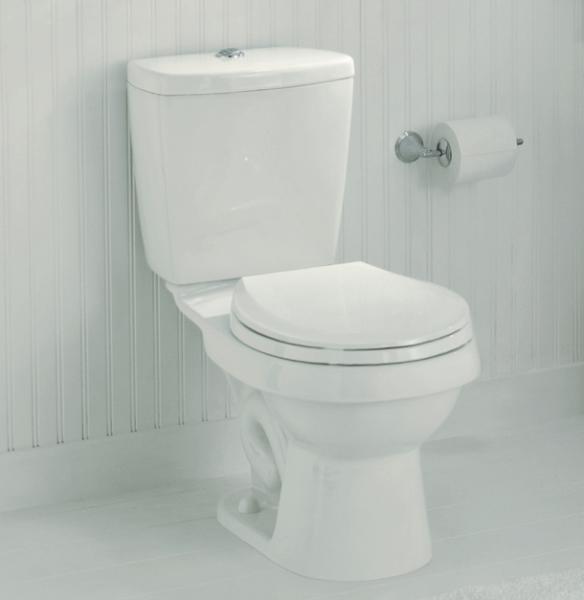 The dual-flush Karsten toilet allows the user the choice of a 0.8-gallon flush for liquid or light waste, and a 1.6-gallon flush for bulk or solid waste. The manufacturer says its two-button Dual Force technology can save the average family up to 24,000 gallons of water per year with the 0.8-gallon option.
Meanwhile, toilet makers are introducing practical features that make the units more user-friendly. One example is Mansfield's Protector No-Overflow Toilet, which features a concealed, secondary drain in case the first one gets clogged. And some have introduced ultra-high-end seats that feature bidets, night lights, heat, and self-lowering lids.
Still, Knight says toilets aren't high on his homeowner-clients' priority lists. "People say they don't like to talk about it," he says. "But you've got to talk about it. It's life."
This story originally appeared in the Winter 2016 issue of PRODUCTS magazine. Read the print version here.