Kitchen and bath products brand Rohl says its new Culinario Sink features a special sloped base and an off-set drain to transform a problem area into the ultimate in functionality.
According to the company, under the kitchen sink is one of the most difficult places to create more storage and organization. This sloped design helps.
"The design of the Culinario Sink is 40-years in the making and takes four decades of industry knowledge between my father, Ken Rohl and his friend and colleague, Kelly Stewart, who designed the Culinario and combined it with Italian engineering and craft in stainless steel to create this ultimate solution," says Greg Rohl, vice president of marketing for the company.
Rohl says the sloped sink floor adds ergonomic functionality and more efficient use of space, allowing homeowners to store two 35-quart bins under the sink—one for trash and one for recycling. "It also allows for a dedicated plumbing cabinet, with ample room to organize cleaning supplies," the company says in a release. "And, with the double bowl option, there is room to add custom drawers to hold dishtowels, linens, plastic wrap, spices or cutlery."
The sink is made from commercial 16-gauge stainless steel and uses insulating "quite coat" technology that reduces splash back sound and muffles the noise from heavy pots and pans hitting the sink walls.
Culinario is available in two sizes—a double bowl measuring 49 inches by 16 inches and single bowl measuring 36 inches by 16 inches.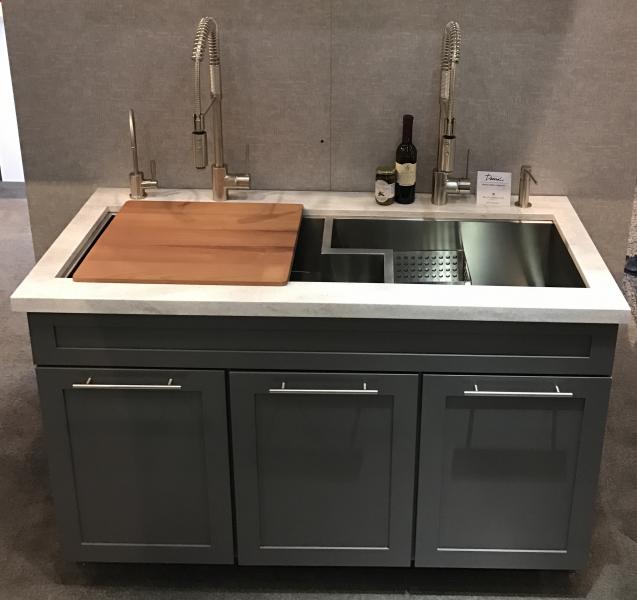 See more kitchen+bath news from PRODUCTS magazine here: