NKBA recently released an extensive report on technology use and awareness in the kitchen.
The association conducted the study to identify perceptions of technology among industry professionals, inform NKBA members of current and future consumer technology needs, and learn what education resources can be put in place to better prepare professionals for the coming technology demand.
The Kitchen Technology Report, which surveyed about 200 NKBA designers and 300 consumers who plan to remodel their kitchens within 24 months, found that nearly half (48 percent) of consumers self-identified as frequent technology users, while just 32 percent of the designers frequently recommended integrating technology into kitchen design.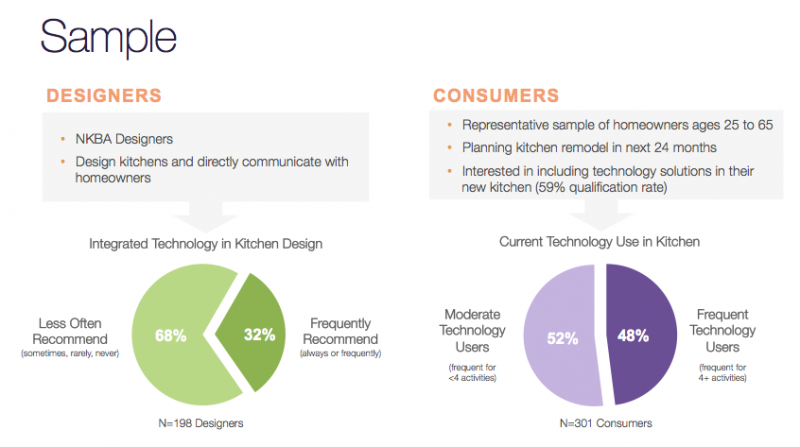 Photo: NKBA
Most consumer respondents reported that they hope integrating technology into their kitchen would add market value to their home, save them time, and make their space more fun for social gatherings. Consumers do not, however, like the look of technology—57 percent reported that despite the desire to integrate technology solutions, they didn't want their kitchen to have a "techy" appearance.
In a number of areas, the survey found differences between designer and consumer technology perceptions. For example, designers reported that their two biggest barriers to integrating technology were an unfamiliarity with products (53 percent) and a perceived lack of usefulness (49 percent), while only 14 percent and 12 percent of consumers saw the same barriers. The two groups agreed, however, that technology costs can be a significant barrier.
The survey also found that 57 percent of designers feel that their customers are looking for expert knowledge on technology integration, while just 23 percent of designers reported being "very knowledgeable" about technology solutions. The vast majority of designers (70 percent) reported knowing only enough about technology to ask basic questions.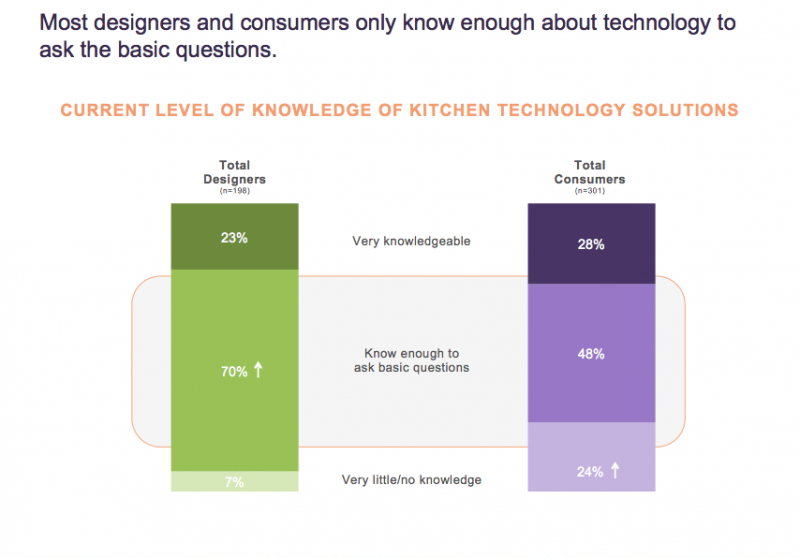 Photo: NKBA
Notably, designers and consumers prioritize several of the same kitchen technology features, including internet/Wi-Fi connectivity and storage, home entry and climate control, smart appliances, hands-free faucets, smart lighting control, easy-to-clean touch screens, and mobile device charging and storage. But several items—including security system management, appliances with smartphone controls, voice-activated lighting, and built-in speakers—that are highly appealing to consumers, were overlooked by designers.
The top three kitchen technologies for which consumers most rely on designer insight are smart appliances (68 percent), Wi-Fi connectivity (68 percent), and centralized lighting controls (64 percent). Meanwhile, designers perceived device charging and storage to be the most important technology to learn about (68 percent), followed by automated faucets (55 percent) and smart appliances (53 percent).
Despite a broad desire among designers to learn more about technology integration, just 5 percent report being extremely or very familiar with CEDIA, an association for electronic design and installation professionals. Sixty-one percent of designers said they don't work with technology professionals on their kitchen projects.
With its recent partnership with CEDIA Expo, the NKBA hopes to expand member access to technology integration resources to close the knowledge gap for future kitchen projects.
Find the full survey results at nkba.org.
See more data + research from PRODUCTS magazine: