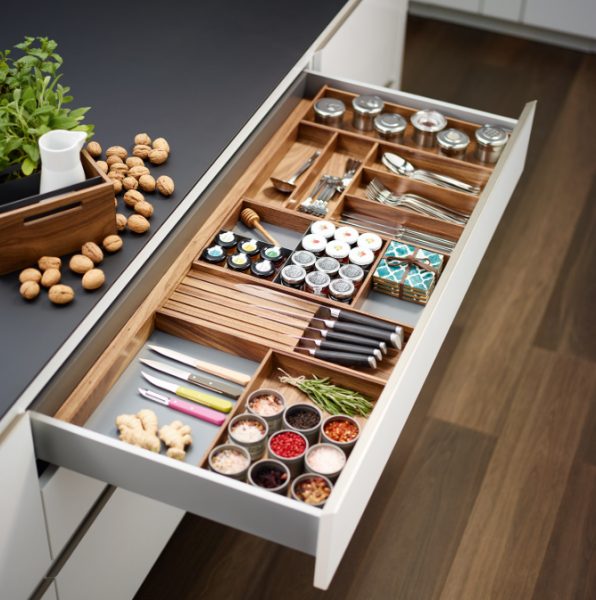 Canadian specialty hardware manufacturer and distributor Richelieu has unveiled a new wood drawer divider system that combines trays, dividers, boxes, and holders.
The StraightLine system allows designers and homeowners to create a highly functional and stylish drawer interiors, the company says.
Offered in birch and walnut, the modular divider system allows for the freedom in drawer organization and customization, Richelieu says, explaining that the product increases efficiency in the kitchen with well-organized cabinet interiors and drawers. It allows you to "combine a series of trays, utensil dividers, knife blocks, plate holders, spice racks, and boxes that snap into place to create the perfect harmony in every drawer and pull-out shelf."
READ: RICHELIEU INTRODUCES MODULAR SYSTEM FOR KITCHEN, BATH FURNITURE
Components in the system include wood trays, utensil dividers, knife blocks, plate holders, spice racks, boxes, peg systems, and metal dividers, among others.
Each component can be rearranged to accommodate a specific application. Users simply unclip and move the boxes, trays, and dividers into new positions for a completely new arrangement. The customizable system can be used in any sized drawer or pull-out shelf.
This distinctive and unprecedented flexibility allows homeowners to balance practicality and style for a personalized design inside every cabinet interior, drawer, deep drawer, and pull-out shelf.
StraightLine is compatible with the company's Dispensa and Convoy pantry systems and well as the Comfort II pull-out frame.