Because custom tiled showers continue to grow in popularity, Schluter-Systems has introduced 16 new prefabricated, sloped trays for showers with the Kerdi-Drain point drain and Kerdi-Line linear drain.
"These additional shapes and sizes will make it much easier for homeowners and construction professionals to choose a tray that suits the size of the shower they are building," the company says.
In addition to the additional sizes available, the company's shower trays now feature integrated Kerdi waterproofing on the top of the tray.
"All shower areas must be made completely waterproof before tiles are installed, so trays with the waterproof membrane pre-installed remove a step from the construction process," the company explains. "The pre-installed waterproofing on these shower trays is easily integrated with Schluter drains and waterproof walls to construct a completely waterproof and vapor-tight environment."
The new shower trays for the Kerdi point drain include 38 by 60 inches, 48 by 72 inches, and 72 by 72 inches with center drain placement; 38 by 60 inches with offset drain placement; and 36 by 36 inches, 38 by 38 inches, and 48 by 48 inches with reduced-height with center drain placement.
New sizes for the Kerdi-Line linear drain include 38 by 38 inches, 48 by 48 inches, and 55 by 55 inches with center drain placement; and   39 by 39 inches, 48 by 48 inches, 55 by 55 inches, 36 by 72 inches, 38 by 76 inches, and 76 by 38 inches with perimeter drain placement.
The company also is introducing three reduced-thickness shower trays that help create curbless and barrier-free showers.
"Curbless shower areas have also exploded in popularity in recent years," the brand says. "They have become a very popular design choice for aesthetic reasons and to assist homeowners with aging in place or managing reduced mobility.  One of the challenges when constructing curbless showers is to effectively manage height changes between the bathroom floor and the shower floor."
The new shower trays feature perimeter heights of 1 inch or less to simplify the design and construction of curbless shower entries. It also will allow more people to have curbless showers installed in their homes, the company says.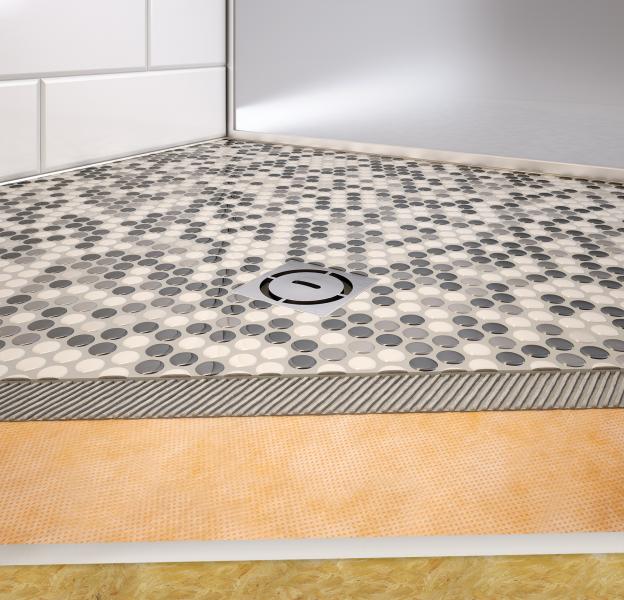 Read more kitchen + bath news from PRODUCTS magazine: