Year after year, the National Kitchen and Bath Association's annual Design Competition offers a zeitgeist of sorts: a glimpse into the current tastes of North American homeowners. This year was no exception, as the kitchen competition winners revealed lots of white and gray, open layouts, creative storage solutions, and, most notably, clean, simple forms favoring transitional and contemporary styles.
"Overall, in home design in general, we've seen everything moving toward a streamlined look," says Alexa Noel, senior manager of research and innovation at KraftMaid. "There will always be traditional … but it's now less of a Tuscan kitchen and more toward Shaker."
"Five years ago, the trend was raised-panel doors, miters, decorative looks, which are still popular but not nearly what they were [then]," agrees Brandon Pacifico, senior vice president of sales for Wolf Home Products. "Shaker and transitional doors are the fastest movers for us."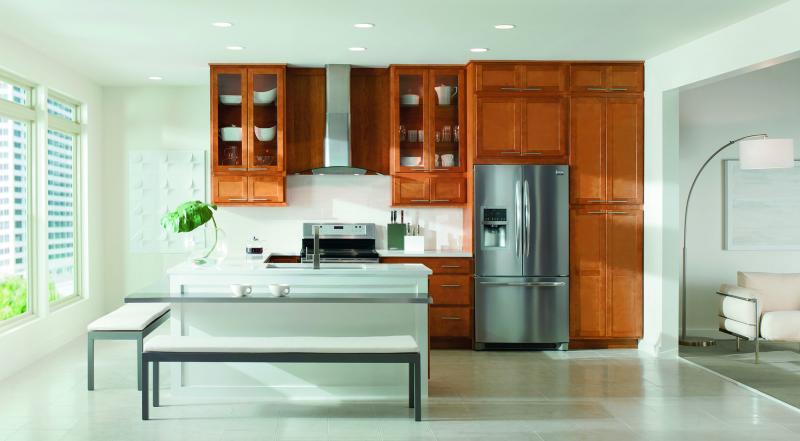 Signature cabinetry features SmartShield technology, a continuous, protective laminate wrap that reduces the potential for moisture intrusion and delamination, the company says. The cabinets mimic the look of painted wood.
The trend is in step with Americans' increasing desire for minimalism amid busy lives. "It goes back toward simplicity," Noel says. "It's not fussy, it's easy to look at, it's livable, it will last a long time."
As part of that sleeker look, buyers are increasingly requesting custom panels to cover up appliances, says Roger Zierman, showroom manager and senior designer for Poggenpohl's Park Avenue showroom in New York, and handles are falling by the wayside. "Handle-free cabinetry has become almost standard," he says, noting that cabinets either have channels or are motorized instead.
Clean designs are likely what's driving the continued popularity of whites and neutral gray colors, a top trend in NKBA's 2017 Kitchen & Bath Design Trends Report. These hues are fairly timeless and safe, an important consideration for homeowners who will be married to their kitchen for 15 years or more.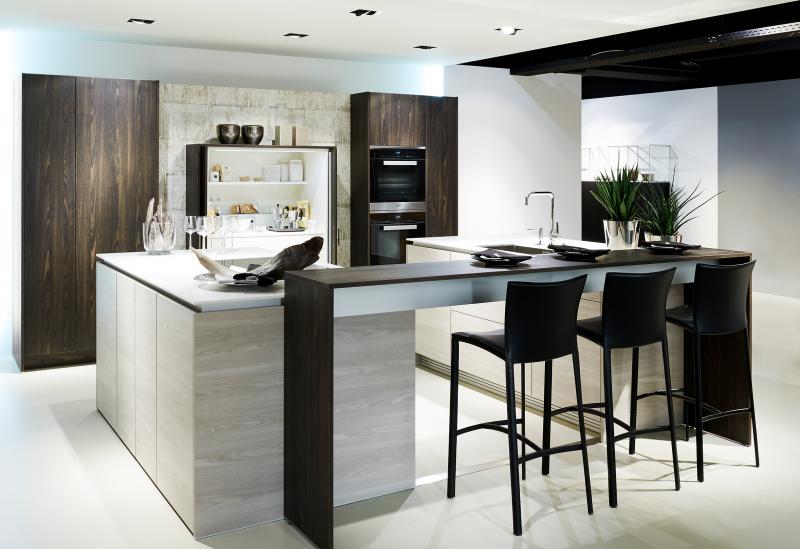 The company's latest decorative printed cabinets feature authentic looks of silver ash, smoked ash, and oak heritage with synchropore embossing. The styles are available in horizontal or vertical grain directions.
Still, there are opportunities to add personality to those neutrals using color and accents. Mixing hues is a current go-to technique, whether blending different colors of base and wall cabinets or  offering a starkly contrasting look on the island. "Exaggerated two-toned effects are popular," a kitchen design pro noted in NKBA's survey. "No subtle tone-on-tone confi gurations, [but rather] darks with lights and lights with darks."
Noel is also seeing a mixing of grays: Instead of simply choosing a warm gray or a cool gray, designers are combining them, such as a cool gray on the floor with gray-stained wood cabinets providing a warm undertone.
Glass and metal accents also offer an opportunity for personalization without going overboard. Zierman notes his team has been using accent doors, such as frosted glass, smoked glass, or Poggenpohl's new bronze glass, to highlight certain elements. SieMatic's Pure line offers accent doors with glass slats in gold-bronze or nickel.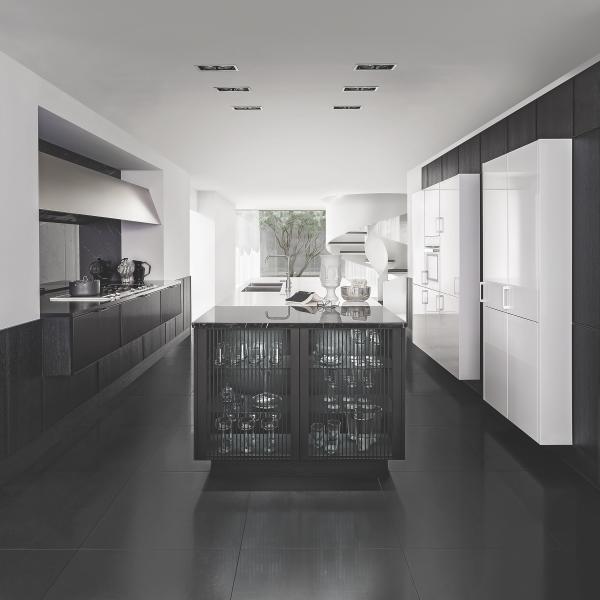 The company now offers a brushed matte black finish within its Pure collection. This kitchen features floating cabinets in matte black oak with metallic brushed matte doors, accent cabinets with black brushed metal vertical slats, and contrasting white glossy cabinets.
Other trends often are dependent on a home's location or size. In New York apartments, for example, where space is at a premium, Zierman says buyers may eschew the popular open shelving and embrace cabinets that go to the ceiling because they need more room for storage.
Whether their kitchens are small or large, consumers are seeking to accessories that maximize space, particularly roll-out drawers to keep pots and pans within reach, vertical tray dividers, and waste basket pullouts. "We've always had a large array of interior accessories, but it wasn't often that someone took advantage of that [beyond drawers and shelves]," says Zierman. "[Today,] more and more I'm finding people want to fine-tune the storage of every aspect of their kitchen." Along with picking out a style, he explains, they're also determining ahead of time that "the cutlery will go here, the Saran Wrap will go here," etc.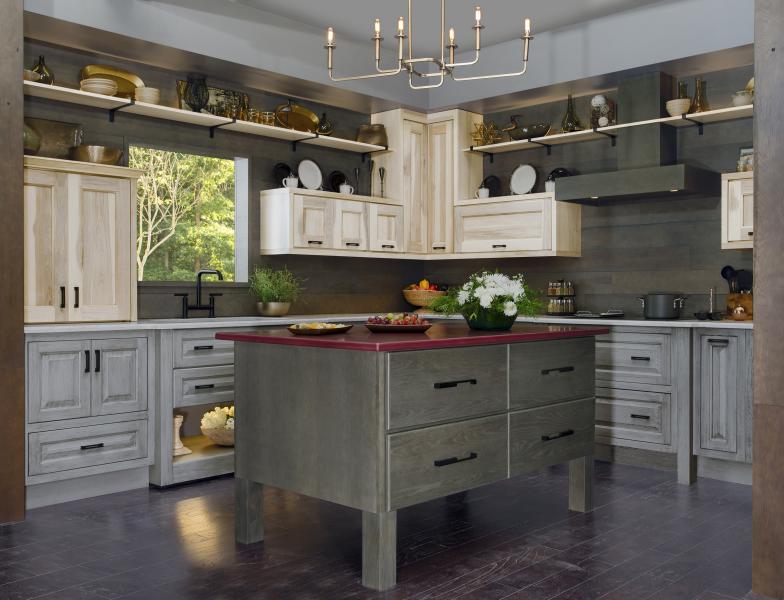 The Nature Collection comprises two paints (Tensile and Forge) and a stain (Tungsten) that meet the growing demand for gray hues in the kitchen. All three options are available in the oak and hickory door styles. Shown: Tensile on the base cabinets and Tungsten on the island and range hood.
Noel is noticing this too, particularly as the kitchen continues to be the center of family activity. Along with traditional interior accessories, this phenomenon is driving options that have nothing to do with cooking, such as KraftMaid's new charging drawer with an outlet built into the back.
High-tech or no, any accessory that increases functionality while preserving a sleek exterior aesthetic is likely to resonate with today's busy homeowners who are looking to cut the clutter—both physically and visually.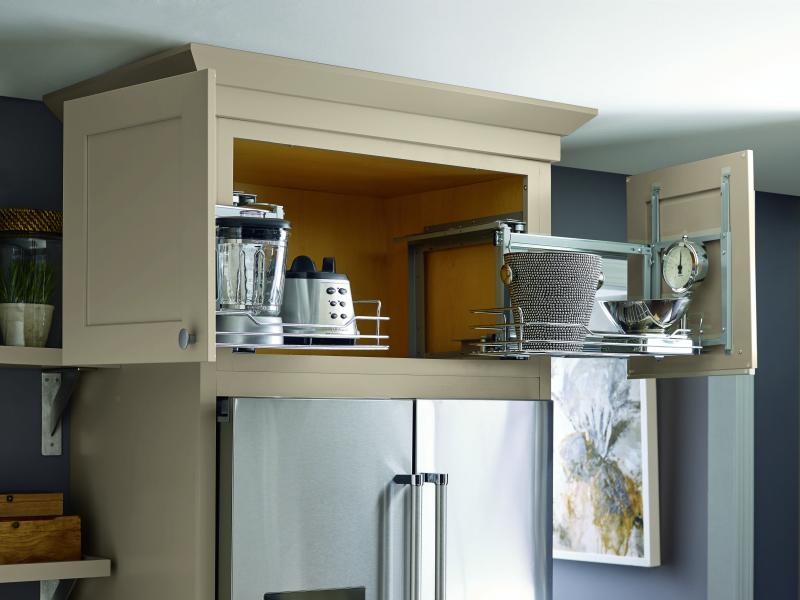 The Wall Refrigerator Pullout Cabinet includes shelving that pulls out as the doors are opened, making it easier to reach those heavy, awkward items. The 24-inch-deep cabinet is available in 36-, 37-, and 39-inch widths and heights from 18 inches to 27 1/2 inches.
This story originally appeared in the May/June 2017 issue of PRODUCTS magazine. See the print version here.