Santa Fe, N.M.-based bath and garden products brand Stone Forest has unveiled a flexible system made up of various components that create a customized vanity.
"Elemental is an entirely new type of bathroom collection," the company says. "It's a continuation of Stone Forest's creative examination of styles and the elegant mix of materials they are known for."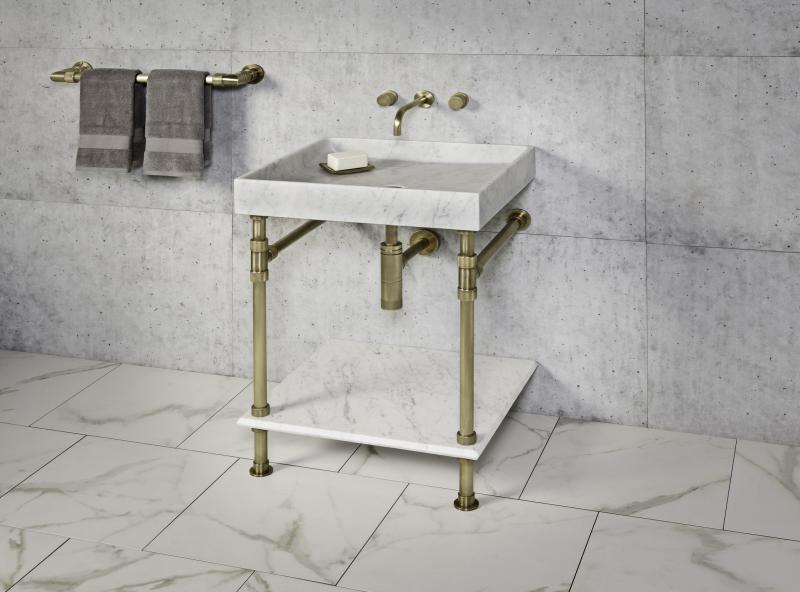 Stone Forest says the collection of vanities and integrated sinks consists of brass legs with knurled fittings that support a combination of components.
"The brass legs are designed to go through each component allowing the designer to put together a vanity or storage element to suit their storage needs," the brand says. "The brass running through each drawer is then visible when opened providing a nice surprise and a solid tie to the modular nature of the system."
Elemental's modularity allows end-users and specifiers to combine integral stone sinks, wood drawers, and steel or wood shelving in near unlimited combinations to create bath consoles and stand-alone storage systems. Legs and fittings are available in either aged brass or polished nickel and the wood drawers can be custom painted if the standard blue doesn't suit the room.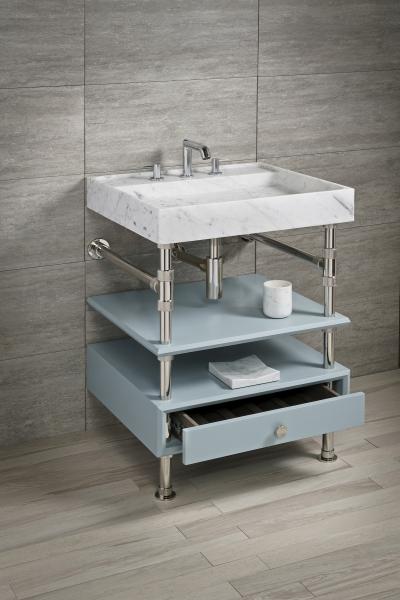 The collection is available as a single or double vanity with a choice of two Stone Forest sinks: Ventus and Terra.
Founded in 1989, Stone Forest announced recently that the Elemental Collection won the Product of the Year Award from the Decorative Plumbing & Hardware Association. The company produces a wide selection of vessel and pedestal sinks, bathtubs, furniture, fountains, and outdoor sculptures from natural materials such as stone, bronze, copper, iron, bamboo, and hardwood.