Appliance brand Thermador has launched two new dishwashers with enhanced speed and glassware care features for people who entertain.
"The revolutionary Thermador Radiance Collection delivers an impressive selection of luxury dishwashers that serve as stylish centerpieces to any occasion, whether an intimate gathering or lavish event," says Beatriz Sandoval, director of brand marketing for Thermador. "From exclusive, pioneering technology, to unique customizable features, to exceptional performance and cleaning power, the statement-making Radiance Collection exudes luxe innovation at its finest."
Part of the Radiance Collection, the two dishwashers include the Glass Care Center to accommodate and safely clean glassware and the Star Sapphire dishwasher with industry-first drying and washing speeds, the company says.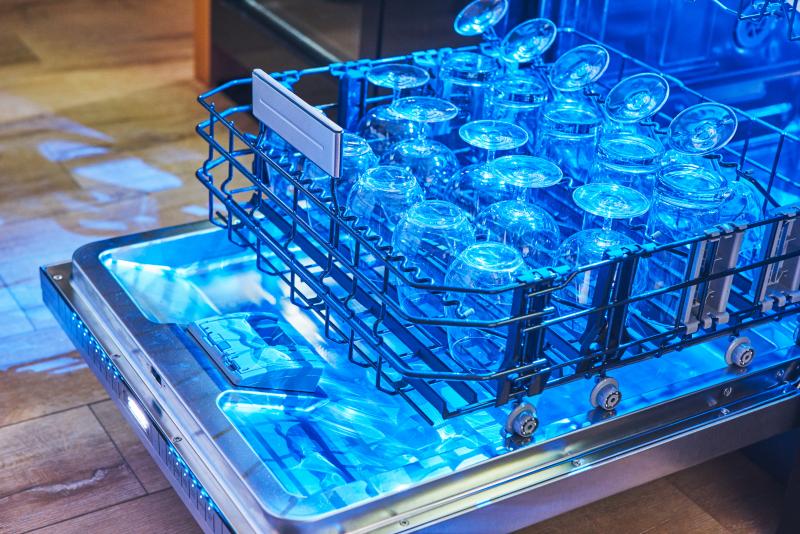 The Glass Care Center features a gentle cycle with a soft rubber lower rack that prevents slipping. It has adjustable stands that keep glass stems secure and interior space to accommodate up to 26 wine glasses. The upper rack has space for utensils, small plates, cutlery, and bar tools. An internal light illuminates glassware.
Thermador says the Star Sapphire unit features its StarDry with Zeolite, which reduces the need to towel dry or air dry items after they are washed. It also includes Star Speed, a 20-minute hot water cycle that is the fastest in the industry, the company claims. As an added touch, Star Glow lights the dishwasher in six levels of blue or white light.
Both new dishwashers are compatible with the Thermador Connected Experience, a smart system that allows homeowners to start dish cleaning through the Home Connect app. It also gives access to product guidance and glass care recommendations.