Tile and stone designer Ann Sacks released 10 new collections of porcelain, marble, and encaustic tile this month, including collections from designers Barbara Barry and Kelly Wearstler.
Products from the new collections are wide-ranging, from the wood-inspired porcelain Anello, to Craze, which features an irregular pattern of cracked lines giving the appearance of ancient pottery. There are also simpler collections such as Basillio porcelain tiles, which replicate the look of limestone.
Barry, an interior designer, added Groove Deco to her already existing MADE Groove collection. The tile features textured grooves and circular lines. Wearstler's Gem collection was inspired by the unexpected patterning and nonconformity found in nature, the company says.
See details of all 10 of Ann Sacks' new collections below.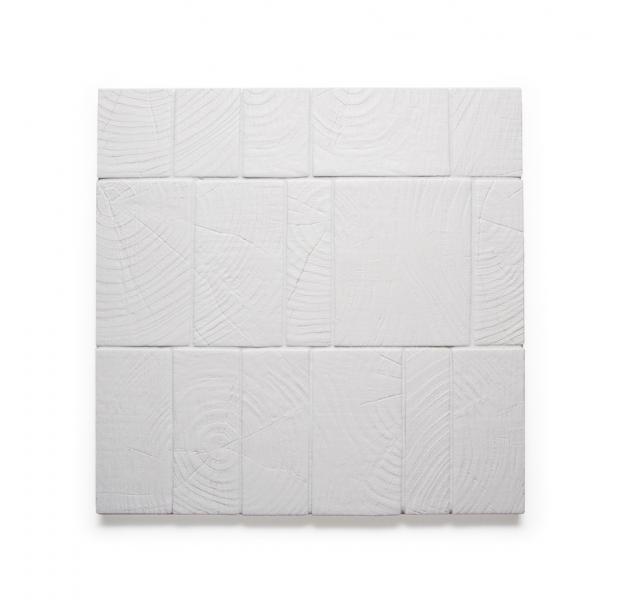 1. Anello 
This collection of through-body extruded porcelain tile features the design of natural wood rings and cracks. White (shown) and black options are available in four sizes and are appropriate for indoor or outdoor wall and floor applications. The decorative gold inserts should be used for wall installations only.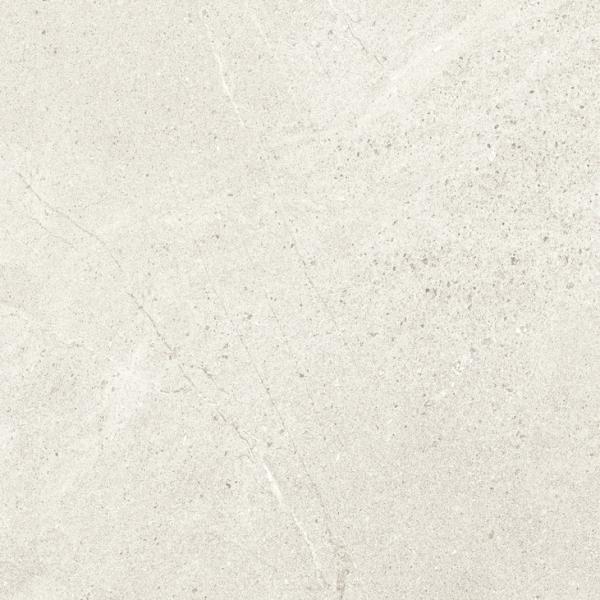 2. Basillio 
This collection of Italian porcelain mimics the look of natural limestone. The three soft color options include clay (shown), oyster, and slate. The slightly textured tile is available in 24-inch-by-24-inch squares and is suitable for indoor wall or flooring. Competitively priced, the tile can be special ordered in additional sizes and colors.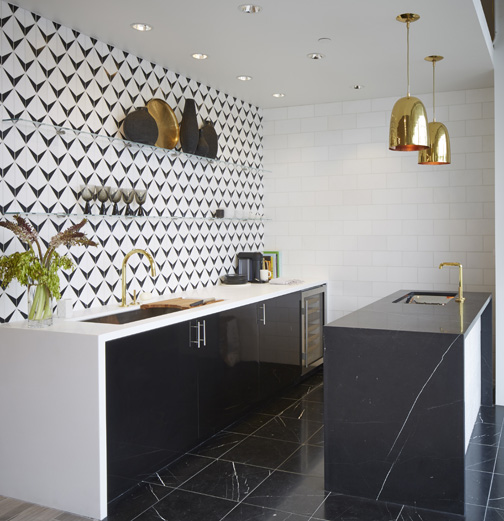 3. Benton Clara and Aletta mosaic
The Clara and Aletta designs are the most recent additions to the Benton Mosaic collection. Clara (shown) is a geometric illusionary pattern in four colors. The Aletta creates a flora design in four marble choices. Both leave very little grout space, maintaining a clean overall look.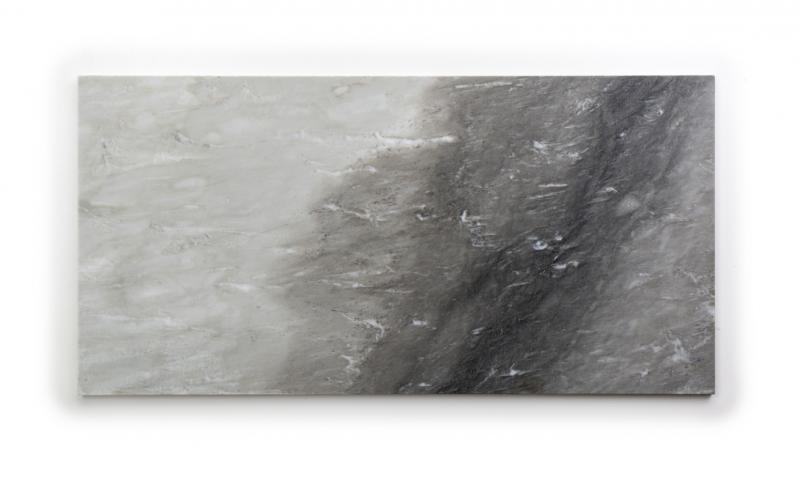 4. Calacatta Mink 
This marble comes from Italian quarries and features a blend of gray shading and veining. It is offered in tiles measuring 6 inches by 24 inches or 12 inches by 24 inches or as a 30-inch-by-72-inch slab. The marble is appropriate for interior walls and floors but should be sealed for protection.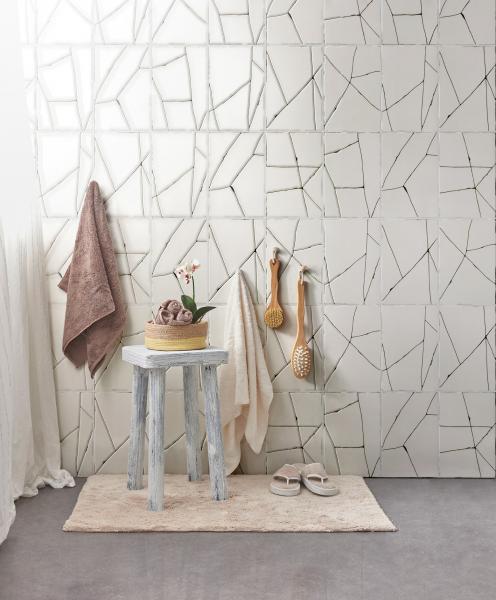 5. Craze
This porcelain tile features a glass-like glaze and random patterning that mimics cracked pottery. It is available in shades of black, gray, and white (shown), which can be installed in a mixed design. Tiles come in 8-inch-by-12-inch sizes and are suitable for interior walls, medium traffic floors, and outdoor spaces.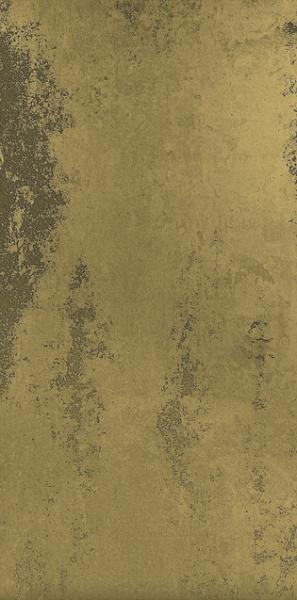 6. Elenco
Ann Sacks has added two colorways to its Elenco collection. The warm gold (shown) and cool silver give designers the opportunity to create a metallic look with tile. The new colors are available in 4-inch-by-24-inch and 12-by-24-inch field tiles and include a 2-inch surface bullnose trim and a 1-inch netted mosaic.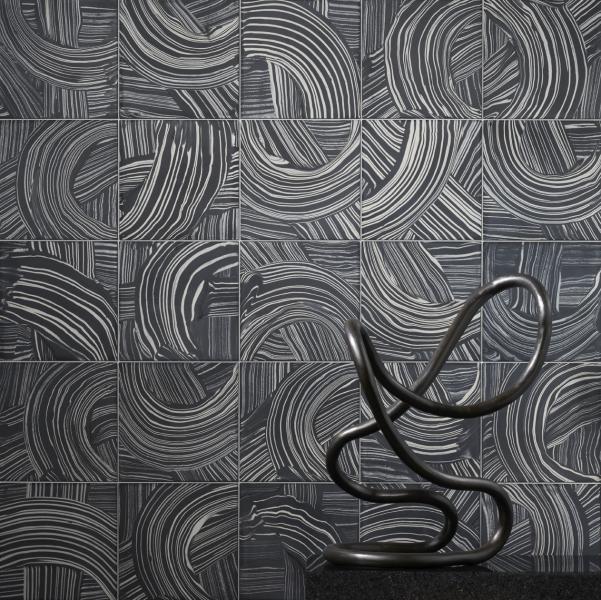 7. Gem by Kelly Wearstler 
Wearstler's collection of encaustic tiles for Ann Sacks includes three designs: Elope, Swell, and Evoke. All three use simple, repeated designs in a neutral pallette. Elope is available in ebony (shown), azure, and oatmeal, and Swell and Evoke are both available in ebony, azure, and ivory. All three come as 8-inch-by-8-inch tiles and are appropriate for indoor walls and flooring.
8. Groove Deco
Groove Deco is Barbara Barry's latest addition to her MADE Groove collection for Ann Sacks. The modern design mixes raised grout lines and circular curves. It can be run vertically, horizontally, or mixed to create a basketweave pattern. It's available as a 4-inch-by-4-inch field tile with complementing trim.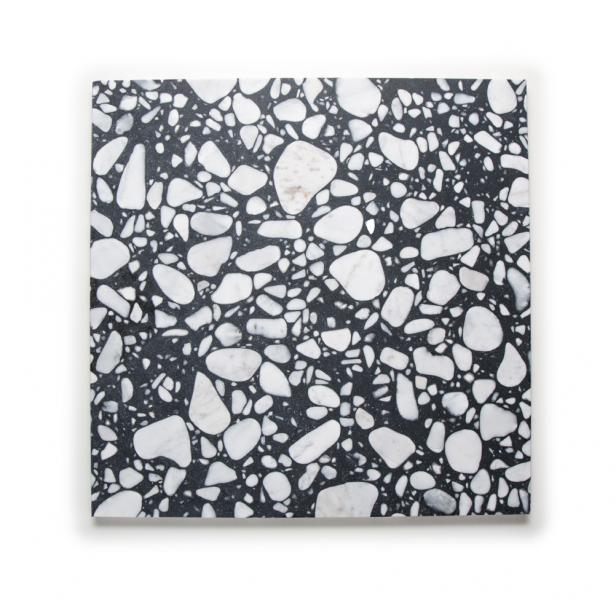 9. Terrazzo Renata
This terrazzo pattern uses marble from Italian quarries as well as 28 percent pre-consumer recycled content. The collection, which qualifies for LEED v4 credits, is available in black with white stone (shown) or white with white stone. It is especially fitting for flooring.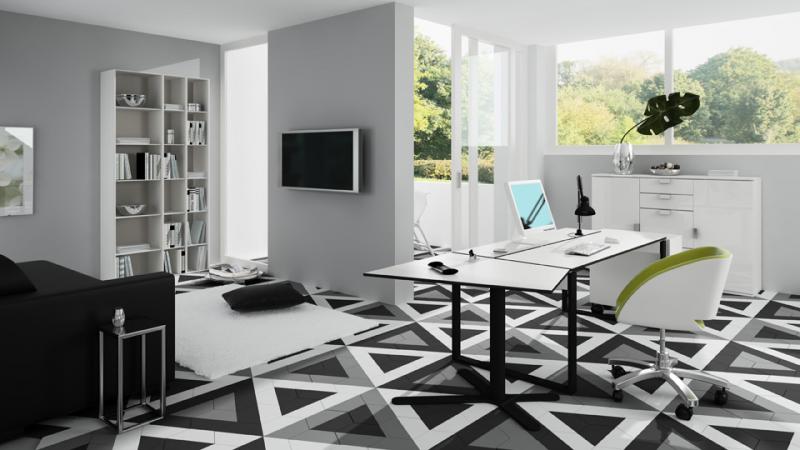 10. Vertice
These pieces of body-glazed porcelain come in four geometric designs: 4-inch-by-20-inch Chevron, 9-inch-by-8-inch Hexa, 9-inch-by-4-inch Trapezium (shown), and 9-inch-by-8-inch Triangle. All four are available in ash gray matte, graphite matte, and ice white matte. They can be used indoors or outdoors.