Coverings, the largest North American exhibition of tile and stone products, brought several design trends to the show floor in Atlanta, including large sizes, wood and metal looks, and unique patterns.
The show, which ran May 8-11, is jointly sponsored by the Tile Council of North America (TCNA), Ceramics of Italy, Tile of Spain, the Ceramic Tile Distributor Association (CTDA), and the National Tile Contractors Association (NTCA). The 2018 show attracted 1,100 exhibitors from 40-plus countries and more than 26,000 attendees. The North American, Spanish, and Italian pavilions dominated the floor as leaders in the industry, while other countries such as China and Turkey continue to grow their presence.
Several major trends rang true across the board. One look that remains popular is natural wood planks, with realistic veining made possible by innovative digital printing technology. The 2018 Coverings showed the wood-look planks getting wider, with 12-inch sizes overtaking the popularity of smaller 9- or 6-inch widths.
Technological advancements have also allowed formats to grow larger while simultaneously getting thinner. Often, looks that come in standard 20 millimeter thicknesses are now also available in as thin as 7 millimeters. Thinner materials are more cost effective, and multiple elevation options make it easier to continue a look from the wall to the floor to the patio in a single space without breaking the bank.
Whites and blacks are still in, but joining them is a resurgence of beige tones and earth tones, says Ryan Fasan, tile specialist and technical consultant for Tile of Spain. He also observed that despite the craze for large formats, smaller mosaics and subway tiles are still have a hold on the market.
Traditional mosaic patterns and experimental colors were also abundant on the show floor.
Read more for 13 of the trendiest products we found at Coverings 2018.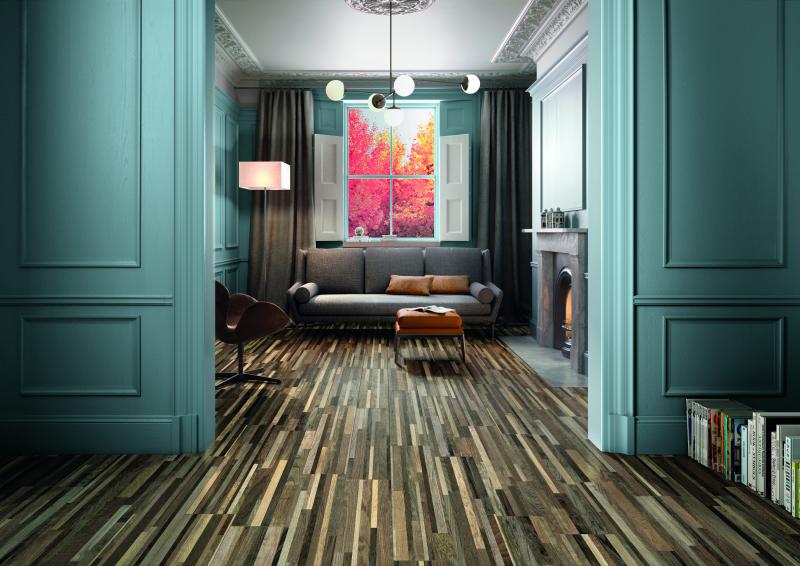 The manufacturer's Voyage design is a different take on a wood-look porcelain tile. The butcher block pattern is available in four colorways, including oak, multicolor bright, multicolor dark, and walnut, and comes in 8-inch by 40-inch planks. The porcelain material has no VOCs and is frost, fire, and fade resistant, the company says.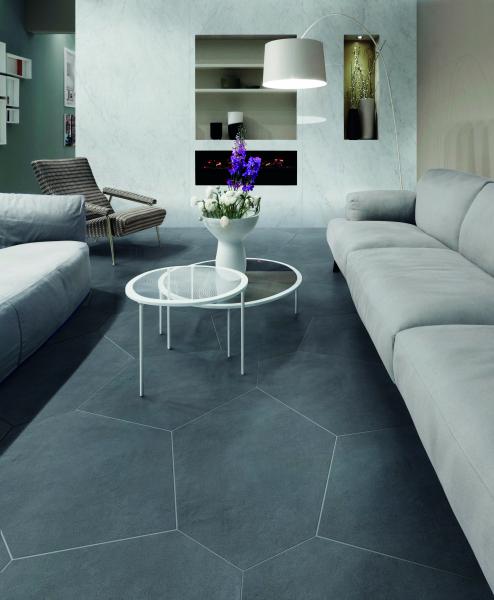 NY2LA is a line of unique shapes and colors inspired by modern urban settings. The subtle graphics are created by hand, and the polygon shape is cut precisely with water jets. Slabs are available in large square, rectangle, and polygon shapes, and square and polygon mosaics are also available. Six colors, including Chelsea Black (shown) are available.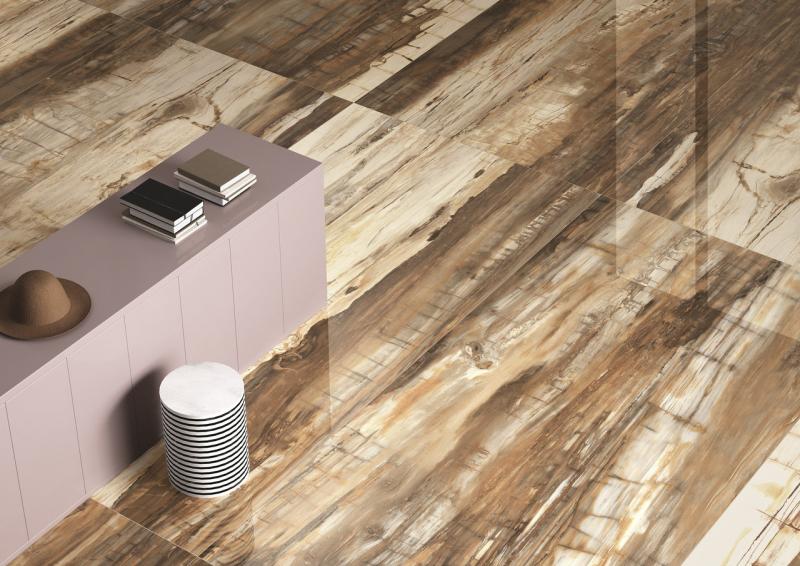 The manufacturer has debuted Eminent Wood Maximum, a porcelain slab that looks like petrified wood. The look is available in large slabs that are 300 centimeters by 150 centimeters and have a thickness of 6 millimeters, as well as several smaller formats. The two color options include brown and grey wood patterns.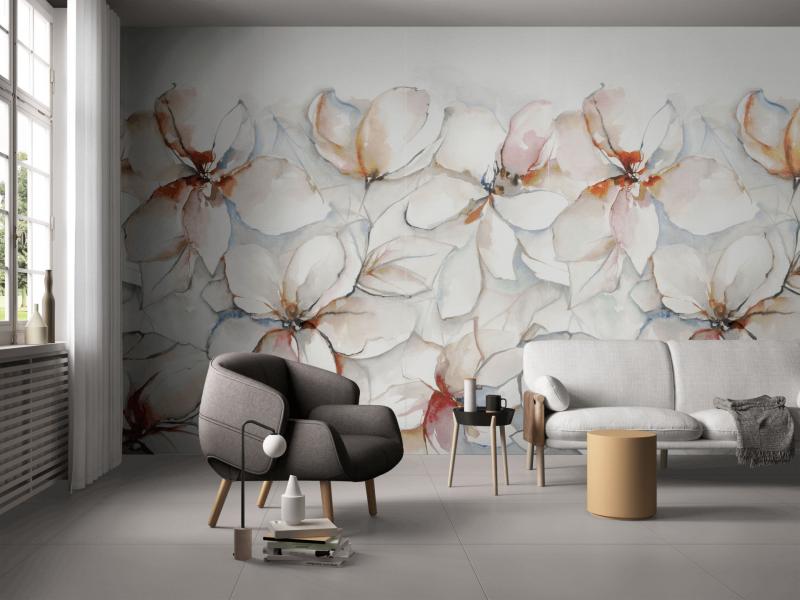 Wonderwall is a collection made from the manufacturer's Kerlite material, a 3-millimeter-thick ceramic surface that can be specified in extremely large formats. Wonderwall features a number of patterns as an alternative to wallpaper, including florals, watercolor patterns, trees, and text. Kerlite is lightweight, making it easy to install, the company says.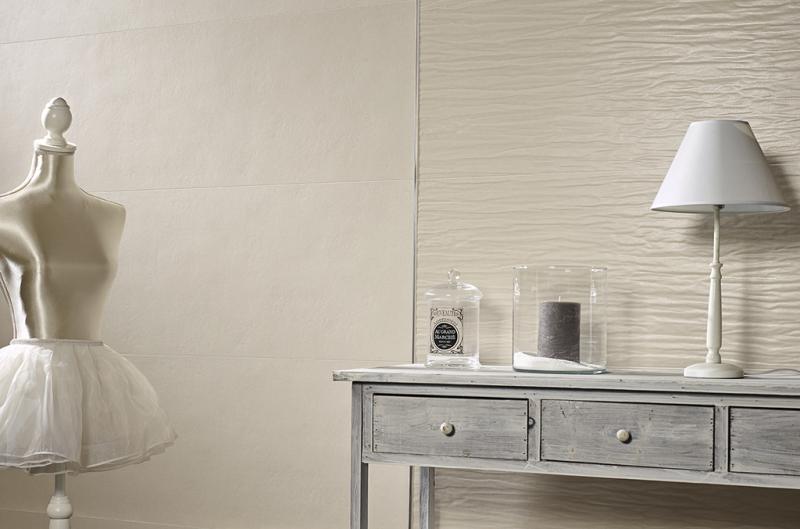 Atmosphere is the newest addition to the manufacturer's Viker family of products. It comes in a thin 7-millimeter elevation for cost-effective, large format wall applications, but also in 11-millimeter and 20-millimeter thicknesses that are appropriate for outdoor and floor use. This allows the product to seamlessly transition from indoor to outdoor living spaces. It comes in five cement-inspired colors, including light, smoke, mink, taupe, and anthracite.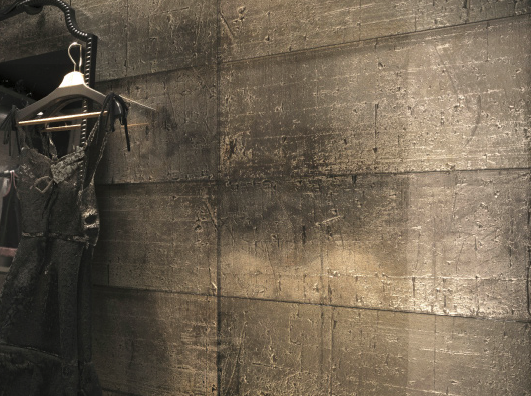 Crystal Rock wall tiles are handcrafted, making each one slightly different for an authentic look. They are crafted from melted glass and a stone mold, with either gold or silver coloring added. The tiles come in 30-by-90-centimeter panels and a 12-millimeter thickness.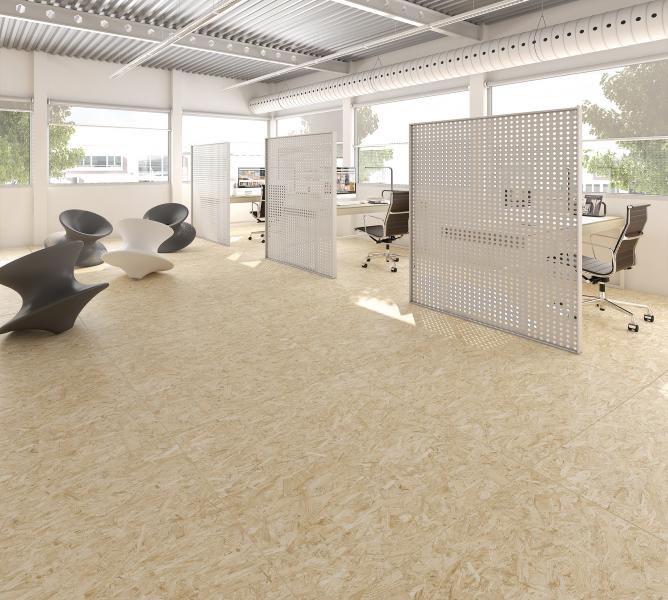 Strand porcelain tiles realistically replicate the look of OSB boards through printing technology. It is available in six wood shades and two sizes, including 23.3-inch squares and 23.3-by-47-inch rectangles. Other options come with digitally printed geometric patterns in multiple bright and neutral colors.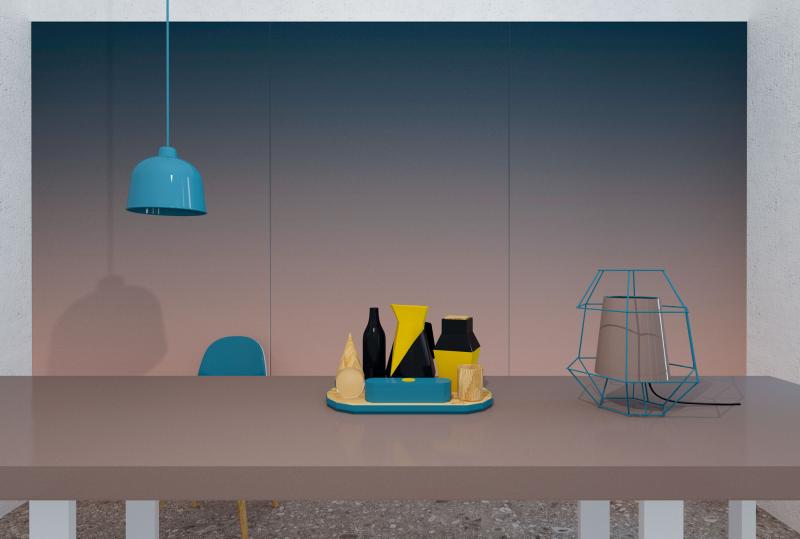 Operae, the latest collection from the Italian manufacture, combines large slab manufacturing with the latest digital printing technology. Seven standard patterns are available, including a jungle leaf pattern, a plaid pattern, and the ombre Gradient (shown), all in a palette of retro pinks, greens, and blues. Personalized patterns can also be requested.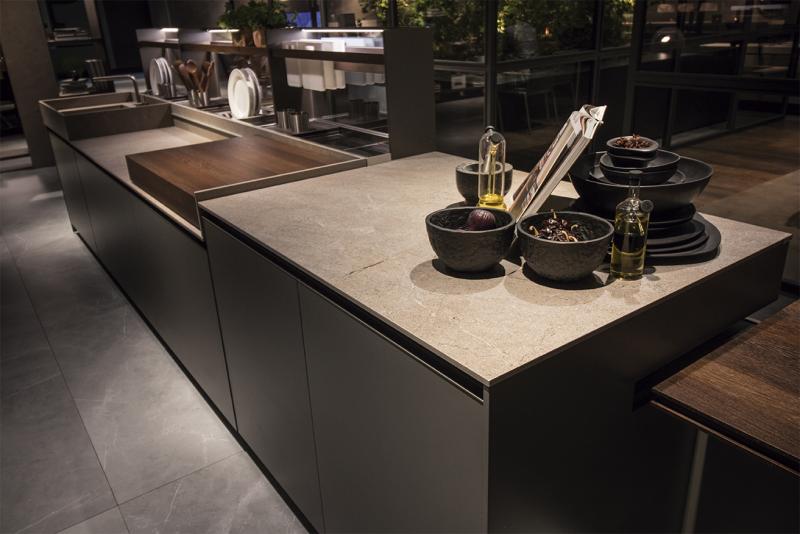 The manufacturer had its 12-millimeter iTopker countertops on display, which feature marble-look designs digitally printed with eco-friendly water-based inks and glazes. More than 40 designs are available, including Jasper (pictured). It has water- and stain-resisting, among others.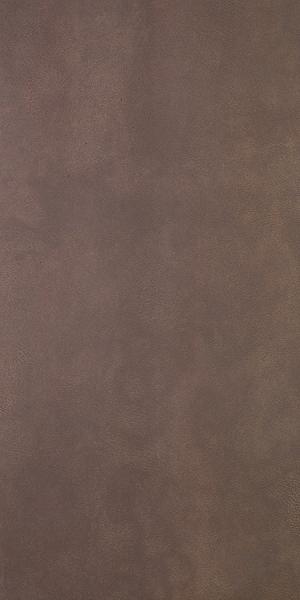 The Pelle collection uses innovative 3D digital printing to create both the look and feel of real leather. It comes in four standard sizes, including 90 centimeter square slabs, and several mosaic options. Five colors are available, including gold, silver, and brown (shown).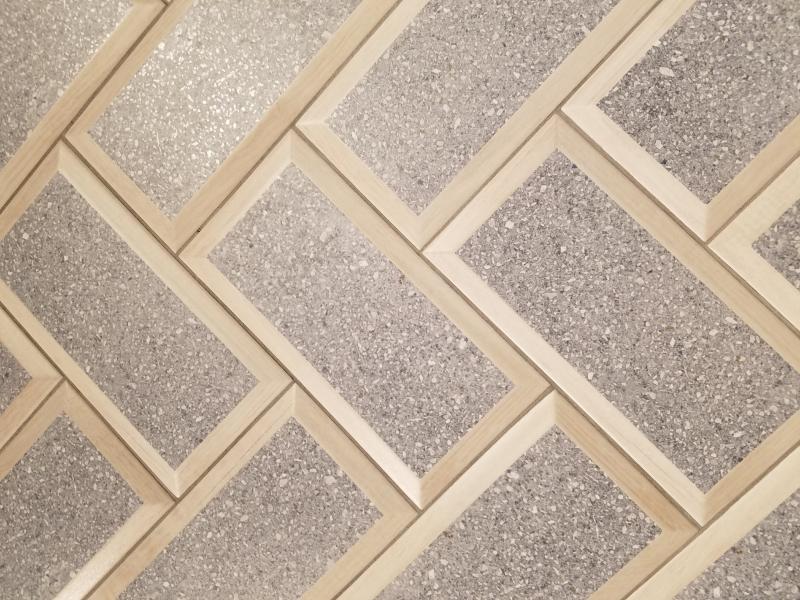 Avenue is one part of the ZYX Space mix- and matchable collection from the Colorker Group. The collections Cement Line and Granite Line pieces mix stone looks with a wood-print border. Other parts of the collection mix marbles, colors, and wood bodies and borders for unique decorative designs. Tiles are 20 centimeters by 10 centimeters and 0.83 centimeter thick.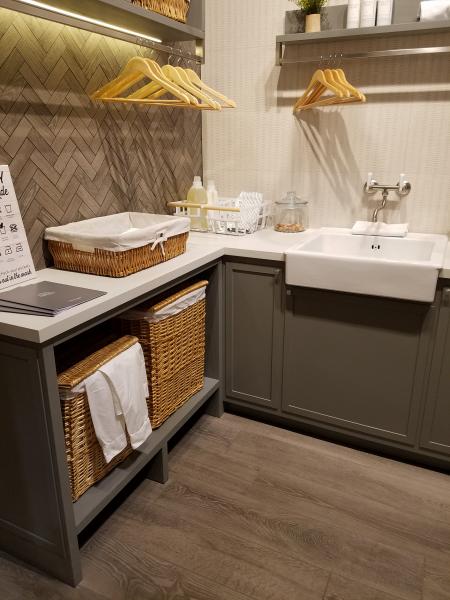 Five new options have been added to the brand's Organic Farmhouse Collection. Liberty includes four light marble options and can be used on the wall or floor, while Craft features woven fabric textures for the wall in three shades.  New additions also include the cork-like Korc for floor and wall, and both traditional (Haven) and modern (Homeland) wood looks. The looks are designed to coordinate for a full farmhouse aesthetic.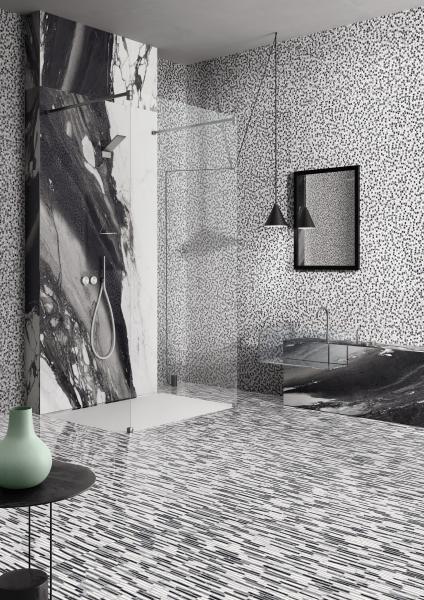 Tele di Marmo large slab countertop, flooring, and wall countertop designed to look like natural marble and stone. It is available in four colorways, including calacatta renoir (shown), and each colorway has complimentary patterns and mosaic options. Each color is available in natural and honed finishes.