Perhaps there was a time in the past when a faucet was a utilitarian water-spouting spigot and a kitchen was just a place to grab a meal or bump elbows at a party. But now, of course, the kitchen is the heart of the home, and its designs are driving faucet details in everything from shape to texture, color, and functionality. And in many open-floor-plan kitchens, the faucet quite literally holds center stage. And it's happening in bathrooms, too.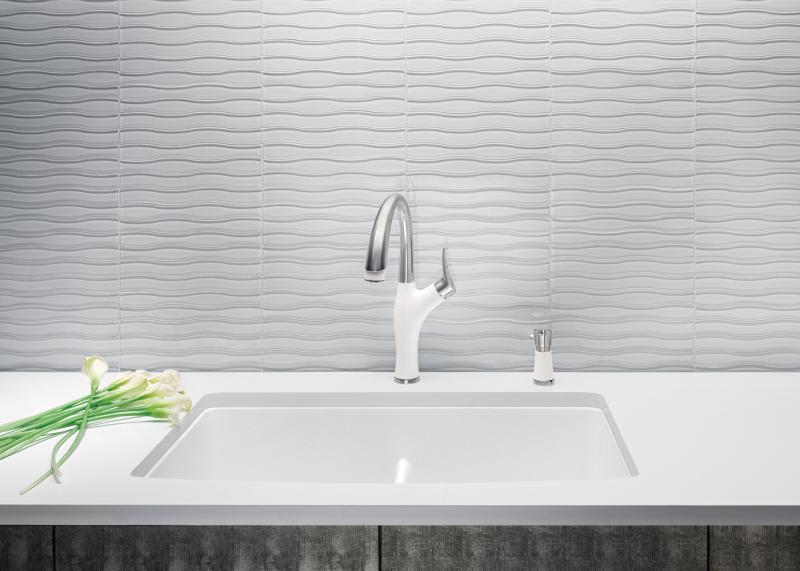 Artona boasts soft, rounded curves and edges, along with a semi-hidden pull-down spray. The faucet's dual finish option combines stainless with a choice of Silgranit-matched colors.
STYLE DRIVER
Kitchen designs from California to Massachusetts are trending transitional and contemporary, and faucets are sleeker and taller as a result. Even traditional styles have fewer decorations, says Robin Burrill, interior designer for Curb Appeal Renovations in Fort Worth, Texas. "There are no ridges. The handle is rounded and tapered." Right behind those styles in popularity are farmhouse, industrial, and Mid-Century Modern, says Amy Kruger, a designer at Bryce & Doyle in Rochester, N.Y.
"For farmhouse style, clients are leaning toward curvier, antique-looking shapes, like old water pumps," Kruger says. "They want satin nickel, sometimes black. Trendier people doing Mid-Century Modern are going for brushed-gold finishes and anything retro looking."
Known for ultra-modern faucets and fittings, the company has debuted the Montreux faucet that merges traditional design with modern details. Part of the Axor collection of luxury products, the Belle Époque-inspired product comes in various configurations.
The industrial look usually runs toward the darker burnished bronze to black, but it can also be a chrome arc wrapped with a coil. In open floor plans, the faucet tends to match the room style. If guests are sitting in the living room and looking across at the faucet, "clients want that showstopper," Burrill says.
In the bathroom, designers are specifying single-handle faucets. "It is sleeker, and there aren't three holes to clean around," Burrill says. "We're never doing those 4-inch minis on a plate. Those days are over; people want to upgrade."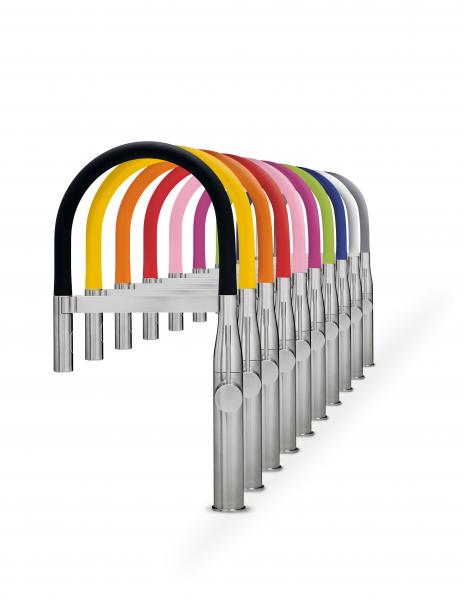 The Essence Semi-Pro faucet comes with a spring arm that allows for full 360-degree mobility and a high-performance spray that switches between normal and spray functions. It comes with flexible silicone hoses in 10 rainbow colors.
GET THE LOOK
With deep sinks and tall pots, high-arced faucets are trending in the kitchen. "But transitional and contemporary [faucet designs] are taking a softer approach," says Larry Allen, CEO and managing director at Gessi North America. The style is shifting from a high arc to something more horizontal and squarer-shaped with rounded edges.
As for finishes, chrome is still king in the bathroom, but Kruger says some clients are asking for brushed gold since "it mixes so well with cobalt or navy blue accents."
Matte black is also on the rise in both bathrooms and kitchens. In the bath, it goes "with black-trimmed mirrors and shower doors for a warehouse, industrial, loft-apartment look," Kruger says. Watch for Delta's line of black stainless faucets (to go with currently trending black stainless appliances), to launch in December.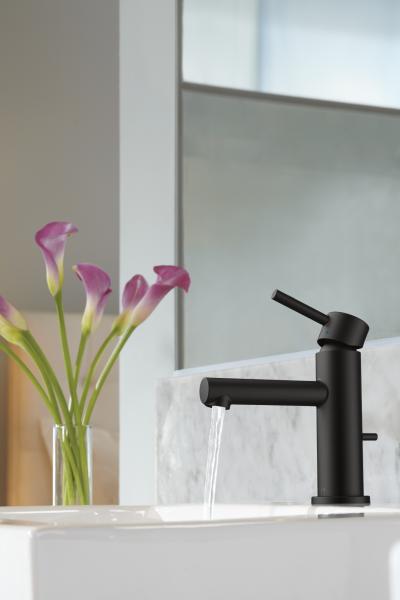 Part of the Align collection, this sleek bath faucet features a single-lever, ADA-compliant design and WaterSense certification. The line has been expanded to include a matte black finish.
PVD (physical vapor deposition) coatings have opened the way for a variety of textures and colors, making it easier for manufacturers to create finishes that match stainless appliances and sinks. One example is as an alternative to electroplating.
"Some say it's 10 times more durable than chrome, it doesn't require as much maintenance as electroplate, it's easy to clean, and you don't have to worry about damaging the finish," Allen says.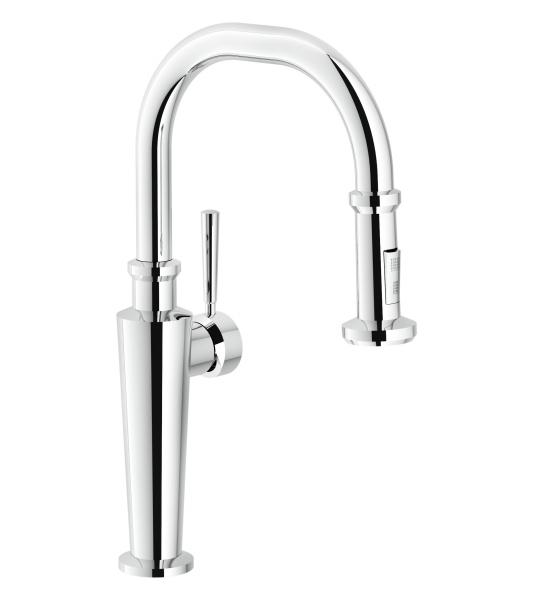 Designed by Jon Lindholm, Absinthe is an elegant blend of modern and traditional styling that comes in six styles and four finishes. It features a ceramic disc cartridge and two spray functions.
FORM AND FUNCTION
Finish and style are truly important, but how the products perform during everyday use is just as vital.
"Across the board, people want a kitchen faucet with a pulldown spray," says Jeff Kida, owner of DDS Design Services in Chicago. In fact, says Ryan Ramaker, director of product development and research and development at Hansgrohe North America, "pull-down faucets represent 60 percent of total kitchen faucet sales (across all brands) in the United States."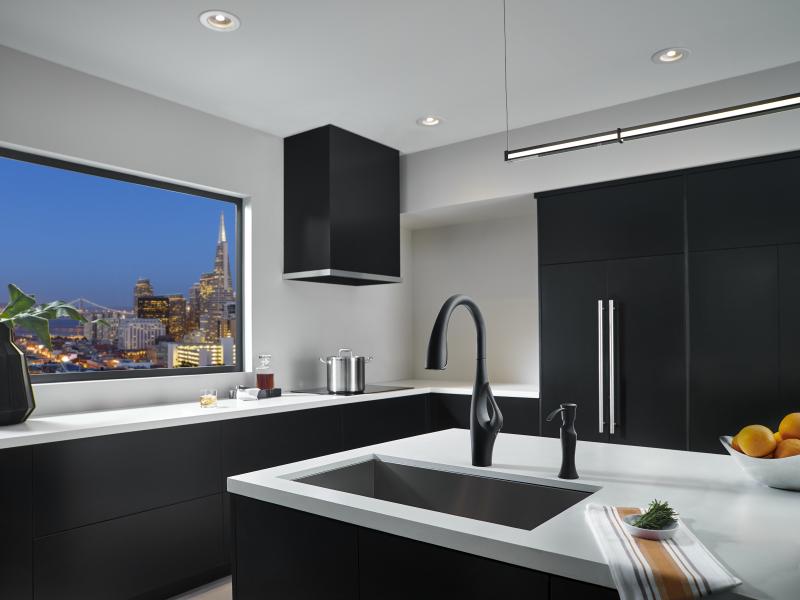 H
Kai features a spray head that fully retracts into the spout so there's no break in the sleek look. The high-arced gooseneck spout swivels 360 degrees and offers optimal room for easy access to anything in the sink. It's available in a matte black powder-coat finish.
While pretty much every manufacturer offers faucets with two spray options, several are ramping up the choices with three, four, or more sprays. In October, Delta will launch its "shield spray" technology—a third option on the spray wand—which helps to contain the spray coming out of the center of the head from splashing back up onto the user.
Designers are also seeing a desire for touch-free/motion-sensor or touch faucets for ease of use and for hygiene in both the kitchen and the bathroom. Pfister even introduced a prototype for a voice-activated faucet at KBIS this year.
The marketplace is changing quickly, notes Burrill. Ten years ago, she says, "[manufacturers] weren't changing anything. Now they have the coolest stuff and are changing entire lines with new looks and new technology. The economy is up and [consumers are ready]. 
This story first appeared in the Sept/Oct 2017 issue of PRODUCTS magazine. See the print version here.