A new report from HomeAdvisor predicts that the quantity and spending of home renovation projects will increase in the coming year, driven in large part by Millennial homeowners.
Analysis of the company's 2018 True Cost Survey found that homeowners have spent an average of $6,649 on home improvements over the last 12 months, with two-thirds planning to spend as much or more than that in the coming year.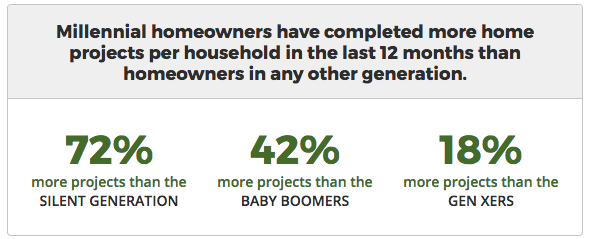 Photo courtesy of HomeAdvisor
Millennials are driving the growth, having completed more household projects over the last 12 months than any other generation. They have taken on 72 percent, 42 percent, and 18 percent more projects than the Silent Generation, Baby Boomers, and Gen Xers, respectively. Millennials were also two times more likely than Baby Boomers to complete a bathroom or kitchen remodeling project, and more than half expect to spend more on renovations in the coming year than they did in the last 12 months.
Despite the volume of projects Millennials are undertaking, Baby Boomers are still out-spending all other generations on their home remodeling projects. On average, the generation is paying 32 percent more than Millennials, 14 percent more than Gen Xers, and 10 percent more than the Silent Generation on home improvements.

Photo courtesy of HomeAdvisor
A large portion of remodeling projects have moved out of the kitchen, where they were concentrated for many years, and into the bath. Almost 25 percent of homeowners are planning for a bath remodel in the next 12 months, compared to 15 percent planning for a kitchen remodel. Small-scale projects are growing in popularity with Millennials, who expect to spend an average of $1,896 on bathroom work, while older generations have budgeted for up to $500 or $1,000 more.
In bathrooms, homeowners are upgrading lighting, flooring, cabinets, shower doors, and tile. Others are looking to include amenities like additional shower heads and built-in speakers. Outside the bath, popular home renovation requests include replacing or repairing faucets, outlets, and roofing shingles.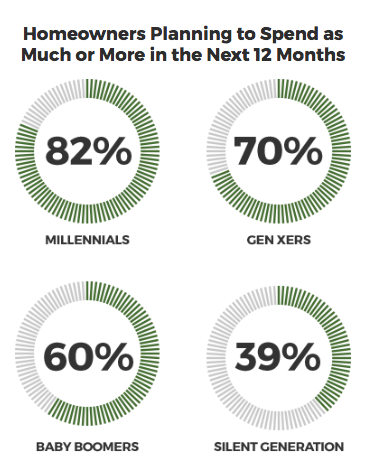 Photo courtesy of HomeAdvisor
The overall increase in renovations is due in large part to the lack of housing stock on the market. Many Millennials were forced to buy a first home that was small or a fixer-upper. Now, after building some equity but still facing today's tight market and prohibitive costs for larger or nicer homes, many are choosing to invest in renovating their existing property rather than moving up.
"Most millennials have had to compromise on the size and condition of their starter homes—with many purchasing older homes in need of repair just to be able to afford homeownership," says Brad Hunter, a chief economist at HomeAdvisor and the report's author. "Many of the millennials who did buy a home in the last few years are seeking to upgrade. But a lack of housing inventory, coupled with inflated home prices and rising mortgage rates, has them renovating their existing homes instead of selling and moving. Luckily, many have built up the equity to afford the cost of some improvements."
In a similar vein, many Baby Boomers may have expected to downsize after their children reached adulthood, but the cost of moving and the lack of demand for larger houses is preventing them from putting their properties on the market. They are, instead, focusing on home improvements that add luxury or will allow them to stay in their home as they age.
Additionally, many homeowners are wary of rising mortgage rates, preferring to keep their low and locked rate rather than buy a different house for a higher rate. More than 30 percent of Millennials and Gen Xers say they are less likely shop for a new home as a result of rising interest rates.