Profilitec, an Italian brand that manufactures floor tile products and related installation solutions, has developed a waterproofing system for shower installations.
Showertec is a system that encompasses all​ the necessary elements to build or renovate an entirely waterproof, maintenance-free shower ​
"Showertec offers advantages that surpass current standards," the company says. "These include vapor permeance levels that conform to industry requirements for steam showers​; high-density, pre-waterproofed foam elements ​saving significant installation time and contain recycled content to reinforce Profilitec's commitment to always incorporate environment- friendly materials when possible."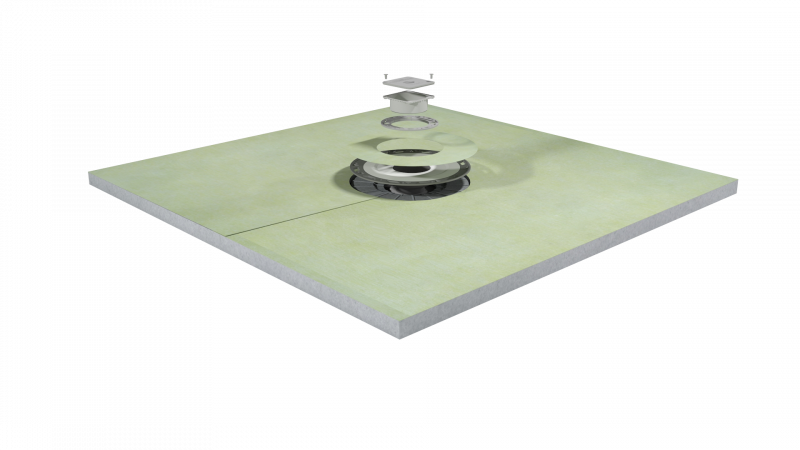 The manufacturer says this is the perfect time for a waterproofing system in the U.S. market. "According to statistics, there are approximately 5 million showers installed every year in the US,​" says Greg Gelston, president of Profilitec. "Sealed systems such as Showertec have made the process to build a shower less both labor intensive and skill dependent resulting in more reliable performance."
The Showertec system consists of a variety of elements:
Shower Tray, a pre-sloped unit that incorporates the Foiltec Waterproof and Vapour Tight Membrane, which is pre-attached, assuring simple and quick installation while meeting and surpassing the requirements for steam showers, the company says.
Shower Curb, which is made of high density EPS foam and pre-wrapped in Foiltec Waterproof Membrane on all sides. An opening along the curb allows for ​height adjustment if needed.
Foiltec Membrane, a waterproof and vapor-tight product with a 0​.033 perm rating rating.
Foiltec Sealing Strip
Square Drain Kit, which includes a bonding ​flange with vertical drain and integrated anchoring membrane, a Foiltec Circular Waterproof Membrane Ring, Foiltec Internal and External Corners and Square Drain with  ​a ring for the vertical alignment of the drain, grid support, construction plug​, grid, and fasteners
Showertec will be on display at Coverings 2018 trade show from May 8 to 11 at the Georgia World Congress Center in Atlanta.
See more kitchen + bath news from PRODUCTS magazine here: