Along with the season's first wintry weather, the New Year ushered in Energy Star Version 6.0 (V6) window requirements for most parts of the country. While the new standards boost efficiencies, they also bump up unit prices—and manufacturers and builders say it's too soon to know what impact they'll have on production housing.
"Each new version of Energy Star requires an enormous leap of faith that consumers will recognize and understand the cost increases that come with meeting the requirements," says Maureen Knight, government affairs/product stewardship manager for the American Architectural Manufacturers Association (AAMA), which represents window makers and suppliers.
"We're talking with our supplier, Ply Gem, and learning more about the V6 windows," says Lauren Hayes, marketing manager for Betenbough Homes, which builds in Lubbock, Midland, and Odessa, Texas. "Because of our volume, that works in our favor." Betenbough closed 691 homes in 2014 and expects to close more this year, Hayes says.
Energy Star Version 6.0 requirements for residential windows, doors, and skylights rolled out Jan. 1, except for the Northern Zone criteria, which will go into effect Jan. 1, 2016. The Environmental Protection Agency, which administers the Energy Star program, revised the Northern Zone implementation date in response to window manufacturers' concerns about their ability to produce qualified cost-effective units by 2015.
But many manufacturers are ahead of the implementation schedule. "Each of our vinyl, fiberglass, and wood product lines … met the Energy Star 6.0 guidelines in January 2015, including the more stringent Northern Zone," says Erik Ashcraft, product manager for Milgard Windows & Doors.
To qualify for the new Energy Star requirements, windows must have U-factors and solar heat gain coefficient (SHGC) ratings that meet or exceed the following criteria: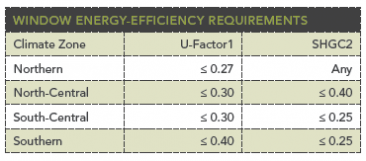 Energy Star V6 units also must have air leakage ratings that meet or exceed the following minimum criteria:

Though manufacturers are meeting Energy Star V6 requirements with enhanced glazing and frames, the improvements are driving up costs. "The question is how well it will be accepted, demanded, or requested by the consumer," Lance Premeau, Kolbe's product and market manager, says of the new Energy Star criteria. "I think we'll see a shift in the perception of the Energy Star program," adds Christine Marvin, director of marketing for Marvin Windows and Doors. "Now homeowners will have to think, for this investment, what's the payback over time?"
According to the NAHB, homeowners typically live in a house for 13 years, but manufacturers say that the payback on Energy Star V6 windows could be more than 20 years. Manufacturers and associations declined to discuss specific V6 unit prices. Nevertheless, AAMA said that the EPA's stated $20 per Northern Zone unit upcharge is only about 25 percent of the ultimate production cost increase.
Saint Aubyn Homes, which builds in Northern Colorado and Colorado Springs, expects the cost of an Energy Star V6–rated window to be 15 percent to 50 percent higher per unit. "This will add cost to the home and, in the end, will be an added expense to the homebuyer," says Jared Saint Aubyn, who currently offers Energy Star–rated windows standard on all his houses. "It will likely impact home sales more severely on lower-priced homes."
Still, some believe that buyers will pay the higher prices. "The homeowner marketplace is ready to say yes to these windows," says Sarah Nettleton, a Minneapolis-based architect. "The public gets granite counters, but now the public is coming around to energy efficiency, too."
"Across the country, home builders are witnessing a growing trend in homebuyers' demand for energy efficiency," Knight says. "Installing fenestration that reduces energy bills is often less expensive than purchasing and installing an HVAC system that makes up for energy losses due to the installation of inefficient windows."
In addition, newer state and local building codes require more efficient housing, and V6 windows can help meet those requirements, Nettleton says. But Saint Aubyn noted: "It may take several years for municipalities to adopt Energy Star V6 requirements as code, and even then, they can choose if they want to fully adopt these requirements."
In the future, manufacturers say they will continue to look to glazing producers for improved technologies, both in coatings and films, to help them meet lower U-factor requirements. "Due to the more stringent Energy Star criteria and utility rebate programs being offered in various markets, we are seeing a higher demand for triple glazing and fourth-surface low-E options," says Ashcraft, adding that within five years, it's likely that additional climate-specific glazing options will be available.
Manufacturers recommend that production builders consider more than U-factor and SHGC when purchasing window packages. "You have to look at the performance over the long term," Marvin says. "If a window is going to expand and contract over time, you are going to compromise the performance of the window." Plus, she adds: "A window is only as good as the installation."
"Sometimes energy efficiency and comfort are at odds with each other," Ashcraft notes. "The design of the house and the location of the windows not only have an impact on energy efficiency, but also on comfort." For example, if windows are leaky or poorly installed, the home may feel drafty and the energy savings may be small, he says.
Finally, builders should continue to utilize a variety of windows to take advantage of their performance by elevation, Premeau says, and not necessarily choose one product for the entire house.
In-Demand Options 
When it comes to window options, homebuyers are seeking darker-colored frames, larger sizes, fiberglass choices, and smarter technologies. White is the perennial frame color choice, but dark hues—especially, browns, grays, and blacks—are coming on strong.
"Dark colors are emerging attributes on both the interior and exterior," says Stacy Einck, brand public relations manager for Andersen Windows, adding that builders also are mixing colors on window exteriors; for example, a white frame with a black sash.
In many parts of the country, big windows mean better views. "Homeowners continue to want to bring the outdoors inside their houses," Einck says. "That's a lot of what's driving this, taking a wall and opening it up with large windows and doors." While window sizes expand, one style remains the favorite: "The double hung is the staple in American architecture and continues to be popular," Christine Marvin says. "It's as American as apple pie."
Double-hung windows are standard on homes in many states, but West Coast home designs typically dictate single-hungs and half-vents. Casements are moving into production homes in some regions, manufacturers say.
Meanwhile, manufacturers report a growing demand for pultruded fiberglass windows, which architect Sarah Nettleton backs up. "Fiberglass windows have a much better overall U-value [than vinyl builder-grade windows]," she says. "They are midrange windows that are cheaper than clad windows."
Finally, smart features are making inroads. For instance, Andersen is expanding its VeriLock technology—a wireless sensor that's integrated into the window's hardware that tells you if the unit is open or closed and locked or unlocked. It's the only product like it on the market, the company claims, and it's available as an option on Andersen E-series and Eagle windows and patio doors. VeriLock works with Honeywell security systems and is being expanded to be compatible with Z-Wave home automation technologies.
Einck says, "An unlocked window is both less efficient and a safety hazard."
A version of this story ran in PRODUCTS' sister publication, Professional Builder.