Thermador has launched the new Masterpiece and Professional collections of cooking appliances, with over 300 new products.
The new releases span from induction and gas cooktops to a variety of ovens. The Masterpiece collection features a clean, contemporary aesthetic with metallic gray glass, digital color displays, and modern stainless steel handles. The Professional collection features the same gray glass with more traditional handles and knobs.
The brand is also debuting its Thermador Connected Experience, which includes features like remote appliance start, mobile notifications, and user manuals through the Home Connect app. Users can also get exclusive content and personalized food and preparation suggestions, as well as pair with other smart home devices.
Freedom Induction Cooktop
"From the ultra-intuitive features that empower users to express themselves through their adventurous creations, to the unparalleled personalization options and striking craftsmanship that allow for complete design freedom, Thermador has once again redefined the cooking category," says Beatriz Sandoval, director of brand marketing for Thermador.
A standout in the new release is the Freedom Induction Cooktop, which has the "largest fully usable cooking surface on the market within its class," the company says. It can be used as one continuous cooking surface, fitting up to six full-size pots and pans at once. The cooktop can detect when pots are shifted and change heat settings accordingly. The cooktops, which come in 30- and 36-inch models, are controlled via a touch screen and can be synced with Thermador hoods.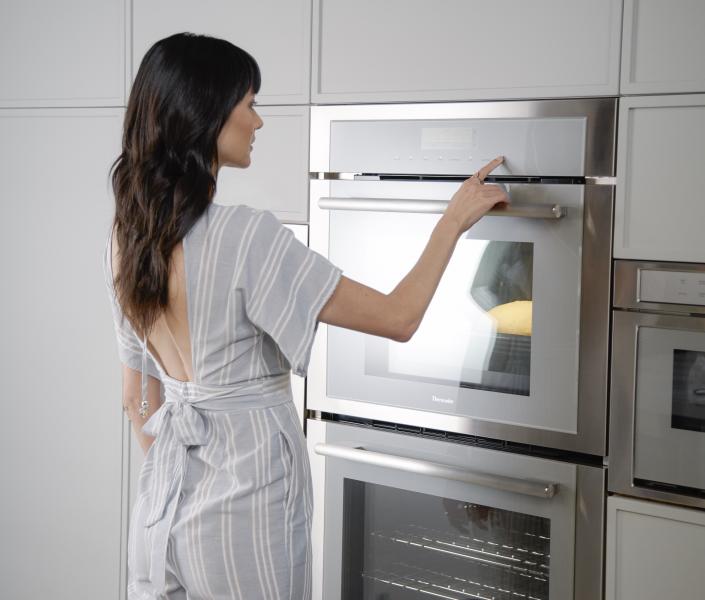 Masterpiece series wall oven
Thermador's latest iteration of gas cooktops include Raised Pedestal Star Burners offering improved cleanability. The new cooktops also feature knobs with updated graphics and lighting, XLO Select Simmer with five simmer settings, contemporary patterned grates, and a new glass control panel design.
Thermador has also updated the designs of its convection, steam, and speed ovens across the Masterpiece and Professional styles. The new convection oven features preset modes, while the steam oven features a capacity of 2.5 cubic feet, a 30-inch width, and multiple racks. The speed oven features speed convection, broiling, and microwave functionalities.