YesterTec has expanded its collection of Stealth Kitchen Modules with a collection of hidden islands and base cabinets.
The base and island modules are 29 inches deep and can be specified in a number of lengths, including 6 and 8 feet. Each can be configured to include hidden sinks, cooktops, ovens, refrigerators, and dishwashers. When cabinet doors are closed, the appliances and kitchen elements are hidden.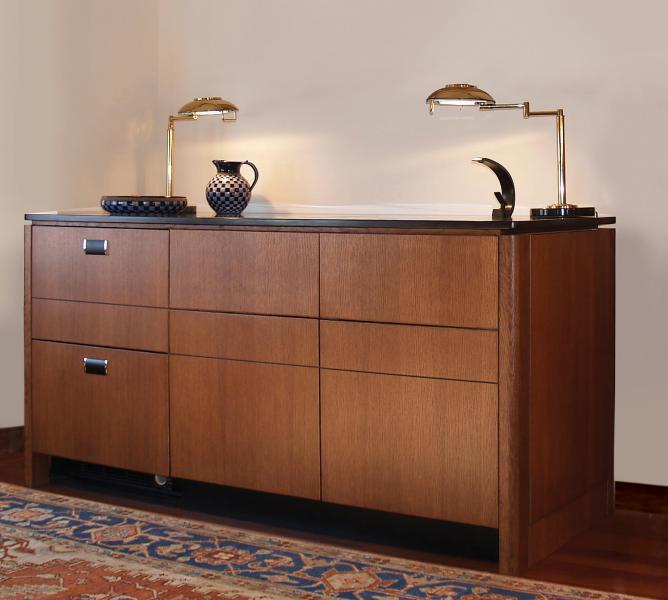 One of the standard options, the UK72B-OCRS mini kitchen (shown) is 6 feet wide and includes a flush-mounted double burner induction cooktop, a sink concealed with a removable cutting board, a concealed microwave, and a concealed refrigerator with a freezer and icemaker. The faucet remains visible when this unit is closed, but other options also include options to hide all fixtures.
The UK72B-OCRS also features three drawers for storage and a pop-out ledge for extra counter space. An optional downdraft telescoping exhaust vent is also available.
The hidden appliances do not receive power unless the cabinet doors are completely open, making it impossible to accidentally leave appliances running when the unit is not in use. The units are ideal for second kitchens or kitchens in small spaces.
The new island and base cabinets are designed to coordinate with the clean, contemporary look of the company's full-height Stealth Kitchen Modules, but can also be used as stand-alone cook centers. A variety of finishes and door styles are available.
See more kitchen + bath news from PRODUCTS magazine here: