Technology company Tapplock says it has introduced the world's first padlock that uses a fingerprint scanner to open.
"The traditional padlock was very difficult to operate and I forgot the combination if I didn't go to the gym every day," says David Tao, co-founder of the company. "I thought about how fingerprints are used to gain access to smart phones and how that technology would solve the problem of remembering a combination or key to a lock. Plus, using your fingerprint gives you quicker access to your belongings."
The Tapplock one, the manufacturer says, can unlock in 0.8 seconds with no effort compared to a traditional combination lock that can take up to 15 seconds to open—or several minutes if the user forgets the combination.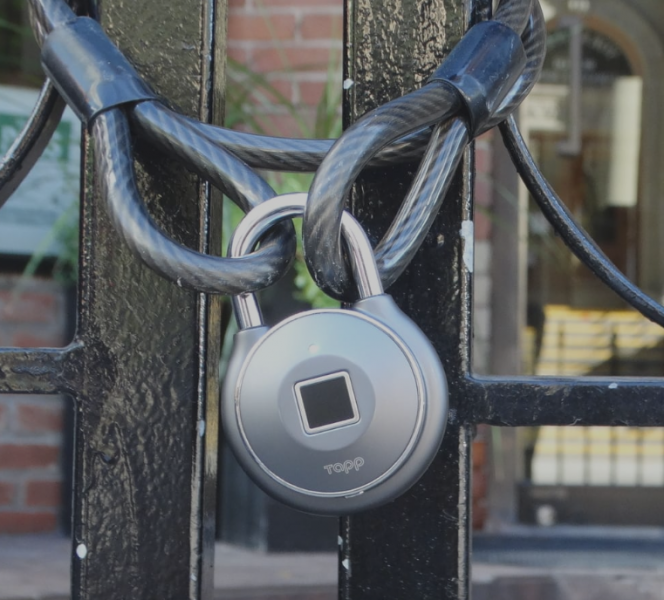 Featuring a state-of-the-art capacitive fingerprint sensor, Tapplock one has an adaptive algorithm that allows the lock to become faster and more accurate with each use, the company says.
"It can store up to 500 fingerprints to allow multiple users to access the lock. And, lock owners can use the Tapplock app to track who opened the lock and when, or to grant mobile access via a remote unlock feature."
Tapplock one is crafted from Zamak 3 zinc alloy metal and features a cut-resistant 7-millimeter reinforced stainless steel shackle, which is strengthened by a double-layered lock and with anti-shim and anti-pry technologies.
"The smart padlock is rated IP66, meaning it is water resistant when the lock is closed and is fully functional between 14 and 140 degrees Fahrenheit, which is perfect for locking up gates, sheds, boat lockers and bikes," the company says. "Tapplock one's battery lasts up to a year off a single two-hour charge, which equates to around 3,000 unlocks per charge and users can check the remaining power using the Tapplock app."
Tapplock one comes in three colors—sterling silver, gun metal, and midnight black. It's priced at $99 for a single lock.