The most popular story on the PRODUCTS website is one written in 2016 about getting kitchen cabinets at an affordable price. It also happens to be the most divisive. We had to do a follow-up story.
It's unclear why the story struck such a nerve with readers, but clearly kitchen pros had strong opinions. Cabinets have the ability to set the tone for a kitchen design, and the kitchen sets the tone for the house. While everyone would love well-built custom cabinets loaded with accessories and storage features, for some buyers and clients it's just not possible. When that happens, you need affordable options. Our readers differed on what the best affordable options are.
When it comes to quality cabinets, the baseline is different if you're talking about traditional face-frame units or full overlay European-style products. It depends whether you're a traditionalist, or open to more modern designs from across the pond.
The hallmarks of traditional American cabinets are prefinished plywood boxes, wood face frames, dovetail wood drawer boxes, five-piece stile and rail doors, full extension draw glides, and soft-close hinges. Typically, full overlay cabinets use furniture board or MDF, and may feature metal draw boxes, lacquered doors, high-pressure laminates, and wood veneers. Modern and contemporary products from Europe tend to have these features.
What Should Cabinets Cost?
Cabinetry is not the most expensive item in a house, but it's usually the costliest in a kitchen—whether it's a new build or a remodel. So how much should it cost? The answer is as varied as it is complicated.
"To the first-time kitchen remodeler, the question 'How much do kitchen cabinets cost?' is a riddle similar to the question 'How long is a string?'" says online cabinet retailer Cliq Studios. "The price for cabinets varies so drastically that it seems they could cost anything from $3,000 to $30,000! How is it that a set of wooden boxes could be so expensive?
According to Home Advisor, the average kitchen remodel costs $22,885, or $150 per square foot, though most homeowners spend between $12,552 and $34,172 or $75 to $250 per square foot. "The total expense varies depending on the size of the space, the quality of materials, and whether you change the layout of the room," the contractor referral site says.
READ: NEED LOW-COST CABINETS WITH HIGH STYLE? CONSIDER THESE 11 OPTIONS
The $23,000 for a kitchen remodel includes materials, installation, lighting, plumbing fixtures, and some design work. Cabinets and hardware account for $6,670 of the total—or almost 30 percent, Home Advisor says.
Stock cabinets, of course, are the most affordable. Ranging in price from $75 to $150 per linear foot, according to Home Advisor, these units are premade and readily available but offer limited designs and sizes.
Next is semi-custom, which cost anywhere from $100 to $1,000 per linear foot. They are made in the same sizes as stock products, but they can be detailed for an extra fee. Buyers are able to choose different drawer sizes, door fronts, and cabinet depths.
Priced from $500 to $1,500 per linear foot, custom cabinets are the ultimate expression of a luxury remodel or new build. They are designed to exact specifications in any size and in any species or finish.
One reason these cabinets cost so much is because they require skilled carpentry work, precise measurements, quality construction, and painstaking finishing. Cabinetry is one of the things homeowners touch most often in a kitchen, and, because they are located in the busiest room in the home, the products must stand up to everyday wear and tear.
Designers, architects, and other construction professionals agree that quality cabinets are important for the everyday life of their clients, but they differ on how and where to find cabinet products at an affordable price point.
For Galaxy Homes, a building and renovation firm that works in the Washington, D.C. area, it's about taking a strategic approach based on the project and the client.
"Finding affordable cabinetry options is definitely the trend," says Nicole Tysvaer, vice president of sustainability at Galaxy Homes. "Our projects, which are predominately modern and green, prioritize energy-efficiency features, such as upgraded insulation and windows, which means our finishes need to come in under budget."
So where does Galaxy Homes turn for affordable products? "If we're working in a more traditional home, then we will often use an American-made manufactured line (semi-custom)," Tysvaer says. "In modern homes, Ikea is the choice for 90 percent of our projects."  A typical spec for the company, she says, is Ikea boxes with Semihandmade drawer fronts and doors "for most of our renovations, including million dollar homes."
The mention of Ikea in our first affordable cabinets story drew the ire of some readers who feel the Swedish brand "does not make quality [cabinets]." Still, among most of the remodelers, designers, builders, and architects we interviewed for this story, Ikea remains a primary budget option—for the most part.
Jan Neiges, a certified kitchen designer in Highlands Ranch, Colo., determines how to proceed with her clients in the early stages, which includes doing an assessment of their thinking.
"During my first visit at their home, I will help identify the anticipated budget and get confirmation that that is what they had in mind, and confirm their comfort level," Neiges says. "I also tell them of a client I worked with who spent $17,000 on appliances and $5,000 on IKEA cabinets. This helps to determine my clients' value on the cost of key elements for kitchen/bath without putting them in an uncomfortable position of having to admit that they have to go low end on cabinets."
Fortunately, Neiges says finding affordable cabinets in her market, Denver, is easy. "There are several companies that sell Ready To Assemble cabinets that offer them assembled in the Denver metro area."
READ: 14 CONTEMPORARY CABINET BRANDS YOU SHOULD BE CONSIDERING NOW
As the name suggests, Ready To Assemble cabinets are products that arrive flat-packed in a kit. Manufacturers supply all of the materials to assemble the cabinets on site by the homeowners or their contractor. Though affordable to buy, the products may require consumers to pay extra for assembly.
Neiges, who typically sets aside about 35 percent of her kitchen budget for cabinets, says Ikea is sometimes a consideration, but she tries not to get involved in helping clients with that process. "If they are on a really low budget, then they can't afford my hourly service that I would charge to help them with their Ikea planning and purchase of cabinets."
Her advice to construction professionals is to think outside the box. "They need to explore their market and research other resources outside of their assumption that they can only get low-end cabinets at a cabinet showroom," she says. "Some fabrication shops sell low end cabinet lines."
Figuring out how to deliver affordable products is par for the course for Sheron E. Binkley, president of 2B Design & Build in Dunedin, Fla. "I work with budget-minded, generally, first-time home buyers," she says. "My focus is to provide a quality designed home within a small footprint, 800 square feet to 1,500 square feet.
Binkley says she personally shops for all products and materials for each home, including the kitchen cabinets. "I primarily use local discount cabinet suppliers and big box stores such as The Home Depot and Lowe's," she explains. "I also look for their 20 percent off sale and pass these savings onto the client. I've had great service from Kitchen Craft who ships directly to the site."
Sometimes not even Ikea is affordable enough for Binkley's builds. "I love the Ikea cabinets and selection but find the labor to assemble is cost prohibitive to stay in budget," she says. "I've considered talking with clients to see if they would like to put in some sweat equity and assemble the cabinets themselves." Binkley says the best cabinet prices come from local discount cabinet suppliers, but she states that they don't always have the selection to meet the needs of clients.
Even high-end builders are forced to find alternatives sometimes. Michael Mok, managing director of Geonoma in the San Francisco Bay Area, says his company's cabinet decisions largely come down to their buyers, who tend to like nicer products. "Our clients prefer a higher quality and design so we don't go for import cabinets often," he says. "If we do, it tends to be higher end."
But sometimes a cheaper alternative is necessary, and Ikea is the go-to source. "You can't beat it for the quality and design," Mok says. Sometimes the builder turns to The Home Depot or Lowes; other times laminate or MDF from Bentwood or Omega are options.
READ: SLEEK STORAGE: TODAY'S KITCHEN CABINETS FAVOR SIMPLICITY, PRACTICALITY
Like most designers, Jackie Graniczny, partner and design director, at Sublime Homes in St. John, Ind., appreciates well-made, quality products but admits that sometimes it's a struggle to find something made well and priced well.
"I don't approach it as 'How/where can I find cheap cabinets?' but as 'How can I cut back in the cabinetry scope of work (layout, colors, hardware, construction) in each project?'" she says. "I look at the project in its entirety way ahead of construction and start thinking about architectural details that can help, such as recessing a fridge in a wall niche to eliminate a appliance housing cabinet to help achieve my budget goals."
Graniczny has other tried-and-true ideas that work for her projects. For example, she designs to an overall height of 8 feet rather than taking cabinets to the ceiling and thinks about whether decorative end panels are necessary. Sometimes she "designs with less drawers and more doors, as hardware, drawer slides, and boxes can add up and be quite costly." She also uses architectural details, such as shelves or carpenter-built niches to act as other means of storage, to help reduce overall cabinetry costs.
Moreover, Graniczny considers the production of the products. "Painted is usually more than stain-grade cabinetry," she says. "Everyone wants a classic white kitchen but not everyone has the budget for it. Our cabinetmakers are true artists and we came up with the solution of doing a heavy dye stain to achieve white hues in a stain, so the client can get the look without the cost improvement.
"Lastly, I think about install," she says. "Does your cabinet supplier produce your island in one or a few pieces? Or is your island getting delivered in numerous boxes and pieces, that might have cost less but now you are paying the trim carpenter more for install. The same goes for decorative hardware. Is your hardware installed in shop or is in now an item for the trim carpenter? If your shop has the means to help make the install as seamless as it can be, it does not hurt to ask. Your trim carpenter will thank you, and your install price will decrease."
Here are six brands that come recommended by the construction pros we interviewed: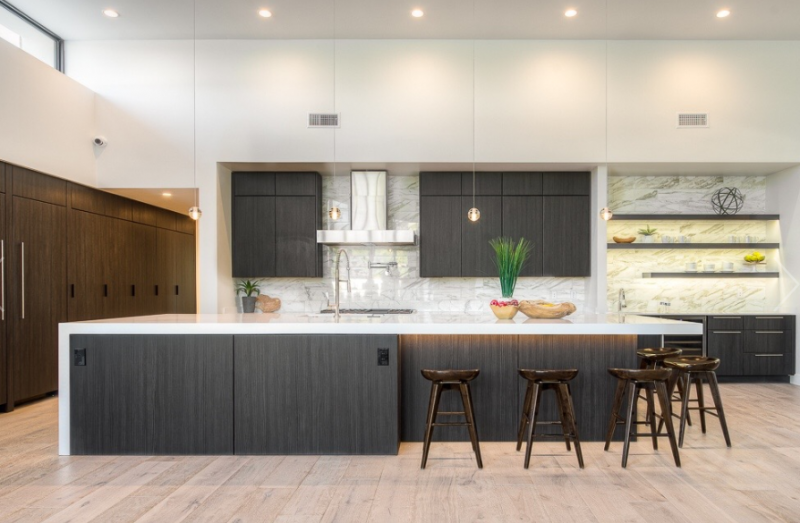 The manufacturer says it offers wood, semi-custom cabinets that look and feel custom. Face frame products feature ¾-inch solid wood or high-density fiber doors and fronts and ½-inch box construction. Frameless boxes are made with hardwood dowel construction, 5/8-inch solid wood dovetail drawer box sides, and tandem plus blumotion drawer guides.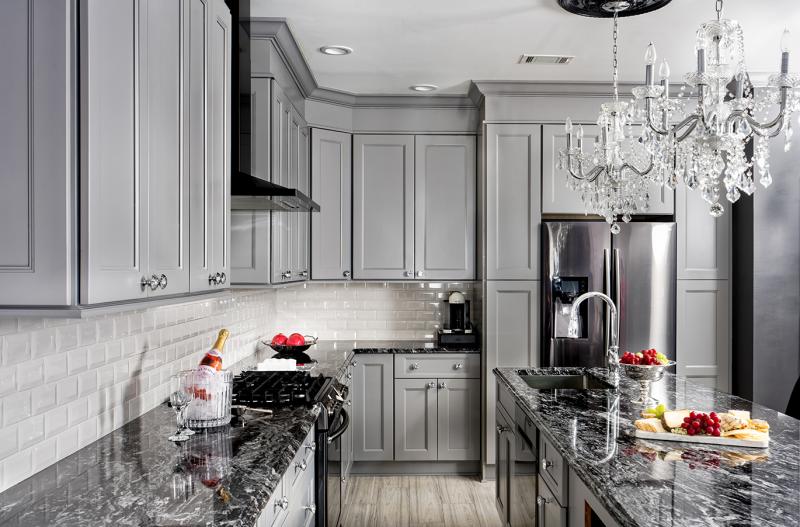 2. Fabuwood
Offering a wide variety of doors, the manufacturer fabiricates its products with solid wood, veneers, and medium density fiberboard. Boxes feature ½-inch ply wood construction and drawers offer dovetail joints.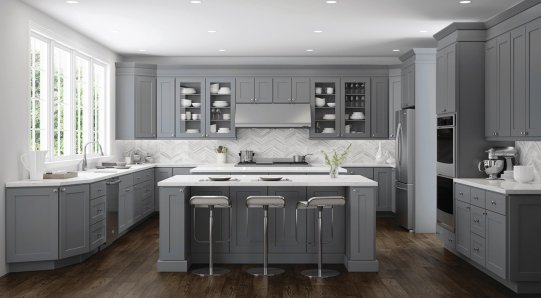 The brand's Ready to Assemble cabinets are available in painted and stained finishes. Products feature maple hardwood doors and drawer fronts, and dovetail joinery. A wide variety of door styles are available.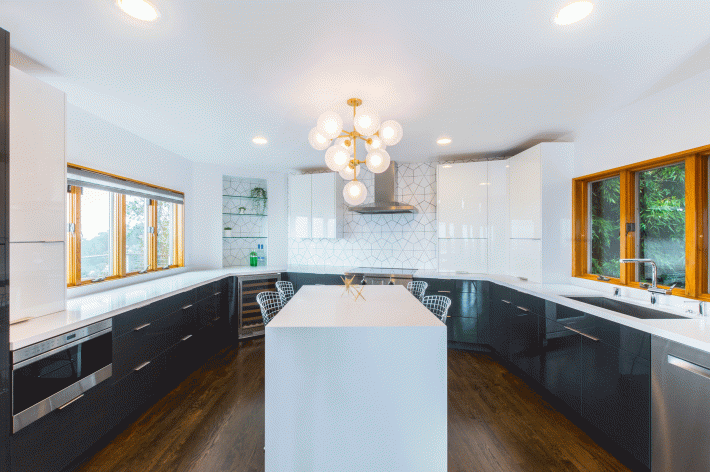 Offering maple, walnut, painted alder, and high-gloss laminates, the manufacturer's products are manufactured in South Carolina with 100 percent domestically sourced materials. The company specializes in modern European frameless products that are made with ¾-inch hardwood plywood, 5/8-inch solid wood drawer boxes, Blum full-extension undermount soft glides, Blum soft-close hinges, and water-based stains and finishes.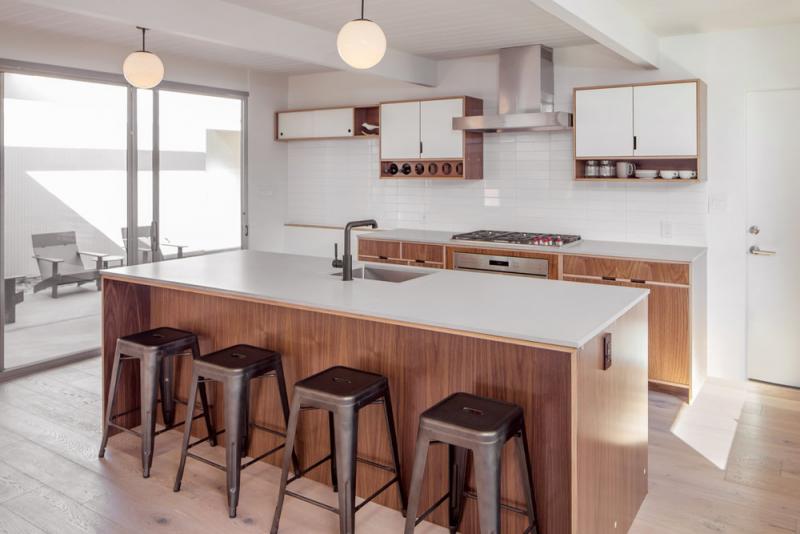 5. Kerf Design
The Seattle-based company fabricates kitchens from plywood and colored laminate. Plywood has an FSC certified birch core and is finished with a veneer of Eastern Maple or American Walnut. Made to order, the cabinets feature Blum hardware on all doors and drawers. Plywood edges and joints are left exposed.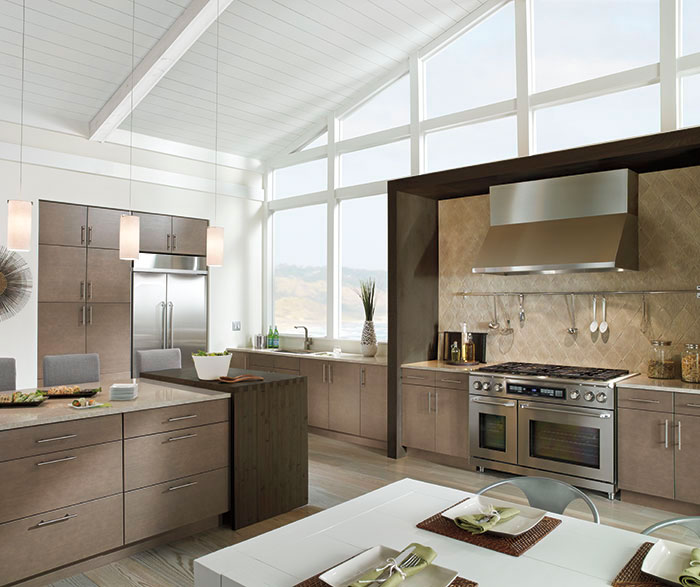 Part of the Master Brand family, the company offers a wide variety of traditional and contemporary Euro-style products. Options include a melamine, wood, or metal drawer boxes; MDF doors; and thermofoil finishes, among many others.
See more from PRODUCTS magazine: